Warrior Midi |Leather Tassel |Leather Bag accessories with mirror
Need to know
About the Key-Ring:
The Warrior Key-ring Midi Mirror is designed to adorn any KeriKit bag and add a bit  of WOW!
Fun fact - It's also a great distraction piece for babies, who will love to play with it and the mirror is plastic so don't panic, we have got your back.
What it's used for:
With our elegant and stylish Warrior Midi Mirror Key-ring, you will soon feel as strong and 'pulled together' as you look. Made from butter-soft hard working KeriKit premium full grain leather.
Features and Sizing
Features:
•Butter-soft remium Full grain leather
•Short leather tassel
•Leather luggage tag that can be personalised
•Metal spring clip fastener to attach to your bag or keys
• Light gold and silver hardware
Size & Weight:
• L 16 cm x W x 3cm
• 0.4 KG
Delivery and Returns
Shipping 
We offer Free UK delivery on all orders over £75
We also offer next day delivery for £5.75 via APC on orders booked before 10am Mon-Fri
Please allow 3 additional days for delivery if your item is being personalised
Worldwide
We offer FREE WORLDWIDE DELIVERY for all orders over £300
We also offer express shipping with 2 day delivery throughout USA for £35 via Fedex on orders booked before 10am Mon-Fri
Returns
We are happy to accept returns within 30 days, and offer a 1 year warranty on all bags.
For full Delivery and Returns details, click here.
Please note buyer is responsible for the return fees and insurance of the item being returned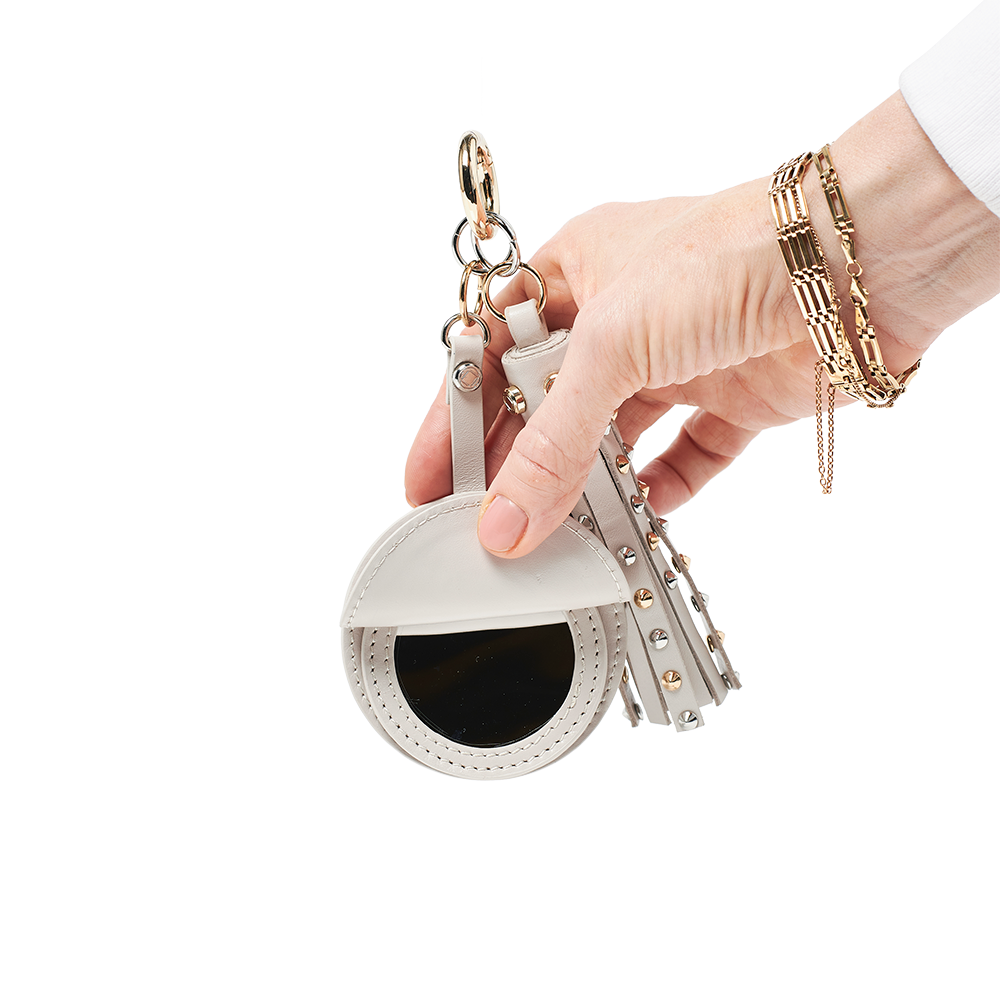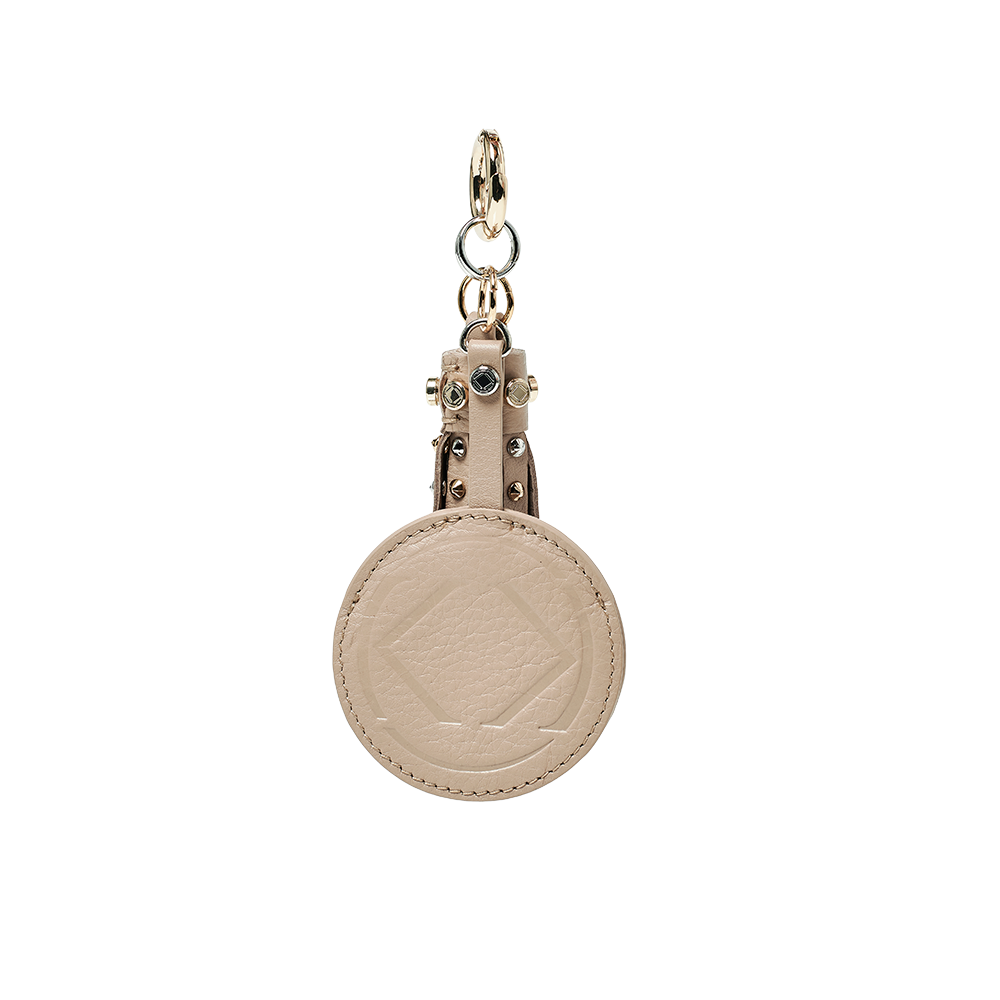 Your life. Your Kit. Your way.
Accessorise your designer KeriKit leather changing bag with this luxurious leather tassel key-ring.
What Makes This Midi Leather Warrior Tassel So Amazing

Shop our Instagram
{"id":4819242123358,"title":"Warrior Midi |Leather Tassel |Leather Bag accessories with mirror","handle":"midi-warrior-leather-tassel-keyring-luggage-tag-with-mirror","description":"\u003ch3\u003e\u003cstrong\u003eAbout the Key-Ring:\u003c\/strong\u003e\u003c\/h3\u003e\n\u003cp\u003eThe Warrior Key-ring Midi Mirror is designed to adorn any KeriKit bag and add a bit  of WOW!\u003c\/p\u003e\n\u003cp\u003eFun fact - It's also a great distraction piece for babies, who will love to play with it and the mirror is plastic so don't panic, we have got your back.\u003c\/p\u003e\n\u003ch3\u003e\u003cstrong\u003eWhat it's used for:\u003c\/strong\u003e\u003c\/h3\u003e\n\u003cp\u003eWith our elegant and stylish Warrior Midi Mirror Key-ring, you will soon feel as strong and 'pulled together' as you look. Made from butter-soft hard working KeriKit premium full grain leather.\u003c\/p\u003e","published_at":"2021-08-20T17:21:52Z","created_at":"2021-01-27T20:47:09Z","vendor":"KeriKit England","type":"SMALL LEATHER GOOD","tags":["Accessory","boss","feed-customproduct","Gifts","kitbuilder","Mum","new-arrivals","vintage blue"],"price":5500,"price_min":5500,"price_max":5500,"available":true,"price_varies":false,"compare_at_price":null,"compare_at_price_min":0,"compare_at_price_max":0,"compare_at_price_varies":false,"variants":[{"id":32363460395102,"title":"Taupe","option1":"Taupe","option2":null,"option3":null,"sku":"WARR-MIRR-TAUPE-SHRUNK-HN","requires_shipping":true,"taxable":true,"featured_image":{"id":14759977418846,"product_id":4819242123358,"position":9,"created_at":"2021-02-05T21:21:31Z","updated_at":"2021-08-19T18:47:12Z","alt":"putty studded leather mini key ring tassel with mirror","width":2048,"height":2048,"src":"https:\/\/cdn.shopify.com\/s\/files\/1\/0221\/6335\/7796\/products\/MIDIWARRIORTAUPE14572.jpg?v=1629398832","variant_ids":[32363460395102]},"available":true,"name":"Warrior Midi |Leather Tassel |Leather Bag accessories with mirror - Taupe","public_title":"Taupe","options":["Taupe"],"price":5500,"weight":1,"compare_at_price":null,"inventory_management":"shopify","barcode":"0719833252172","featured_media":{"alt":"putty studded leather mini key ring tassel with mirror","id":6932683685982,"position":9,"preview_image":{"aspect_ratio":1.0,"height":2048,"width":2048,"src":"https:\/\/cdn.shopify.com\/s\/files\/1\/0221\/6335\/7796\/products\/MIDIWARRIORTAUPE14572.jpg?v=1629398832"}},"requires_selling_plan":false,"selling_plan_allocations":[]},{"id":32363473338462,"title":"Vintage Blue Limited Edition","option1":"Vintage Blue Limited Edition","option2":null,"option3":null,"sku":"WARR-MIRR-VINBLU-SOF-HN","requires_shipping":true,"taxable":true,"featured_image":{"id":14759978303582,"product_id":4819242123358,"position":11,"created_at":"2021-02-05T21:24:03Z","updated_at":"2021-08-19T18:47:56Z","alt":"vintage blue studded leather mini key ring tassel with mirror","width":2048,"height":2048,"src":"https:\/\/cdn.shopify.com\/s\/files\/1\/0221\/6335\/7796\/products\/MIDIWARRIORVINTAGEBLUE14589.jpg?v=1629398876","variant_ids":[32363473338462]},"available":true,"name":"Warrior Midi |Leather Tassel |Leather Bag accessories with mirror - Vintage Blue Limited Edition","public_title":"Vintage Blue Limited Edition","options":["Vintage Blue Limited Edition"],"price":5500,"weight":1,"compare_at_price":null,"inventory_management":"shopify","barcode":"0715706092098","featured_media":{"alt":"vintage blue studded leather mini key ring tassel with mirror","id":6932684505182,"position":11,"preview_image":{"aspect_ratio":1.0,"height":2048,"width":2048,"src":"https:\/\/cdn.shopify.com\/s\/files\/1\/0221\/6335\/7796\/products\/MIDIWARRIORVINTAGEBLUE14589.jpg?v=1629398876"}},"requires_selling_plan":false,"selling_plan_allocations":[]},{"id":32363453415518,"title":"Putty","option1":"Putty","option2":null,"option3":null,"sku":"WARR-MIRR-PUTT-SOF-HN","requires_shipping":true,"taxable":true,"featured_image":{"id":14766548516958,"product_id":4819242123358,"position":13,"created_at":"2021-02-08T18:31:22Z","updated_at":"2021-08-19T16:35:03Z","alt":null,"width":2048,"height":2048,"src":"https:\/\/cdn.shopify.com\/s\/files\/1\/0221\/6335\/7796\/products\/MIDIWARRIORPUTTY14566.jpg?v=1629390903","variant_ids":[32363453415518]},"available":true,"name":"Warrior Midi |Leather Tassel |Leather Bag accessories with mirror - Putty","public_title":"Putty","options":["Putty"],"price":5500,"weight":1,"compare_at_price":null,"inventory_management":"shopify","barcode":"0719833252189","featured_media":{"alt":null,"id":6939266711646,"position":13,"preview_image":{"aspect_ratio":1.0,"height":2048,"width":2048,"src":"https:\/\/cdn.shopify.com\/s\/files\/1\/0221\/6335\/7796\/products\/MIDIWARRIORPUTTY14566.jpg?v=1629390903"}},"requires_selling_plan":false,"selling_plan_allocations":[]},{"id":32363452366942,"title":"Black","option1":"Black","option2":null,"option3":null,"sku":"WARR-MIRR-BLK-SOF-HN","requires_shipping":true,"taxable":true,"featured_image":{"id":14766558150750,"product_id":4819242123358,"position":15,"created_at":"2021-02-08T18:35:46Z","updated_at":"2021-08-19T16:35:03Z","alt":null,"width":2048,"height":2048,"src":"https:\/\/cdn.shopify.com\/s\/files\/1\/0221\/6335\/7796\/products\/MIDI_WARRIOR_BLACK_STUD14581.jpg?v=1629390903","variant_ids":[32363452366942]},"available":true,"name":"Warrior Midi |Leather Tassel |Leather Bag accessories with mirror - Black","public_title":"Black","options":["Black"],"price":5500,"weight":1,"compare_at_price":null,"inventory_management":"shopify","barcode":"0719833252165","featured_media":{"alt":null,"id":6939276378206,"position":15,"preview_image":{"aspect_ratio":1.0,"height":2048,"width":2048,"src":"https:\/\/cdn.shopify.com\/s\/files\/1\/0221\/6335\/7796\/products\/MIDI_WARRIOR_BLACK_STUD14581.jpg?v=1629390903"}},"requires_selling_plan":false,"selling_plan_allocations":[]},{"id":39468594266206,"title":"Black Embossed \u0026 Print","option1":"Black Embossed \u0026 Print","option2":null,"option3":null,"sku":"WARR-MIRR-PYTHON-BLK-ASSORT-LB","requires_shipping":true,"taxable":true,"featured_image":{"id":28386290466910,"product_id":4819242123358,"position":5,"created_at":"2021-08-19T16:33:05Z","updated_at":"2021-08-19T18:45:21Z","alt":"printed studded leather mini key ring tassel with mirror","width":2048,"height":2048,"src":"https:\/\/cdn.shopify.com\/s\/files\/1\/0221\/6335\/7796\/products\/MIDI-WARRIOR-ASSORTED_22844.jpg?v=1629398721","variant_ids":[39468594266206]},"available":true,"name":"Warrior Midi |Leather Tassel |Leather Bag accessories with mirror - Black Embossed \u0026 Print","public_title":"Black Embossed \u0026 Print","options":["Black Embossed \u0026 Print"],"price":5500,"weight":1,"compare_at_price":null,"inventory_management":"shopify","barcode":"0719833252950","featured_media":{"alt":"printed studded leather mini key ring tassel with mirror","id":20660957806686,"position":5,"preview_image":{"aspect_ratio":1.0,"height":2048,"width":2048,"src":"https:\/\/cdn.shopify.com\/s\/files\/1\/0221\/6335\/7796\/products\/MIDI-WARRIOR-ASSORTED_22844.jpg?v=1629398721"}},"requires_selling_plan":false,"selling_plan_allocations":[]},{"id":39468597968990,"title":"Texas Tan \u0026 Black","option1":"Texas Tan \u0026 Black","option2":null,"option3":null,"sku":"WARR-MIRR-TEXAS-BLK-ASSORT-LB","requires_shipping":true,"taxable":true,"featured_image":{"id":28386290499678,"product_id":4819242123358,"position":4,"created_at":"2021-08-19T16:33:05Z","updated_at":"2021-08-19T18:45:05Z","alt":"tan studded leather mini key ring tassel with mirror","width":2048,"height":2048,"src":"https:\/\/cdn.shopify.com\/s\/files\/1\/0221\/6335\/7796\/products\/MIDI-WARRIOR-ASSORTED_22843.jpg?v=1629398705","variant_ids":[39468597968990]},"available":true,"name":"Warrior Midi |Leather Tassel |Leather Bag accessories with mirror - Texas Tan \u0026 Black","public_title":"Texas Tan \u0026 Black","options":["Texas Tan \u0026 Black"],"price":5500,"weight":1,"compare_at_price":null,"inventory_management":"shopify","barcode":"0719833252943","featured_media":{"alt":"tan studded leather mini key ring tassel with mirror","id":20660957773918,"position":4,"preview_image":{"aspect_ratio":1.0,"height":2048,"width":2048,"src":"https:\/\/cdn.shopify.com\/s\/files\/1\/0221\/6335\/7796\/products\/MIDI-WARRIOR-ASSORTED_22843.jpg?v=1629398705"}},"requires_selling_plan":false,"selling_plan_allocations":[]}],"images":["\/\/cdn.shopify.com\/s\/files\/1\/0221\/6335\/7796\/products\/MIDI-WARRIOR-ASSORTED_22837.jpg?v=1629398606","\/\/cdn.shopify.com\/s\/files\/1\/0221\/6335\/7796\/products\/WarriorMidiMirror-Group-2048x2048white.jpg?v=1629398647","\/\/cdn.shopify.com\/s\/files\/1\/0221\/6335\/7796\/products\/MIDI-WARRIOR-ASSORTED_22841.jpg?v=1629398678","\/\/cdn.shopify.com\/s\/files\/1\/0221\/6335\/7796\/products\/MIDI-WARRIOR-ASSORTED_22843.jpg?v=1629398705","\/\/cdn.shopify.com\/s\/files\/1\/0221\/6335\/7796\/products\/MIDI-WARRIOR-ASSORTED_22844.jpg?v=1629398721","\/\/cdn.shopify.com\/s\/files\/1\/0221\/6335\/7796\/products\/MIDIWARRIORBLACKSTUD14581.jpg?v=1629398735","\/\/cdn.shopify.com\/s\/files\/1\/0221\/6335\/7796\/products\/MIDIWARRIORBLACKSTUD14587.jpg?v=1629398793","\/\/cdn.shopify.com\/s\/files\/1\/0221\/6335\/7796\/products\/MIDIWARRIORBLACKSTUD14583.jpg?v=1629398817","\/\/cdn.shopify.com\/s\/files\/1\/0221\/6335\/7796\/products\/MIDIWARRIORTAUPE14572.jpg?v=1629398832","\/\/cdn.shopify.com\/s\/files\/1\/0221\/6335\/7796\/products\/MIDIWARRIORTAUPE14578.jpg?v=1629398858","\/\/cdn.shopify.com\/s\/files\/1\/0221\/6335\/7796\/products\/MIDIWARRIORVINTAGEBLUE14589.jpg?v=1629398876","\/\/cdn.shopify.com\/s\/files\/1\/0221\/6335\/7796\/products\/MIDIWARRIORVINTAGEBLUE14592.jpg?v=1629390903","\/\/cdn.shopify.com\/s\/files\/1\/0221\/6335\/7796\/products\/MIDIWARRIORPUTTY14566.jpg?v=1629390903","\/\/cdn.shopify.com\/s\/files\/1\/0221\/6335\/7796\/products\/MIDIWARRIORPUTTY14568.jpg?v=1629390903","\/\/cdn.shopify.com\/s\/files\/1\/0221\/6335\/7796\/products\/MIDI_WARRIOR_BLACK_STUD14581.jpg?v=1629390903","\/\/cdn.shopify.com\/s\/files\/1\/0221\/6335\/7796\/products\/WarriorMidiMirror-Group-_2048x2048px.jpg?v=1633373553"],"featured_image":"\/\/cdn.shopify.com\/s\/files\/1\/0221\/6335\/7796\/products\/MIDI-WARRIOR-ASSORTED_22837.jpg?v=1629398606","options":["Colour"],"media":[{"alt":"mini studded leather key ring tassels with plastic mirror","id":20660957708382,"position":1,"preview_image":{"aspect_ratio":1.0,"height":2048,"width":2048,"src":"https:\/\/cdn.shopify.com\/s\/files\/1\/0221\/6335\/7796\/products\/MIDI-WARRIOR-ASSORTED_22837.jpg?v=1629398606"},"aspect_ratio":1.0,"height":2048,"media_type":"image","src":"https:\/\/cdn.shopify.com\/s\/files\/1\/0221\/6335\/7796\/products\/MIDI-WARRIOR-ASSORTED_22837.jpg?v=1629398606","width":2048},{"alt":"mini studded leather key ring tassel bag accesories","id":6948943757406,"position":2,"preview_image":{"aspect_ratio":1.0,"height":2048,"width":2048,"src":"https:\/\/cdn.shopify.com\/s\/files\/1\/0221\/6335\/7796\/products\/WarriorMidiMirror-Group-2048x2048white.jpg?v=1629398647"},"aspect_ratio":1.0,"height":2048,"media_type":"image","src":"https:\/\/cdn.shopify.com\/s\/files\/1\/0221\/6335\/7796\/products\/WarriorMidiMirror-Group-2048x2048white.jpg?v=1629398647","width":2048},{"alt":"stylish mini leather tassels with mirror","id":20660957741150,"position":3,"preview_image":{"aspect_ratio":1.0,"height":2048,"width":2048,"src":"https:\/\/cdn.shopify.com\/s\/files\/1\/0221\/6335\/7796\/products\/MIDI-WARRIOR-ASSORTED_22841.jpg?v=1629398678"},"aspect_ratio":1.0,"height":2048,"media_type":"image","src":"https:\/\/cdn.shopify.com\/s\/files\/1\/0221\/6335\/7796\/products\/MIDI-WARRIOR-ASSORTED_22841.jpg?v=1629398678","width":2048},{"alt":"tan studded leather mini key ring tassel with mirror","id":20660957773918,"position":4,"preview_image":{"aspect_ratio":1.0,"height":2048,"width":2048,"src":"https:\/\/cdn.shopify.com\/s\/files\/1\/0221\/6335\/7796\/products\/MIDI-WARRIOR-ASSORTED_22843.jpg?v=1629398705"},"aspect_ratio":1.0,"height":2048,"media_type":"image","src":"https:\/\/cdn.shopify.com\/s\/files\/1\/0221\/6335\/7796\/products\/MIDI-WARRIOR-ASSORTED_22843.jpg?v=1629398705","width":2048},{"alt":"printed studded leather mini key ring tassel with mirror","id":20660957806686,"position":5,"preview_image":{"aspect_ratio":1.0,"height":2048,"width":2048,"src":"https:\/\/cdn.shopify.com\/s\/files\/1\/0221\/6335\/7796\/products\/MIDI-WARRIOR-ASSORTED_22844.jpg?v=1629398721"},"aspect_ratio":1.0,"height":2048,"media_type":"image","src":"https:\/\/cdn.shopify.com\/s\/files\/1\/0221\/6335\/7796\/products\/MIDI-WARRIOR-ASSORTED_22844.jpg?v=1629398721","width":2048},{"alt":"black studded leather mini key ring tassel with mirror","id":6939262419038,"position":6,"preview_image":{"aspect_ratio":1.0,"height":2048,"width":2048,"src":"https:\/\/cdn.shopify.com\/s\/files\/1\/0221\/6335\/7796\/products\/MIDIWARRIORBLACKSTUD14581.jpg?v=1629398735"},"aspect_ratio":1.0,"height":2048,"media_type":"image","src":"https:\/\/cdn.shopify.com\/s\/files\/1\/0221\/6335\/7796\/products\/MIDIWARRIORBLACKSTUD14581.jpg?v=1629398735","width":2048},{"alt":"black leather keyring tassel with plastic mirror","id":6939263434846,"position":7,"preview_image":{"aspect_ratio":1.0,"height":2048,"width":2048,"src":"https:\/\/cdn.shopify.com\/s\/files\/1\/0221\/6335\/7796\/products\/MIDIWARRIORBLACKSTUD14587.jpg?v=1629398793"},"aspect_ratio":1.0,"height":2048,"media_type":"image","src":"https:\/\/cdn.shopify.com\/s\/files\/1\/0221\/6335\/7796\/products\/MIDIWARRIORBLACKSTUD14587.jpg?v=1629398793","width":2048},{"alt":"leather key ring tassel bag accessory","id":6939262648414,"position":8,"preview_image":{"aspect_ratio":1.0,"height":2048,"width":2048,"src":"https:\/\/cdn.shopify.com\/s\/files\/1\/0221\/6335\/7796\/products\/MIDIWARRIORBLACKSTUD14583.jpg?v=1629398817"},"aspect_ratio":1.0,"height":2048,"media_type":"image","src":"https:\/\/cdn.shopify.com\/s\/files\/1\/0221\/6335\/7796\/products\/MIDIWARRIORBLACKSTUD14583.jpg?v=1629398817","width":2048},{"alt":"putty studded leather mini key ring tassel with mirror","id":6932683685982,"position":9,"preview_image":{"aspect_ratio":1.0,"height":2048,"width":2048,"src":"https:\/\/cdn.shopify.com\/s\/files\/1\/0221\/6335\/7796\/products\/MIDIWARRIORTAUPE14572.jpg?v=1629398832"},"aspect_ratio":1.0,"height":2048,"media_type":"image","src":"https:\/\/cdn.shopify.com\/s\/files\/1\/0221\/6335\/7796\/products\/MIDIWARRIORTAUPE14572.jpg?v=1629398832","width":2048},{"alt":"putty leather key ring tassel bag accessory","id":6932683817054,"position":10,"preview_image":{"aspect_ratio":1.0,"height":2048,"width":2048,"src":"https:\/\/cdn.shopify.com\/s\/files\/1\/0221\/6335\/7796\/products\/MIDIWARRIORTAUPE14578.jpg?v=1629398858"},"aspect_ratio":1.0,"height":2048,"media_type":"image","src":"https:\/\/cdn.shopify.com\/s\/files\/1\/0221\/6335\/7796\/products\/MIDIWARRIORTAUPE14578.jpg?v=1629398858","width":2048},{"alt":"vintage blue studded leather mini key ring tassel with mirror","id":6932684505182,"position":11,"preview_image":{"aspect_ratio":1.0,"height":2048,"width":2048,"src":"https:\/\/cdn.shopify.com\/s\/files\/1\/0221\/6335\/7796\/products\/MIDIWARRIORVINTAGEBLUE14589.jpg?v=1629398876"},"aspect_ratio":1.0,"height":2048,"media_type":"image","src":"https:\/\/cdn.shopify.com\/s\/files\/1\/0221\/6335\/7796\/products\/MIDIWARRIORVINTAGEBLUE14589.jpg?v=1629398876","width":2048},{"alt":null,"id":6932684636254,"position":12,"preview_image":{"aspect_ratio":1.0,"height":2048,"width":2048,"src":"https:\/\/cdn.shopify.com\/s\/files\/1\/0221\/6335\/7796\/products\/MIDIWARRIORVINTAGEBLUE14592.jpg?v=1629390903"},"aspect_ratio":1.0,"height":2048,"media_type":"image","src":"https:\/\/cdn.shopify.com\/s\/files\/1\/0221\/6335\/7796\/products\/MIDIWARRIORVINTAGEBLUE14592.jpg?v=1629390903","width":2048},{"alt":null,"id":6939266711646,"position":13,"preview_image":{"aspect_ratio":1.0,"height":2048,"width":2048,"src":"https:\/\/cdn.shopify.com\/s\/files\/1\/0221\/6335\/7796\/products\/MIDIWARRIORPUTTY14566.jpg?v=1629390903"},"aspect_ratio":1.0,"height":2048,"media_type":"image","src":"https:\/\/cdn.shopify.com\/s\/files\/1\/0221\/6335\/7796\/products\/MIDIWARRIORPUTTY14566.jpg?v=1629390903","width":2048},{"alt":null,"id":6939267596382,"position":14,"preview_image":{"aspect_ratio":1.0,"height":2048,"width":2048,"src":"https:\/\/cdn.shopify.com\/s\/files\/1\/0221\/6335\/7796\/products\/MIDIWARRIORPUTTY14568.jpg?v=1629390903"},"aspect_ratio":1.0,"height":2048,"media_type":"image","src":"https:\/\/cdn.shopify.com\/s\/files\/1\/0221\/6335\/7796\/products\/MIDIWARRIORPUTTY14568.jpg?v=1629390903","width":2048},{"alt":null,"id":6939276378206,"position":15,"preview_image":{"aspect_ratio":1.0,"height":2048,"width":2048,"src":"https:\/\/cdn.shopify.com\/s\/files\/1\/0221\/6335\/7796\/products\/MIDI_WARRIOR_BLACK_STUD14581.jpg?v=1629390903"},"aspect_ratio":1.0,"height":2048,"media_type":"image","src":"https:\/\/cdn.shopify.com\/s\/files\/1\/0221\/6335\/7796\/products\/MIDI_WARRIOR_BLACK_STUD14581.jpg?v=1629390903","width":2048},{"alt":null,"id":20767635439710,"position":16,"preview_image":{"aspect_ratio":1.0,"height":2048,"width":2048,"src":"https:\/\/cdn.shopify.com\/s\/files\/1\/0221\/6335\/7796\/products\/WarriorMidiMirror-Group-_2048x2048px.jpg?v=1633373553"},"aspect_ratio":1.0,"height":2048,"media_type":"image","src":"https:\/\/cdn.shopify.com\/s\/files\/1\/0221\/6335\/7796\/products\/WarriorMidiMirror-Group-_2048x2048px.jpg?v=1633373553","width":2048}],"requires_selling_plan":false,"selling_plan_groups":[],"content":"\u003ch3\u003e\u003cstrong\u003eAbout the Key-Ring:\u003c\/strong\u003e\u003c\/h3\u003e\n\u003cp\u003eThe Warrior Key-ring Midi Mirror is designed to adorn any KeriKit bag and add a bit  of WOW!\u003c\/p\u003e\n\u003cp\u003eFun fact - It's also a great distraction piece for babies, who will love to play with it and the mirror is plastic so don't panic, we have got your back.\u003c\/p\u003e\n\u003ch3\u003e\u003cstrong\u003eWhat it's used for:\u003c\/strong\u003e\u003c\/h3\u003e\n\u003cp\u003eWith our elegant and stylish Warrior Midi Mirror Key-ring, you will soon feel as strong and 'pulled together' as you look. Made from butter-soft hard working KeriKit premium full grain leather.\u003c\/p\u003e"}