Need to know
About the Strap:
Add some colour and personality to your KeriKit bag, with the adjustable webbing Webster strap.
Webster is a wide strap design for maximum comfort, and head-turning style. Featuring soft gold metal hardware and black leather trims.  
What it's used for:
Designed to wear with your Lennox, Thea, Harry or Milly. simply unclip the existing leather strap and replace with the Webster, which can also be worn short over the shoulder, or longer, cross-body.
Features and Sizing
Features:
•KeriKit logo on both ends
•Light gold hardware
•Adjustable slider to fit all sizes
•Compatible with Lennox, Thea, Milly, Teddy & Harry.
Size & Weight:
•L 97cm shortest length
•L 160 cm longest length
•4-5cm depending on colour
•0.2 KG
Delivery and Returns
Shipping 
We offer Free UK delivery on all orders over £175
We also offer next day delivery for £5.75 via APC on orders booked before 10am Mon-Fri
Please allow 3 additional days for delivery if your item is being personalised
Worldwide
We offer FREE WORLDWIDE DELIVERY for all orders over £175
We also offer express shipping with NEXT DAY delivery throughout USA for £35 via Fedex on orders booked before 10am Mon-Fri
Returns
We are happy to accept returns within 30 days, and offer a 1 year warranty on all bags.
For full Delivery and Returns details, click here.
Please note buyer is responsible for the return fees and insurance of the item being returned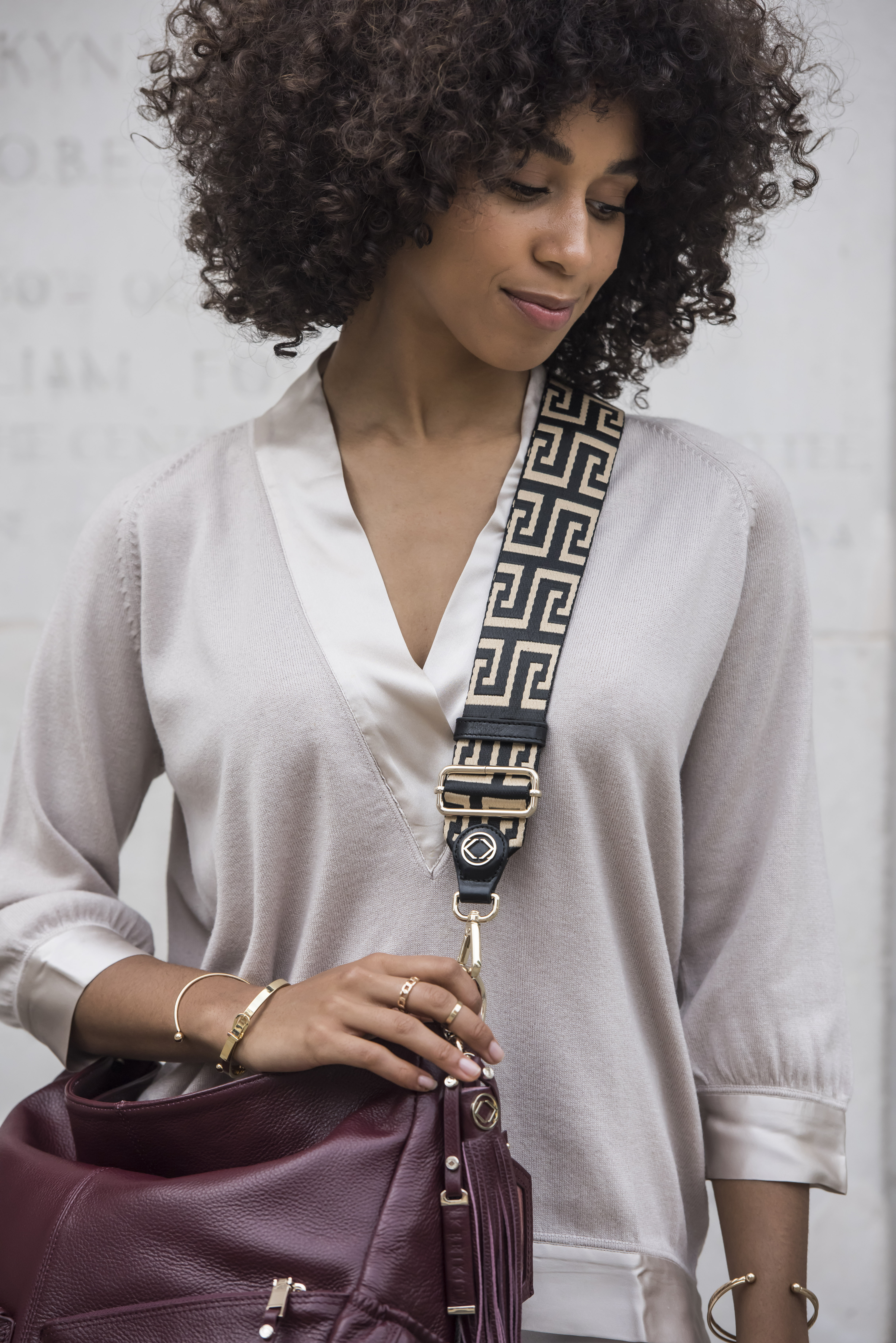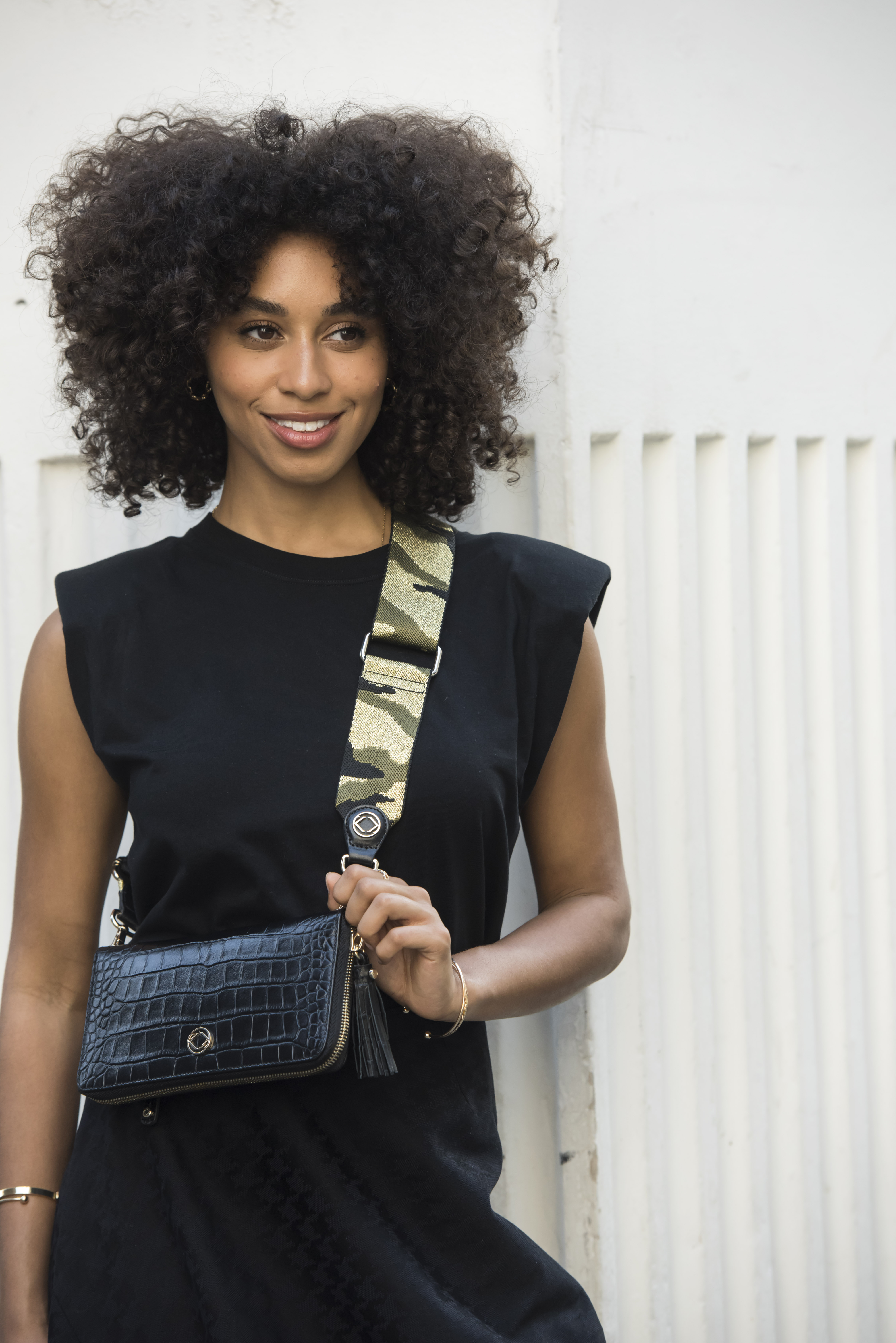 Customize your Kit with the Amazing Webster adjustable strapping

Shop our Instagram
{"id":3926917709918,"title":"Webster Webbing Strap","handle":"webster-webbing-strap","description":"\u003cp\u003e\u003cstrong\u003eAbout the Strap:\u003c\/strong\u003e\u003c\/p\u003e\n\u003cp\u003eAdd some colour and personality to your KeriKit bag, with the adjustable webbing Webster strap.\u003c\/p\u003e\n\u003cp\u003eWebster is a wide strap design for maximum comfort, and head-turning style. Featuring soft gold metal hardware and black leather trims.  \u003c\/p\u003e\n\u003cp\u003e\u003cstrong\u003eWhat it's used for:\u003c\/strong\u003e\u003c\/p\u003e\n\u003cp\u003eDesigned to wear with your Lennox, Thea, Harry or Milly. simply unclip the existing leather strap and replace with the Webster, which can also be worn short over the shoulder, or longer, cross-body.\u003c\/p\u003e\n\u003cp\u003e \u003c\/p\u003e","published_at":"2019-07-10T13:50:42Z","created_at":"2019-07-10T13:50:42Z","vendor":"KeriKit","type":"Accessories","tags":["Accessory","kitbuilder","mum","new-arrivals","pre-order","STILL IN STOCK"],"price":3000,"price_min":3000,"price_max":3000,"available":true,"price_varies":false,"compare_at_price":null,"compare_at_price_min":0,"compare_at_price_max":0,"compare_at_price_varies":false,"variants":[{"id":29383604273246,"title":"Black \u0026 White Triangle","option1":"Black \u0026 White Triangle","option2":null,"option3":null,"sku":"WEB-BLKWHT-HN","requires_shipping":true,"taxable":true,"featured_image":{"id":14174595252318,"product_id":3926917709918,"position":19,"created_at":"2020-07-05T19:51:42Z","updated_at":"2020-07-31T19:52:15Z","alt":null,"width":2048,"height":2048,"src":"https:\/\/cdn.shopify.com\/s\/files\/1\/0221\/6335\/7796\/products\/WEBSTERBLACKANDWHITE0282_1.png?v=1596225135","variant_ids":[29383604273246]},"available":true,"name":"Webster Webbing Strap - Black \u0026 White Triangle","public_title":"Black \u0026 White Triangle","options":["Black \u0026 White Triangle"],"price":3000,"weight":250,"compare_at_price":null,"inventory_management":"shopify","barcode":null,"featured_media":{"alt":null,"id":6346806591582,"position":19,"preview_image":{"aspect_ratio":1.0,"height":2048,"width":2048,"src":"https:\/\/cdn.shopify.com\/s\/files\/1\/0221\/6335\/7796\/products\/WEBSTERBLACKANDWHITE0282_1.png?v=1593978702"}}},{"id":32046579875934,"title":"Rainbow","option1":"Rainbow","option2":null,"option3":null,"sku":"WEB-RAIN-HN","requires_shipping":true,"taxable":true,"featured_image":{"id":14170460127326,"product_id":3926917709918,"position":18,"created_at":"2020-07-03T23:39:34Z","updated_at":"2020-07-31T19:52:15Z","alt":null,"width":2048,"height":2048,"src":"https:\/\/cdn.shopify.com\/s\/files\/1\/0221\/6335\/7796\/products\/WEBSTER_RAINBOW0283.png?v=1596225135","variant_ids":[32046579875934]},"available":true,"name":"Webster Webbing Strap - Rainbow","public_title":"Rainbow","options":["Rainbow"],"price":3000,"weight":250,"compare_at_price":null,"inventory_management":"shopify","barcode":null,"featured_media":{"alt":null,"id":6342669860958,"position":18,"preview_image":{"aspect_ratio":1.0,"height":2048,"width":2048,"src":"https:\/\/cdn.shopify.com\/s\/files\/1\/0221\/6335\/7796\/products\/WEBSTER_RAINBOW0283.png?v=1593819574"}}},{"id":32046579908702,"title":"Mini Muted Stripe","option1":"Mini Muted Stripe","option2":null,"option3":null,"sku":"WEB-MUTE-MINI-HN","requires_shipping":true,"taxable":true,"featured_image":{"id":14174595186782,"product_id":3926917709918,"position":24,"created_at":"2020-07-05T19:51:41Z","updated_at":"2020-07-31T19:52:15Z","alt":null,"width":2048,"height":2048,"src":"https:\/\/cdn.shopify.com\/s\/files\/1\/0221\/6335\/7796\/products\/WEBSTERGROUP0287.png?v=1596225135","variant_ids":[32046579908702]},"available":true,"name":"Webster Webbing Strap - Mini Muted Stripe","public_title":"Mini Muted Stripe","options":["Mini Muted Stripe"],"price":3000,"weight":250,"compare_at_price":null,"inventory_management":"shopify","barcode":"715706092456","featured_media":{"alt":null,"id":6346806657118,"position":24,"preview_image":{"aspect_ratio":1.0,"height":2048,"width":2048,"src":"https:\/\/cdn.shopify.com\/s\/files\/1\/0221\/6335\/7796\/products\/WEBSTERGROUP0287.png?v=1593978701"}}},{"id":32046579941470,"title":"Triple Stripe","option1":"Triple Stripe","option2":null,"option3":null,"sku":"WEB-BLK-WHT-GRN-HN","requires_shipping":true,"taxable":true,"featured_image":{"id":14174595317854,"product_id":3926917709918,"position":23,"created_at":"2020-07-05T19:51:42Z","updated_at":"2020-07-31T19:52:15Z","alt":null,"width":2048,"height":2048,"src":"https:\/\/cdn.shopify.com\/s\/files\/1\/0221\/6335\/7796\/products\/WEBSTERTRIPLESTRIPE0279.png?v=1596225135","variant_ids":[32046579941470]},"available":true,"name":"Webster Webbing Strap - Triple Stripe","public_title":"Triple Stripe","options":["Triple Stripe"],"price":3000,"weight":250,"compare_at_price":null,"inventory_management":"shopify","barcode":null,"featured_media":{"alt":null,"id":6346806624350,"position":23,"preview_image":{"aspect_ratio":1.0,"height":2048,"width":2048,"src":"https:\/\/cdn.shopify.com\/s\/files\/1\/0221\/6335\/7796\/products\/WEBSTERTRIPLESTRIPE0279.png?v=1593978702"}}},{"id":32060745646174,"title":"Black Camel Greek Symbol","option1":"Black Camel Greek Symbol","option2":null,"option3":null,"sku":"WEB-BLK-GLD-HN-1","requires_shipping":true,"taxable":true,"featured_image":{"id":14253279445086,"product_id":3926917709918,"position":15,"created_at":"2020-07-31T19:49:53Z","updated_at":"2020-07-31T19:52:15Z","alt":null,"width":2048,"height":2048,"src":"https:\/\/cdn.shopify.com\/s\/files\/1\/0221\/6335\/7796\/products\/WEBSTERAZTECH3176.png?v=1596225135","variant_ids":[32060745646174]},"available":true,"name":"Webster Webbing Strap - Black Camel Greek Symbol","public_title":"Black Camel Greek Symbol","options":["Black Camel Greek Symbol"],"price":3000,"weight":300,"compare_at_price":null,"inventory_management":"shopify","barcode":"715706092418","featured_media":{"alt":null,"id":6425548030046,"position":15,"preview_image":{"aspect_ratio":1.0,"height":2048,"width":2048,"src":"https:\/\/cdn.shopify.com\/s\/files\/1\/0221\/6335\/7796\/products\/WEBSTERAZTECH3176.png?v=1596224993"}}},{"id":32060746301534,"title":"Black and Gold Chevron","option1":"Black and Gold Chevron","option2":null,"option3":null,"sku":"WEB-BLK-GLD-HN-2","requires_shipping":true,"taxable":true,"featured_image":{"id":14253274300510,"product_id":3926917709918,"position":13,"created_at":"2020-07-31T19:47:43Z","updated_at":"2020-07-31T19:52:15Z","alt":null,"width":2048,"height":2048,"src":"https:\/\/cdn.shopify.com\/s\/files\/1\/0221\/6335\/7796\/products\/WEBSTERCHEVRON3178.png?v=1596225135","variant_ids":[32060746301534]},"available":true,"name":"Webster Webbing Strap - Black and Gold Chevron","public_title":"Black and Gold Chevron","options":["Black and Gold Chevron"],"price":3000,"weight":300,"compare_at_price":null,"inventory_management":"shopify","barcode":"715706092425","featured_media":{"alt":null,"id":6425542885470,"position":13,"preview_image":{"aspect_ratio":1.0,"height":2048,"width":2048,"src":"https:\/\/cdn.shopify.com\/s\/files\/1\/0221\/6335\/7796\/products\/WEBSTERCHEVRON3178.png?v=1596224863"}}},{"id":32060746825822,"title":"Khaki Camo Pre-order For Mid-September Delivery","option1":"Khaki Camo Pre-order For Mid-September Delivery","option2":null,"option3":null,"sku":"WEB-KHAKI-GLD-HN","requires_shipping":true,"taxable":true,"featured_image":{"id":14253273743454,"product_id":3926917709918,"position":4,"created_at":"2020-07-31T19:47:06Z","updated_at":"2020-07-31T19:52:15Z","alt":null,"width":2048,"height":2048,"src":"https:\/\/cdn.shopify.com\/s\/files\/1\/0221\/6335\/7796\/products\/WEBSTERCAMO3177.png?v=1596225135","variant_ids":[32060746825822]},"available":true,"name":"Webster Webbing Strap - Khaki Camo Pre-order For Mid-September Delivery","public_title":"Khaki Camo Pre-order For Mid-September Delivery","options":["Khaki Camo Pre-order For Mid-September Delivery"],"price":3000,"weight":300,"compare_at_price":null,"inventory_management":"shopify","barcode":"715706092432","featured_media":{"alt":null,"id":6425542361182,"position":4,"preview_image":{"aspect_ratio":1.0,"height":2048,"width":2048,"src":"https:\/\/cdn.shopify.com\/s\/files\/1\/0221\/6335\/7796\/products\/WEBSTERCAMO3177.png?v=1596224826"}}},{"id":32060748038238,"title":"Black White Zebra","option1":"Black White Zebra","option2":null,"option3":null,"sku":"WEB-BLK-WHT-ZEBRA-HN","requires_shipping":true,"taxable":true,"featured_image":{"id":14253275807838,"product_id":3926917709918,"position":7,"created_at":"2020-07-31T19:48:48Z","updated_at":"2020-07-31T19:52:15Z","alt":null,"width":2048,"height":2048,"src":"https:\/\/cdn.shopify.com\/s\/files\/1\/0221\/6335\/7796\/products\/WEBSTERZEBRA3179.png?v=1596225135","variant_ids":[32060748038238]},"available":true,"name":"Webster Webbing Strap - Black White Zebra","public_title":"Black White Zebra","options":["Black White Zebra"],"price":3000,"weight":300,"compare_at_price":null,"inventory_management":"shopify","barcode":"715706092449","featured_media":{"alt":null,"id":6425544327262,"position":7,"preview_image":{"aspect_ratio":1.0,"height":2048,"width":2048,"src":"https:\/\/cdn.shopify.com\/s\/files\/1\/0221\/6335\/7796\/products\/WEBSTERZEBRA3179.png?v=1596224928"}}}],"images":["\/\/cdn.shopify.com\/s\/files\/1\/0221\/6335\/7796\/products\/WEBSTERGROUP3181.png?v=1596225135","\/\/cdn.shopify.com\/s\/files\/1\/0221\/6335\/7796\/products\/WEBSTER_GROUP0284.png?v=1596225135","\/\/cdn.shopify.com\/s\/files\/1\/0221\/6335\/7796\/products\/Webstercamo-Millycroc.png?v=1596225135","\/\/cdn.shopify.com\/s\/files\/1\/0221\/6335\/7796\/products\/WEBSTERCAMO3177.png?v=1596225135","\/\/cdn.shopify.com\/s\/files\/1\/0221\/6335\/7796\/products\/WebsterBlk-whte-Zebra2048x2048.png?v=1596225135","\/\/cdn.shopify.com\/s\/files\/1\/0221\/6335\/7796\/products\/Mom-GretaQuiltGreyWebsterBLK-WHTE_DaughterMillyGreyQuilt_a37377ae-bb70-4094-997e-e16931198520.png?v=1596225135","\/\/cdn.shopify.com\/s\/files\/1\/0221\/6335\/7796\/products\/WEBSTERZEBRA3179.png?v=1596225135","\/\/cdn.shopify.com\/s\/files\/1\/0221\/6335\/7796\/products\/webster.png?v=1596225135","\/\/cdn.shopify.com\/s\/files\/1\/0221\/6335\/7796\/products\/Websterblk-goldGreekSymbol.png?v=1596225135","\/\/cdn.shopify.com\/s\/files\/1\/0221\/6335\/7796\/products\/MillyCroc-WebsterChevronstrap.png?v=1596225135","\/\/cdn.shopify.com\/s\/files\/1\/0221\/6335\/7796\/products\/Websterblk-goldChevron.png?v=1596225135","\/\/cdn.shopify.com\/s\/files\/1\/0221\/6335\/7796\/products\/LENNOXMIDIDARKGREY-WEBSTERChevron.png?v=1596225135","\/\/cdn.shopify.com\/s\/files\/1\/0221\/6335\/7796\/products\/WEBSTERCHEVRON3178.png?v=1596225135","\/\/cdn.shopify.com\/s\/files\/1\/0221\/6335\/7796\/products\/WebsterrainbowfeatlennoxAR.png?v=1596225135","\/\/cdn.shopify.com\/s\/files\/1\/0221\/6335\/7796\/products\/WEBSTERAZTECH3176.png?v=1596225135","\/\/cdn.shopify.com\/s\/files\/1\/0221\/6335\/7796\/products\/MillyCroc-WebsterStrap_98d621d0-8687-40b7-8a2f-9fb6821c2128.png?v=1596225135","\/\/cdn.shopify.com\/s\/files\/1\/0221\/6335\/7796\/products\/webster_5.png?v=1596225135","\/\/cdn.shopify.com\/s\/files\/1\/0221\/6335\/7796\/products\/WEBSTER_RAINBOW0283.png?v=1596225135","\/\/cdn.shopify.com\/s\/files\/1\/0221\/6335\/7796\/products\/WEBSTERBLACKANDWHITE0282_1.png?v=1596225135","\/\/cdn.shopify.com\/s\/files\/1\/0221\/6335\/7796\/products\/GretaQuiltedTanwithWebsterBLK-White.png?v=1596225135","\/\/cdn.shopify.com\/s\/files\/1\/0221\/6335\/7796\/products\/LennoxOxblood-Webblk-whte-Gretch-GretaOxbloodWLS_1.png?v=1596225135","\/\/cdn.shopify.com\/s\/files\/1\/0221\/6335\/7796\/products\/MILLIEGROUP0248_02d59cfb-6e7d-4fe9-81f0-56ce9b4c806b.png?v=1596225135","\/\/cdn.shopify.com\/s\/files\/1\/0221\/6335\/7796\/products\/WEBSTERTRIPLESTRIPE0279.png?v=1596225135","\/\/cdn.shopify.com\/s\/files\/1\/0221\/6335\/7796\/products\/WEBSTERGROUP0287.png?v=1596225135"],"featured_image":"\/\/cdn.shopify.com\/s\/files\/1\/0221\/6335\/7796\/products\/WEBSTERGROUP3181.png?v=1596225135","options":["Colour"],"media":[{"alt":null,"id":6425543475294,"position":1,"preview_image":{"aspect_ratio":1.0,"height":2048,"width":2048,"src":"https:\/\/cdn.shopify.com\/s\/files\/1\/0221\/6335\/7796\/products\/WEBSTERGROUP3181.png?v=1596224897"},"aspect_ratio":1.0,"height":2048,"media_type":"image","src":"https:\/\/cdn.shopify.com\/s\/files\/1\/0221\/6335\/7796\/products\/WEBSTERGROUP3181.png?v=1596224897","width":2048},{"alt":null,"id":5681938006110,"position":2,"preview_image":{"aspect_ratio":1.0,"height":2048,"width":2048,"src":"https:\/\/cdn.shopify.com\/s\/files\/1\/0221\/6335\/7796\/products\/WEBSTER_GROUP0284.png?v=1576259387"},"aspect_ratio":1.0,"height":2048,"media_type":"image","src":"https:\/\/cdn.shopify.com\/s\/files\/1\/0221\/6335\/7796\/products\/WEBSTER_GROUP0284.png?v=1576259387","width":2048},{"alt":null,"id":6425542328414,"position":3,"preview_image":{"aspect_ratio":1.0,"height":2048,"width":2048,"src":"https:\/\/cdn.shopify.com\/s\/files\/1\/0221\/6335\/7796\/products\/Webstercamo-Millycroc.png?v=1596224826"},"aspect_ratio":1.0,"height":2048,"media_type":"image","src":"https:\/\/cdn.shopify.com\/s\/files\/1\/0221\/6335\/7796\/products\/Webstercamo-Millycroc.png?v=1596224826","width":2048},{"alt":null,"id":6425542361182,"position":4,"preview_image":{"aspect_ratio":1.0,"height":2048,"width":2048,"src":"https:\/\/cdn.shopify.com\/s\/files\/1\/0221\/6335\/7796\/products\/WEBSTERCAMO3177.png?v=1596224826"},"aspect_ratio":1.0,"height":2048,"media_type":"image","src":"https:\/\/cdn.shopify.com\/s\/files\/1\/0221\/6335\/7796\/products\/WEBSTERCAMO3177.png?v=1596224826","width":2048},{"alt":null,"id":6425544294494,"position":5,"preview_image":{"aspect_ratio":1.0,"height":2048,"width":2048,"src":"https:\/\/cdn.shopify.com\/s\/files\/1\/0221\/6335\/7796\/products\/WebsterBlk-whte-Zebra2048x2048.png?v=1596224928"},"aspect_ratio":1.0,"height":2048,"media_type":"image","src":"https:\/\/cdn.shopify.com\/s\/files\/1\/0221\/6335\/7796\/products\/WebsterBlk-whte-Zebra2048x2048.png?v=1596224928","width":2048},{"alt":null,"id":6425544687710,"position":6,"preview_image":{"aspect_ratio":1.0,"height":2048,"width":2048,"src":"https:\/\/cdn.shopify.com\/s\/files\/1\/0221\/6335\/7796\/products\/Mom-GretaQuiltGreyWebsterBLK-WHTE_DaughterMillyGreyQuilt_a37377ae-bb70-4094-997e-e16931198520.png?v=1596224966"},"aspect_ratio":1.0,"height":2048,"media_type":"image","src":"https:\/\/cdn.shopify.com\/s\/files\/1\/0221\/6335\/7796\/products\/Mom-GretaQuiltGreyWebsterBLK-WHTE_DaughterMillyGreyQuilt_a37377ae-bb70-4094-997e-e16931198520.png?v=1596224966","width":2048},{"alt":null,"id":6425544327262,"position":7,"preview_image":{"aspect_ratio":1.0,"height":2048,"width":2048,"src":"https:\/\/cdn.shopify.com\/s\/files\/1\/0221\/6335\/7796\/products\/WEBSTERZEBRA3179.png?v=1596224928"},"aspect_ratio":1.0,"height":2048,"media_type":"image","src":"https:\/\/cdn.shopify.com\/s\/files\/1\/0221\/6335\/7796\/products\/WEBSTERZEBRA3179.png?v=1596224928","width":2048},{"alt":null,"id":6342669893726,"position":8,"preview_image":{"aspect_ratio":1.0,"height":2048,"width":2048,"src":"https:\/\/cdn.shopify.com\/s\/files\/1\/0221\/6335\/7796\/products\/webster.png?v=1593819574"},"aspect_ratio":1.0,"height":2048,"media_type":"image","src":"https:\/\/cdn.shopify.com\/s\/files\/1\/0221\/6335\/7796\/products\/webster.png?v=1593819574","width":2048},{"alt":null,"id":6425548062814,"position":9,"preview_image":{"aspect_ratio":1.0,"height":2048,"width":2048,"src":"https:\/\/cdn.shopify.com\/s\/files\/1\/0221\/6335\/7796\/products\/Websterblk-goldGreekSymbol.png?v=1596224994"},"aspect_ratio":1.0,"height":2048,"media_type":"image","src":"https:\/\/cdn.shopify.com\/s\/files\/1\/0221\/6335\/7796\/products\/Websterblk-goldGreekSymbol.png?v=1596224994","width":2048},{"alt":null,"id":6425543245918,"position":10,"preview_image":{"aspect_ratio":1.0,"height":2048,"width":2048,"src":"https:\/\/cdn.shopify.com\/s\/files\/1\/0221\/6335\/7796\/products\/MillyCroc-WebsterChevronstrap.png?v=1596224875"},"aspect_ratio":1.0,"height":2048,"media_type":"image","src":"https:\/\/cdn.shopify.com\/s\/files\/1\/0221\/6335\/7796\/products\/MillyCroc-WebsterChevronstrap.png?v=1596224875","width":2048},{"alt":null,"id":6425542852702,"position":11,"preview_image":{"aspect_ratio":1.0,"height":2048,"width":2048,"src":"https:\/\/cdn.shopify.com\/s\/files\/1\/0221\/6335\/7796\/products\/Websterblk-goldChevron.png?v=1596224863"},"aspect_ratio":1.0,"height":2048,"media_type":"image","src":"https:\/\/cdn.shopify.com\/s\/files\/1\/0221\/6335\/7796\/products\/Websterblk-goldChevron.png?v=1596224863","width":2048},{"alt":null,"id":6425542819934,"position":12,"preview_image":{"aspect_ratio":1.0,"height":2048,"width":2048,"src":"https:\/\/cdn.shopify.com\/s\/files\/1\/0221\/6335\/7796\/products\/LENNOXMIDIDARKGREY-WEBSTERChevron.png?v=1596224863"},"aspect_ratio":1.0,"height":2048,"media_type":"image","src":"https:\/\/cdn.shopify.com\/s\/files\/1\/0221\/6335\/7796\/products\/LENNOXMIDIDARKGREY-WEBSTERChevron.png?v=1596224863","width":2048},{"alt":null,"id":6425542885470,"position":13,"preview_image":{"aspect_ratio":1.0,"height":2048,"width":2048,"src":"https:\/\/cdn.shopify.com\/s\/files\/1\/0221\/6335\/7796\/products\/WEBSTERCHEVRON3178.png?v=1596224863"},"aspect_ratio":1.0,"height":2048,"media_type":"image","src":"https:\/\/cdn.shopify.com\/s\/files\/1\/0221\/6335\/7796\/products\/WEBSTERCHEVRON3178.png?v=1596224863","width":2048},{"alt":null,"id":6346816192606,"position":14,"preview_image":{"aspect_ratio":1.0,"height":2048,"width":2048,"src":"https:\/\/cdn.shopify.com\/s\/files\/1\/0221\/6335\/7796\/products\/WebsterrainbowfeatlennoxAR.png?v=1593979387"},"aspect_ratio":1.0,"height":2048,"media_type":"image","src":"https:\/\/cdn.shopify.com\/s\/files\/1\/0221\/6335\/7796\/products\/WebsterrainbowfeatlennoxAR.png?v=1593979387","width":2048},{"alt":null,"id":6425548030046,"position":15,"preview_image":{"aspect_ratio":1.0,"height":2048,"width":2048,"src":"https:\/\/cdn.shopify.com\/s\/files\/1\/0221\/6335\/7796\/products\/WEBSTERAZTECH3176.png?v=1596224993"},"aspect_ratio":1.0,"height":2048,"media_type":"image","src":"https:\/\/cdn.shopify.com\/s\/files\/1\/0221\/6335\/7796\/products\/WEBSTERAZTECH3176.png?v=1596224993","width":2048},{"alt":null,"id":6346807148638,"position":16,"preview_image":{"aspect_ratio":1.0,"height":2048,"width":2048,"src":"https:\/\/cdn.shopify.com\/s\/files\/1\/0221\/6335\/7796\/products\/MillyCroc-WebsterStrap_98d621d0-8687-40b7-8a2f-9fb6821c2128.png?v=1593978711"},"aspect_ratio":1.0,"height":2048,"media_type":"image","src":"https:\/\/cdn.shopify.com\/s\/files\/1\/0221\/6335\/7796\/products\/MillyCroc-WebsterStrap_98d621d0-8687-40b7-8a2f-9fb6821c2128.png?v=1593978711","width":2048},{"alt":null,"id":6342669828190,"position":17,"preview_image":{"aspect_ratio":1.0,"height":2048,"width":2048,"src":"https:\/\/cdn.shopify.com\/s\/files\/1\/0221\/6335\/7796\/products\/webster_5.png?v=1593819574"},"aspect_ratio":1.0,"height":2048,"media_type":"image","src":"https:\/\/cdn.shopify.com\/s\/files\/1\/0221\/6335\/7796\/products\/webster_5.png?v=1593819574","width":2048},{"alt":null,"id":6342669860958,"position":18,"preview_image":{"aspect_ratio":1.0,"height":2048,"width":2048,"src":"https:\/\/cdn.shopify.com\/s\/files\/1\/0221\/6335\/7796\/products\/WEBSTER_RAINBOW0283.png?v=1593819574"},"aspect_ratio":1.0,"height":2048,"media_type":"image","src":"https:\/\/cdn.shopify.com\/s\/files\/1\/0221\/6335\/7796\/products\/WEBSTER_RAINBOW0283.png?v=1593819574","width":2048},{"alt":null,"id":6346806591582,"position":19,"preview_image":{"aspect_ratio":1.0,"height":2048,"width":2048,"src":"https:\/\/cdn.shopify.com\/s\/files\/1\/0221\/6335\/7796\/products\/WEBSTERBLACKANDWHITE0282_1.png?v=1593978702"},"aspect_ratio":1.0,"height":2048,"media_type":"image","src":"https:\/\/cdn.shopify.com\/s\/files\/1\/0221\/6335\/7796\/products\/WEBSTERBLACKANDWHITE0282_1.png?v=1593978702","width":2048},{"alt":null,"id":6425544622174,"position":20,"preview_image":{"aspect_ratio":1.0,"height":2048,"width":2048,"src":"https:\/\/cdn.shopify.com\/s\/files\/1\/0221\/6335\/7796\/products\/GretaQuiltedTanwithWebsterBLK-White.png?v=1596224965"},"aspect_ratio":1.0,"height":2048,"media_type":"image","src":"https:\/\/cdn.shopify.com\/s\/files\/1\/0221\/6335\/7796\/products\/GretaQuiltedTanwithWebsterBLK-White.png?v=1596224965","width":2048},{"alt":null,"id":6425544654942,"position":21,"preview_image":{"aspect_ratio":1.0,"height":2048,"width":2048,"src":"https:\/\/cdn.shopify.com\/s\/files\/1\/0221\/6335\/7796\/products\/LennoxOxblood-Webblk-whte-Gretch-GretaOxbloodWLS_1.png?v=1596224965"},"aspect_ratio":1.0,"height":2048,"media_type":"image","src":"https:\/\/cdn.shopify.com\/s\/files\/1\/0221\/6335\/7796\/products\/LennoxOxblood-Webblk-whte-Gretch-GretaOxbloodWLS_1.png?v=1596224965","width":2048},{"alt":null,"id":6346807115870,"position":22,"preview_image":{"aspect_ratio":1.0,"height":2048,"width":2048,"src":"https:\/\/cdn.shopify.com\/s\/files\/1\/0221\/6335\/7796\/products\/MILLIEGROUP0248_02d59cfb-6e7d-4fe9-81f0-56ce9b4c806b.png?v=1593978711"},"aspect_ratio":1.0,"height":2048,"media_type":"image","src":"https:\/\/cdn.shopify.com\/s\/files\/1\/0221\/6335\/7796\/products\/MILLIEGROUP0248_02d59cfb-6e7d-4fe9-81f0-56ce9b4c806b.png?v=1593978711","width":2048},{"alt":null,"id":6346806624350,"position":23,"preview_image":{"aspect_ratio":1.0,"height":2048,"width":2048,"src":"https:\/\/cdn.shopify.com\/s\/files\/1\/0221\/6335\/7796\/products\/WEBSTERTRIPLESTRIPE0279.png?v=1593978702"},"aspect_ratio":1.0,"height":2048,"media_type":"image","src":"https:\/\/cdn.shopify.com\/s\/files\/1\/0221\/6335\/7796\/products\/WEBSTERTRIPLESTRIPE0279.png?v=1593978702","width":2048},{"alt":null,"id":6346806657118,"position":24,"preview_image":{"aspect_ratio":1.0,"height":2048,"width":2048,"src":"https:\/\/cdn.shopify.com\/s\/files\/1\/0221\/6335\/7796\/products\/WEBSTERGROUP0287.png?v=1593978701"},"aspect_ratio":1.0,"height":2048,"media_type":"image","src":"https:\/\/cdn.shopify.com\/s\/files\/1\/0221\/6335\/7796\/products\/WEBSTERGROUP0287.png?v=1593978701","width":2048}],"content":"\u003cp\u003e\u003cstrong\u003eAbout the Strap:\u003c\/strong\u003e\u003c\/p\u003e\n\u003cp\u003eAdd some colour and personality to your KeriKit bag, with the adjustable webbing Webster strap.\u003c\/p\u003e\n\u003cp\u003eWebster is a wide strap design for maximum comfort, and head-turning style. Featuring soft gold metal hardware and black leather trims.  \u003c\/p\u003e\n\u003cp\u003e\u003cstrong\u003eWhat it's used for:\u003c\/strong\u003e\u003c\/p\u003e\n\u003cp\u003eDesigned to wear with your Lennox, Thea, Harry or Milly. simply unclip the existing leather strap and replace with the Webster, which can also be worn short over the shoulder, or longer, cross-body.\u003c\/p\u003e\n\u003cp\u003e \u003c\/p\u003e"}