Westwood Putty Leather Holdall Handbag - Slight Seconds
Need to know
About the Bag:
Sometimes in manufacturing things don't always go according to plan and on this occasion we have noticed there is a slight leather defect on this style. We have checked the stock and the type of slight imperfections are shown in the pics below so please take a good look before ordering as these are now listed as FINAL SALE ONLY.
PLEASE NOTE THIS ITEM CANNOT BE BOUGHT WITH ANY ADDITIONAL COUPONS OR CODES. IF A CODE IS USED THE ITEM WILL BE REMOVED AND YOU WILL BE REFUNDED FOR THIS ITEM IN YOUR ORDER.
Examples of the small defects have been shown below and could include, creased leather, wonky logo, and tiny black dots.
Snap one of these beauties up quickly as these small imperfections do not affect the usability of the bag in anyway.
Features and Sizing
Main compartment Features:
Laptop up to 16"
Elasticated Pockets for Nappies, Wipes, Charging Cables, Toiletries
Separate section for laptop, tech, pens and notepad
2 internal Insulated Bottle Holders
Perfectly Placed Internal Side Pockets
Roomy Interior

KeriKit Extras included:
2 External Insulated Side Pockets
Internal Zipped Security Pocket
Poppered Key Holder / Dummy Holder
External zip pockets
Compatible with KeriKit Webster and Stevie Adjustable Cross-body Straps (sold separately)
Double-zip back Pocket that converts to Trolley Sleeve
Rings (to affix buggy clips)
Interior security pocket
Premium full grain leather
Signature Waterproof Jacquard Lining
Multi-use zip-top bag included
Two way Zip Top For Added Security




Size & Weight:
L 43 cm (inc pockets) x W 20 cm x H 30 cm Handle Drop: 24cm
1.7 KG approx
Delivery and Returns
Shipping 
We offer Free UK delivery on all orders over £75
We also offer next day delivery for £5.75 via APC on orders booked before 10am Mon-Fri
Please allow 3 additional days for delivery if your item is being personalised
Worldwide
We offer FREE WORLDWIDE DELIVERY for all orders over £200
We also offer express shipping with 2 day delivery throughout USA for £35 via Fedex on orders booked before 10am Mon-Fri
Returns
We are happy to accept returns within 30 days, and offer a 1 year warranty on all bags.
For full Delivery and Returns details, click here.
Please note buyer is responsible for the return fees and insurance of the item being returned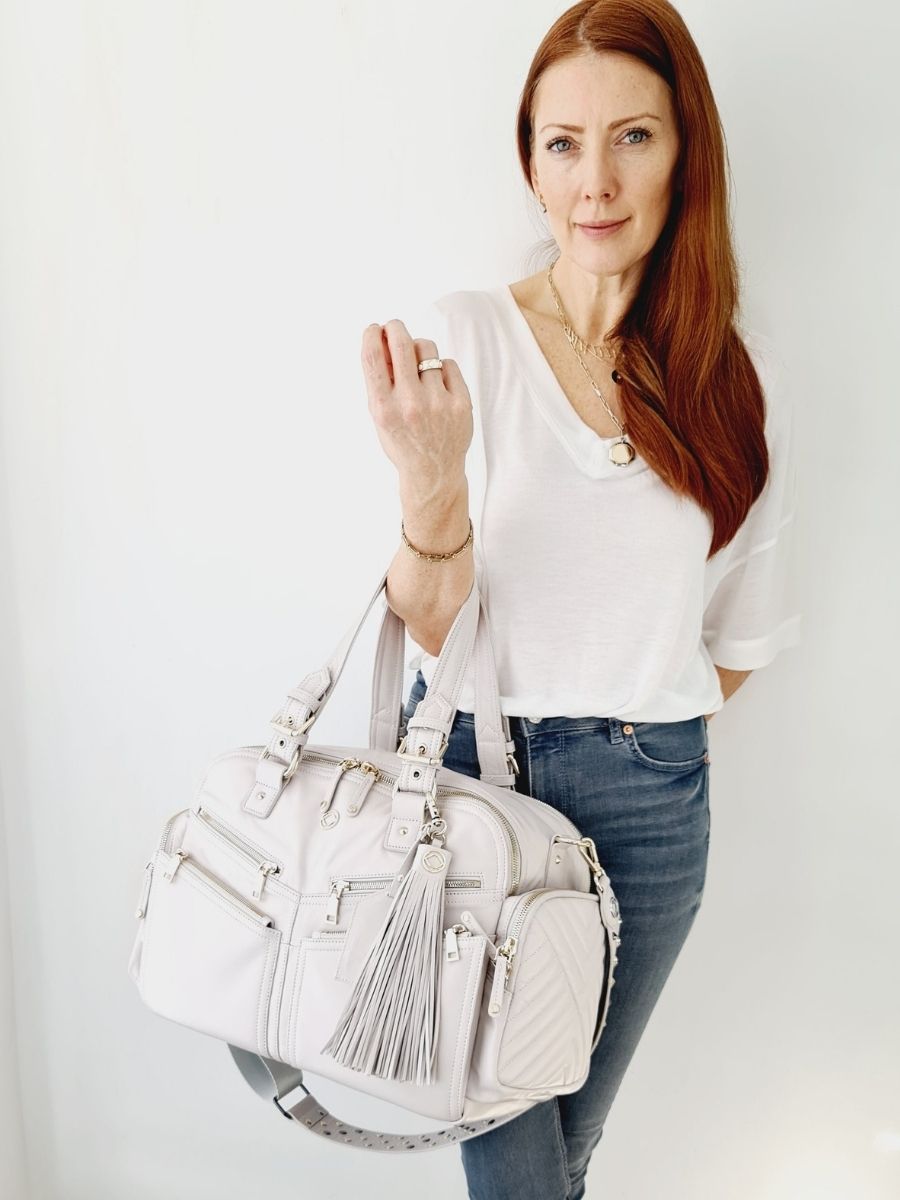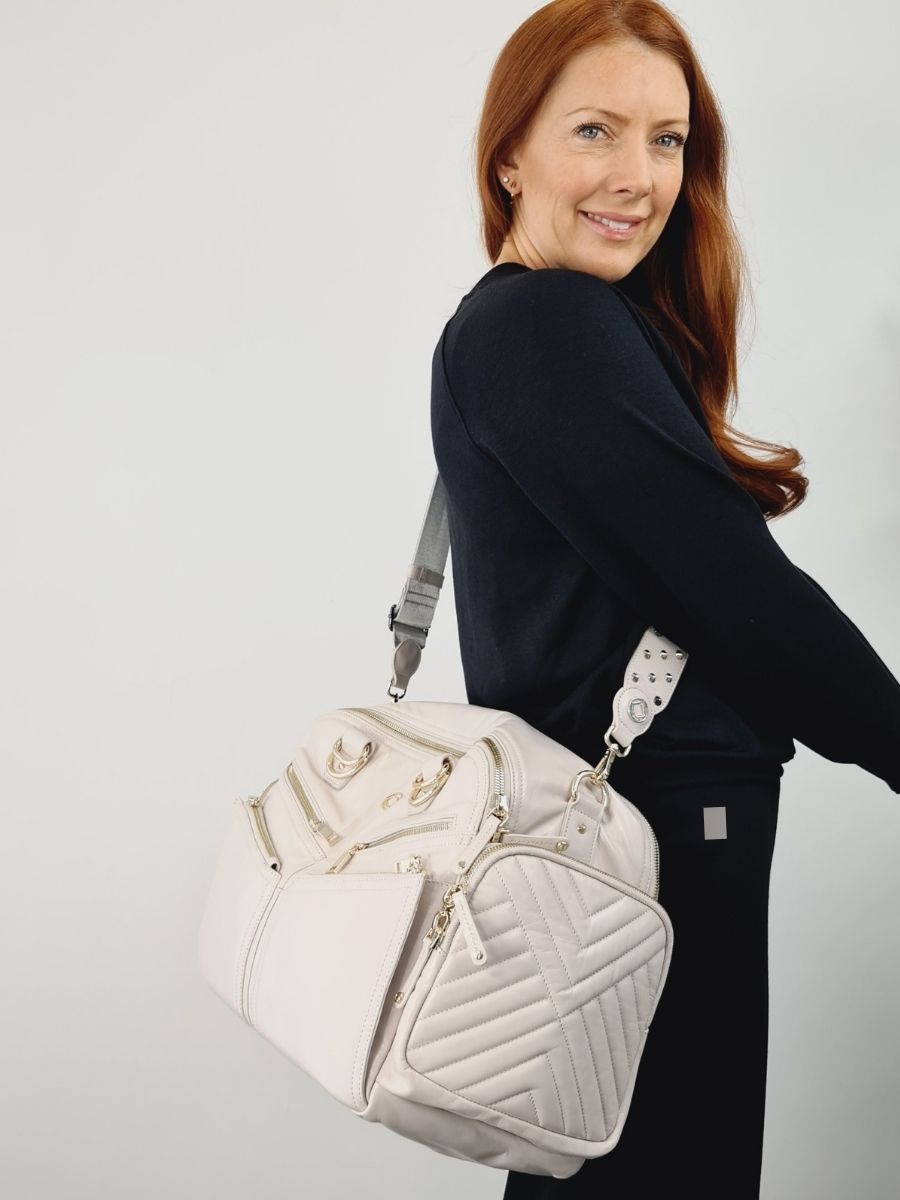 The Ultimate Holdall & Multiples Bag
Go Take on the world in style with your Westwood by your side, confident you have everything you need for an amazing day.
What Makes This Versatile Functional Changing Bag So Amazing

Shop our Instagram
Mum
Westwood is the perfect bag for those who need to carry it all. Forget the never full single compartment and think neatly organised and perfectly placed pockets. In a glance you can see everything is packed and in it's place and you can find everything in a second, while only carrying what you need.
Boss
Westwood transitions perfectly from a roomy workbag to your cabin bag. The genius slip pockets ensures no more bashed ankles as you glide through check in. Westwood is made to move and works hard so you don't have to.
Me
Every KeriKit bag is styled to look sleek and professional, with fashion-forward style, and a place for everything. Carry your yoga gear, lunch and work essentials inside the Westwood leather holdall, with ease.
{"id":6556954460254,"title":"Westwood Putty Leather Holdall Handbag - Slight Seconds","handle":"westwood-putty-leather-holdall-handbag-slight-seconds","description":"\u003ch3\u003e\u003cstrong\u003eAbout the Bag:\u003c\/strong\u003e\u003c\/h3\u003e\n\u003cp\u003eSometimes in manufacturing things don't always go according to plan and on this occasion we have noticed there is a slight leather defect on this style. We have checked the stock and the type of slight imperfections are shown in the pics below so please take a good look before ordering as these are now listed as FINAL SALE ONLY.\u003c\/p\u003e\n\u003cp\u003ePLEASE NOTE THIS ITEM CANNOT BE BOUGHT WITH ANY ADDITIONAL COUPONS OR CODES. IF A CODE IS USED THE ITEM WILL BE REMOVED AND YOU WILL BE REFUNDED FOR THIS ITEM IN YOUR ORDER.\u003c\/p\u003e\n\u003cp\u003eExamples of the small defects have been shown below and could include, creased leather, wonky logo, and tiny black dots.\u003c\/p\u003e\n\u003cp\u003eSnap one of these beauties up quickly as these small imperfections do not affect the usability of the bag in anyway.\u003c\/p\u003e","published_at":"2021-05-20T09:35:21Z","created_at":"2021-04-22T19:46:22Z","vendor":"KeriKit - Sale","type":"SHOULDER BAG","tags":["badge-Limited Edition","INFL","KKFREEWARRIOR","Putty","sale"],"price":26500,"price_min":26500,"price_max":26500,"available":false,"price_varies":false,"compare_at_price":44500,"compare_at_price_min":44500,"compare_at_price_max":44500,"compare_at_price_varies":false,"variants":[{"id":39320720080990,"title":"Default Title","option1":"Default Title","option2":null,"option3":null,"sku":"WESTWD-PUTTY-SOF-HN-INFL","requires_shipping":true,"taxable":true,"featured_image":null,"available":false,"name":"Westwood Putty Leather Holdall Handbag - Slight Seconds","public_title":null,"options":["Default Title"],"price":26500,"weight":1200,"compare_at_price":44500,"inventory_management":"shopify","barcode":"0719833252233","requires_selling_plan":false,"selling_plan_allocations":[]}],"images":["\/\/cdn.shopify.com\/s\/files\/1\/0221\/6335\/7796\/products\/WESTWOODPUTTYHOLDALL14515.jpg?v=1621352818","\/\/cdn.shopify.com\/s\/files\/1\/0221\/6335\/7796\/products\/WestwoodPutty-Stevie-bk-2048x2048_d26977f1-6069-407b-a7f7-fdb4beed04e1.jpg?v=1621352818","\/\/cdn.shopify.com\/s\/files\/1\/0221\/6335\/7796\/products\/WESTWOODPUTTYHOLDALL14548.jpg?v=1623681532","\/\/cdn.shopify.com\/s\/files\/1\/0221\/6335\/7796\/products\/WESTWOODPUTTYHOLDALL14550_df933907-6ce8-4746-bcee-7dcc08892f5b.jpg?v=1623681552","\/\/cdn.shopify.com\/s\/files\/1\/0221\/6335\/7796\/products\/WESTWOODPUTTYHOLDALL14707_22aef154-4b8e-4922-903b-5c2b3463bf73.jpg?v=1623681552","\/\/cdn.shopify.com\/s\/files\/1\/0221\/6335\/7796\/products\/Westwood-warrior-putty-2048x2048_8ef58929-4228-40c5-9740-f9a12181b5b4.png?v=1623681552","\/\/cdn.shopify.com\/s\/files\/1\/0221\/6335\/7796\/products\/WESTWOODPUTTYHOLDALL14522_e7534e6b-e0c6-4a27-989c-840fccd9d577.jpg?v=1623681552","\/\/cdn.shopify.com\/s\/files\/1\/0221\/6335\/7796\/products\/WestwoodPutty-Stevie-bk-2048x2048_f4817961-4ed2-4fce-9300-4816a78bb5e1.jpg?v=1623681552","\/\/cdn.shopify.com\/s\/files\/1\/0221\/6335\/7796\/products\/WESTWOODPUTTYHOLDALL14792_bee7ed61-5f65-49c6-8478-650bd60d0bd8.jpg?v=1623681552","\/\/cdn.shopify.com\/s\/files\/1\/0221\/6335\/7796\/products\/WESTWOODPUTTYHOLDALL14794.jpg?v=1623681552","\/\/cdn.shopify.com\/s\/files\/1\/0221\/6335\/7796\/products\/WESTWOODPUTTYHOLDALL14520_1.jpg?v=1623681552","\/\/cdn.shopify.com\/s\/files\/1\/0221\/6335\/7796\/products\/WestwoodHoldall.png?v=1623681552","\/\/cdn.shopify.com\/s\/files\/1\/0221\/6335\/7796\/products\/20210517_142408.jpg?v=1621352818","\/\/cdn.shopify.com\/s\/files\/1\/0221\/6335\/7796\/products\/20210517_142525.jpg?v=1621352818","\/\/cdn.shopify.com\/s\/files\/1\/0221\/6335\/7796\/products\/20210517_142615.jpg?v=1621352818","\/\/cdn.shopify.com\/s\/files\/1\/0221\/6335\/7796\/products\/20210517_142658.jpg?v=1621352818","\/\/cdn.shopify.com\/s\/files\/1\/0221\/6335\/7796\/products\/20210517_142922.jpg?v=1621352818","\/\/cdn.shopify.com\/s\/files\/1\/0221\/6335\/7796\/products\/20210517_143457.jpg?v=1621352818","\/\/cdn.shopify.com\/s\/files\/1\/0221\/6335\/7796\/products\/20210517_143836.jpg?v=1621352818","\/\/cdn.shopify.com\/s\/files\/1\/0221\/6335\/7796\/products\/WestwoodPutty-packedup-2048x2048_4da4d029-192e-4328-b1cc-36ceab668422.jpg?v=1623681857","\/\/cdn.shopify.com\/s\/files\/1\/0221\/6335\/7796\/products\/WestwoodPutty-SecondInsidepocket-2048x2048_8bac89d2-ef55-47a3-99d0-b18ece82f11a.jpg?v=1623681857","\/\/cdn.shopify.com\/s\/files\/1\/0221\/6335\/7796\/products\/WestwoodPutty-Outsidetopzipperpocket-2048x2048_d457562c-701c-44a2-9717-f03c7c4af302.jpg?v=1623681857"],"featured_image":"\/\/cdn.shopify.com\/s\/files\/1\/0221\/6335\/7796\/products\/WESTWOODPUTTYHOLDALL14515.jpg?v=1621352818","options":["Title"],"media":[{"alt":null,"id":20340725940318,"position":1,"preview_image":{"aspect_ratio":1.0,"height":2048,"width":2048,"src":"https:\/\/cdn.shopify.com\/s\/files\/1\/0221\/6335\/7796\/products\/WESTWOODPUTTYHOLDALL14515.jpg?v=1619121716"},"aspect_ratio":1.0,"height":2048,"media_type":"image","src":"https:\/\/cdn.shopify.com\/s\/files\/1\/0221\/6335\/7796\/products\/WESTWOODPUTTYHOLDALL14515.jpg?v=1619121716","width":2048},{"alt":null,"id":20340725743710,"position":2,"preview_image":{"aspect_ratio":1.0,"height":2048,"width":2048,"src":"https:\/\/cdn.shopify.com\/s\/files\/1\/0221\/6335\/7796\/products\/WestwoodPutty-Stevie-bk-2048x2048_d26977f1-6069-407b-a7f7-fdb4beed04e1.jpg?v=1619121715"},"aspect_ratio":1.0,"height":2048,"media_type":"image","src":"https:\/\/cdn.shopify.com\/s\/files\/1\/0221\/6335\/7796\/products\/WestwoodPutty-Stevie-bk-2048x2048_d26977f1-6069-407b-a7f7-fdb4beed04e1.jpg?v=1619121715","width":2048},{"alt":null,"id":20340725842014,"position":3,"preview_image":{"aspect_ratio":1.0,"height":2048,"width":2048,"src":"https:\/\/cdn.shopify.com\/s\/files\/1\/0221\/6335\/7796\/products\/WESTWOODPUTTYHOLDALL14548.jpg?v=1619121716"},"aspect_ratio":1.0,"height":2048,"media_type":"image","src":"https:\/\/cdn.shopify.com\/s\/files\/1\/0221\/6335\/7796\/products\/WESTWOODPUTTYHOLDALL14548.jpg?v=1619121716","width":2048},{"alt":"Luxury designer Westwood putty leather organiser crossbody baby changing bag","id":20340676558942,"position":4,"preview_image":{"aspect_ratio":1.0,"height":2048,"width":2048,"src":"https:\/\/cdn.shopify.com\/s\/files\/1\/0221\/6335\/7796\/products\/WESTWOODPUTTYHOLDALL14550_df933907-6ce8-4746-bcee-7dcc08892f5b.jpg?v=1619120788"},"aspect_ratio":1.0,"height":2048,"media_type":"image","src":"https:\/\/cdn.shopify.com\/s\/files\/1\/0221\/6335\/7796\/products\/WESTWOODPUTTYHOLDALL14550_df933907-6ce8-4746-bcee-7dcc08892f5b.jpg?v=1619120788","width":2048},{"alt":"Luxury designer Westwood putty leather organiser crossbody baby changing bag","id":20340676690014,"position":5,"preview_image":{"aspect_ratio":1.0,"height":2048,"width":2048,"src":"https:\/\/cdn.shopify.com\/s\/files\/1\/0221\/6335\/7796\/products\/WESTWOODPUTTYHOLDALL14707_22aef154-4b8e-4922-903b-5c2b3463bf73.jpg?v=1619120788"},"aspect_ratio":1.0,"height":2048,"media_type":"image","src":"https:\/\/cdn.shopify.com\/s\/files\/1\/0221\/6335\/7796\/products\/WESTWOODPUTTYHOLDALL14707_22aef154-4b8e-4922-903b-5c2b3463bf73.jpg?v=1619120788","width":2048},{"alt":"Luxury designer Westwood putty leather organiser crossbody diaper changing bag","id":20340676460638,"position":6,"preview_image":{"aspect_ratio":1.0,"height":2048,"width":2048,"src":"https:\/\/cdn.shopify.com\/s\/files\/1\/0221\/6335\/7796\/products\/Westwood-warrior-putty-2048x2048_8ef58929-4228-40c5-9740-f9a12181b5b4.png?v=1619120788"},"aspect_ratio":1.0,"height":2048,"media_type":"image","src":"https:\/\/cdn.shopify.com\/s\/files\/1\/0221\/6335\/7796\/products\/Westwood-warrior-putty-2048x2048_8ef58929-4228-40c5-9740-f9a12181b5b4.png?v=1619120788","width":2048},{"alt":"Luxury designer Westwood putty leather organiser crossbody baby changing bag","id":20340676755550,"position":7,"preview_image":{"aspect_ratio":1.0,"height":2048,"width":2048,"src":"https:\/\/cdn.shopify.com\/s\/files\/1\/0221\/6335\/7796\/products\/WESTWOODPUTTYHOLDALL14522_e7534e6b-e0c6-4a27-989c-840fccd9d577.jpg?v=1619120788"},"aspect_ratio":1.0,"height":2048,"media_type":"image","src":"https:\/\/cdn.shopify.com\/s\/files\/1\/0221\/6335\/7796\/products\/WESTWOODPUTTYHOLDALL14522_e7534e6b-e0c6-4a27-989c-840fccd9d577.jpg?v=1619120788","width":2048},{"alt":"Luxury designer Westwood putty leather organiser crossbody baby changing bag","id":20340676886622,"position":8,"preview_image":{"aspect_ratio":1.0,"height":2048,"width":2048,"src":"https:\/\/cdn.shopify.com\/s\/files\/1\/0221\/6335\/7796\/products\/WestwoodPutty-Stevie-bk-2048x2048_f4817961-4ed2-4fce-9300-4816a78bb5e1.jpg?v=1619120788"},"aspect_ratio":1.0,"height":2048,"media_type":"image","src":"https:\/\/cdn.shopify.com\/s\/files\/1\/0221\/6335\/7796\/products\/WestwoodPutty-Stevie-bk-2048x2048_f4817961-4ed2-4fce-9300-4816a78bb5e1.jpg?v=1619120788","width":2048},{"alt":null,"id":20340725710942,"position":9,"preview_image":{"aspect_ratio":1.0,"height":2048,"width":2048,"src":"https:\/\/cdn.shopify.com\/s\/files\/1\/0221\/6335\/7796\/products\/WESTWOODPUTTYHOLDALL14792_bee7ed61-5f65-49c6-8478-650bd60d0bd8.jpg?v=1619121715"},"aspect_ratio":1.0,"height":2048,"media_type":"image","src":"https:\/\/cdn.shopify.com\/s\/files\/1\/0221\/6335\/7796\/products\/WESTWOODPUTTYHOLDALL14792_bee7ed61-5f65-49c6-8478-650bd60d0bd8.jpg?v=1619121715","width":2048},{"alt":null,"id":20340725973086,"position":10,"preview_image":{"aspect_ratio":1.0,"height":2048,"width":2048,"src":"https:\/\/cdn.shopify.com\/s\/files\/1\/0221\/6335\/7796\/products\/WESTWOODPUTTYHOLDALL14794.jpg?v=1619121716"},"aspect_ratio":1.0,"height":2048,"media_type":"image","src":"https:\/\/cdn.shopify.com\/s\/files\/1\/0221\/6335\/7796\/products\/WESTWOODPUTTYHOLDALL14794.jpg?v=1619121716","width":2048},{"alt":null,"id":20340725874782,"position":11,"preview_image":{"aspect_ratio":1.0,"height":2048,"width":2048,"src":"https:\/\/cdn.shopify.com\/s\/files\/1\/0221\/6335\/7796\/products\/WESTWOODPUTTYHOLDALL14520_1.jpg?v=1619121716"},"aspect_ratio":1.0,"height":2048,"media_type":"image","src":"https:\/\/cdn.shopify.com\/s\/files\/1\/0221\/6335\/7796\/products\/WESTWOODPUTTYHOLDALL14520_1.jpg?v=1619121716","width":2048},{"alt":null,"id":20340725809246,"position":12,"preview_image":{"aspect_ratio":1.0,"height":2048,"width":2048,"src":"https:\/\/cdn.shopify.com\/s\/files\/1\/0221\/6335\/7796\/products\/WestwoodHoldall.png?v=1619121716"},"aspect_ratio":1.0,"height":2048,"media_type":"image","src":"https:\/\/cdn.shopify.com\/s\/files\/1\/0221\/6335\/7796\/products\/WestwoodHoldall.png?v=1619121716","width":2048},{"alt":null,"id":20401367449694,"position":13,"preview_image":{"aspect_ratio":0.563,"height":4000,"width":2252,"src":"https:\/\/cdn.shopify.com\/s\/files\/1\/0221\/6335\/7796\/products\/20210517_142408.jpg?v=1621352636"},"aspect_ratio":0.563,"height":4000,"media_type":"image","src":"https:\/\/cdn.shopify.com\/s\/files\/1\/0221\/6335\/7796\/products\/20210517_142408.jpg?v=1621352636","width":2252},{"alt":null,"id":20401367482462,"position":14,"preview_image":{"aspect_ratio":0.563,"height":4000,"width":2252,"src":"https:\/\/cdn.shopify.com\/s\/files\/1\/0221\/6335\/7796\/products\/20210517_142525.jpg?v=1621352637"},"aspect_ratio":0.563,"height":4000,"media_type":"image","src":"https:\/\/cdn.shopify.com\/s\/files\/1\/0221\/6335\/7796\/products\/20210517_142525.jpg?v=1621352637","width":2252},{"alt":null,"id":20401367515230,"position":15,"preview_image":{"aspect_ratio":0.563,"height":4000,"width":2252,"src":"https:\/\/cdn.shopify.com\/s\/files\/1\/0221\/6335\/7796\/products\/20210517_142615.jpg?v=1621352636"},"aspect_ratio":0.563,"height":4000,"media_type":"image","src":"https:\/\/cdn.shopify.com\/s\/files\/1\/0221\/6335\/7796\/products\/20210517_142615.jpg?v=1621352636","width":2252},{"alt":null,"id":20401367547998,"position":16,"preview_image":{"aspect_ratio":0.563,"height":4000,"width":2252,"src":"https:\/\/cdn.shopify.com\/s\/files\/1\/0221\/6335\/7796\/products\/20210517_142658.jpg?v=1621352636"},"aspect_ratio":0.563,"height":4000,"media_type":"image","src":"https:\/\/cdn.shopify.com\/s\/files\/1\/0221\/6335\/7796\/products\/20210517_142658.jpg?v=1621352636","width":2252},{"alt":null,"id":20401367580766,"position":17,"preview_image":{"aspect_ratio":0.563,"height":4000,"width":2252,"src":"https:\/\/cdn.shopify.com\/s\/files\/1\/0221\/6335\/7796\/products\/20210517_142922.jpg?v=1621352636"},"aspect_ratio":0.563,"height":4000,"media_type":"image","src":"https:\/\/cdn.shopify.com\/s\/files\/1\/0221\/6335\/7796\/products\/20210517_142922.jpg?v=1621352636","width":2252},{"alt":null,"id":20401367613534,"position":18,"preview_image":{"aspect_ratio":0.563,"height":4000,"width":2252,"src":"https:\/\/cdn.shopify.com\/s\/files\/1\/0221\/6335\/7796\/products\/20210517_143457.jpg?v=1621352636"},"aspect_ratio":0.563,"height":4000,"media_type":"image","src":"https:\/\/cdn.shopify.com\/s\/files\/1\/0221\/6335\/7796\/products\/20210517_143457.jpg?v=1621352636","width":2252},{"alt":null,"id":20401367646302,"position":19,"preview_image":{"aspect_ratio":0.563,"height":4000,"width":2252,"src":"https:\/\/cdn.shopify.com\/s\/files\/1\/0221\/6335\/7796\/products\/20210517_143836.jpg?v=1621352636"},"aspect_ratio":0.563,"height":4000,"media_type":"image","src":"https:\/\/cdn.shopify.com\/s\/files\/1\/0221\/6335\/7796\/products\/20210517_143836.jpg?v=1621352636","width":2252},{"alt":null,"id":20460946423902,"position":20,"preview_image":{"aspect_ratio":1.0,"height":2048,"width":2048,"src":"https:\/\/cdn.shopify.com\/s\/files\/1\/0221\/6335\/7796\/products\/WestwoodPutty-packedup-2048x2048_4da4d029-192e-4328-b1cc-36ceab668422.jpg?v=1623681857"},"aspect_ratio":1.0,"height":2048,"media_type":"image","src":"https:\/\/cdn.shopify.com\/s\/files\/1\/0221\/6335\/7796\/products\/WestwoodPutty-packedup-2048x2048_4da4d029-192e-4328-b1cc-36ceab668422.jpg?v=1623681857","width":2048},{"alt":null,"id":20460946456670,"position":21,"preview_image":{"aspect_ratio":1.0,"height":2048,"width":2048,"src":"https:\/\/cdn.shopify.com\/s\/files\/1\/0221\/6335\/7796\/products\/WestwoodPutty-SecondInsidepocket-2048x2048_8bac89d2-ef55-47a3-99d0-b18ece82f11a.jpg?v=1623681857"},"aspect_ratio":1.0,"height":2048,"media_type":"image","src":"https:\/\/cdn.shopify.com\/s\/files\/1\/0221\/6335\/7796\/products\/WestwoodPutty-SecondInsidepocket-2048x2048_8bac89d2-ef55-47a3-99d0-b18ece82f11a.jpg?v=1623681857","width":2048},{"alt":null,"id":20460946489438,"position":22,"preview_image":{"aspect_ratio":1.0,"height":2048,"width":2048,"src":"https:\/\/cdn.shopify.com\/s\/files\/1\/0221\/6335\/7796\/products\/WestwoodPutty-Outsidetopzipperpocket-2048x2048_d457562c-701c-44a2-9717-f03c7c4af302.jpg?v=1623681857"},"aspect_ratio":1.0,"height":2048,"media_type":"image","src":"https:\/\/cdn.shopify.com\/s\/files\/1\/0221\/6335\/7796\/products\/WestwoodPutty-Outsidetopzipperpocket-2048x2048_d457562c-701c-44a2-9717-f03c7c4af302.jpg?v=1623681857","width":2048}],"requires_selling_plan":false,"selling_plan_groups":[],"content":"\u003ch3\u003e\u003cstrong\u003eAbout the Bag:\u003c\/strong\u003e\u003c\/h3\u003e\n\u003cp\u003eSometimes in manufacturing things don't always go according to plan and on this occasion we have noticed there is a slight leather defect on this style. We have checked the stock and the type of slight imperfections are shown in the pics below so please take a good look before ordering as these are now listed as FINAL SALE ONLY.\u003c\/p\u003e\n\u003cp\u003ePLEASE NOTE THIS ITEM CANNOT BE BOUGHT WITH ANY ADDITIONAL COUPONS OR CODES. IF A CODE IS USED THE ITEM WILL BE REMOVED AND YOU WILL BE REFUNDED FOR THIS ITEM IN YOUR ORDER.\u003c\/p\u003e\n\u003cp\u003eExamples of the small defects have been shown below and could include, creased leather, wonky logo, and tiny black dots.\u003c\/p\u003e\n\u003cp\u003eSnap one of these beauties up quickly as these small imperfections do not affect the usability of the bag in anyway.\u003c\/p\u003e"}