Need to know
 About the Clutch
Sometimes in manufacturing things don't always go according to plan. Thanks to our stringent QC process only perfect products make it to you (most of the time!) These slight seconds items may have one or two or all of the possible defects listed:

Inconsistent grain in the leather, tiny black dots, marks, creased leather, tiny cut mark, wonky logo or stitching.

PLEASE NOTE THIS ITEM CANNOT BE BOUGHT WITH ANY ADDITIONAL COUPONS OR CODES. IF A CODE IS USED THE ITEM WILL BE REMOVED AND YOU WILL BE REFUNDED FOR THIS ITEM IN YOUR ORDER.

Snap one of these beauties up quickly as these small imperfections do not affect the usability of the bag in anyway.
Features and Sizing
Features:
•Front zip pocket
•Zip top for added security
•Back slip pocket with snap closure
•Internal zip pocket
•Internal divider
•Removable leather cross body strap
Size & Weight:
•L 23 cm x W 12.5 cm
•0.4 KG
Delivery and Returns
Shipping 
We offer Free UK delivery on all orders over £75
We also offer next day delivery for £5.75 via APC on orders booked before 10am Mon-Fri
Please allow 3 additional days for delivery if your item is being personalised
Worldwide
We offer FREE WORLDWIDE DELIVERY for all orders over £200
We also offer express shipping with 2 day delivery throughout USA for £35 via Fedex on orders booked before 10am Mon-Fri
Returns
We are happy to accept returns within 30 days, and offer a 1 year warranty on all bags.
For full Delivery and Returns details, click here.
Please note buyer is responsible for the return fees and insurance of the item being returned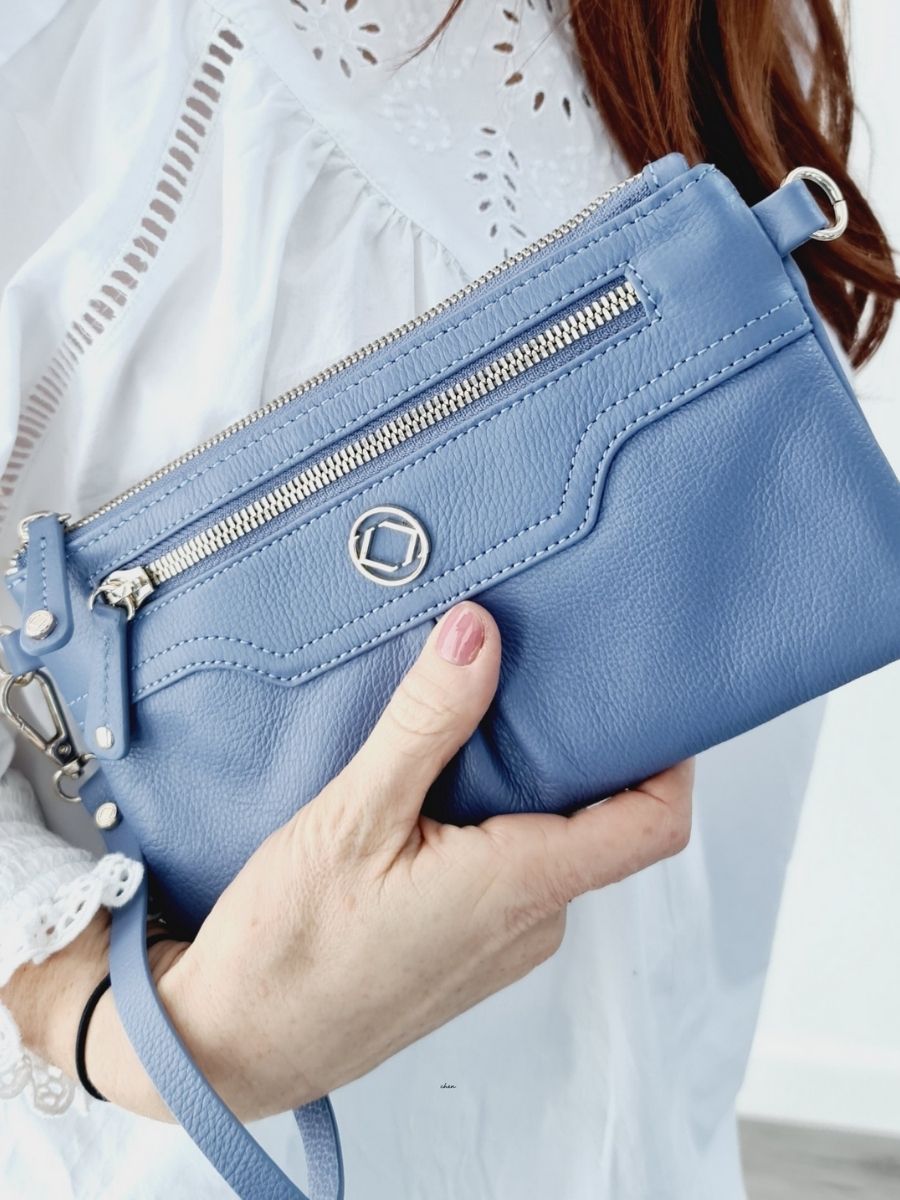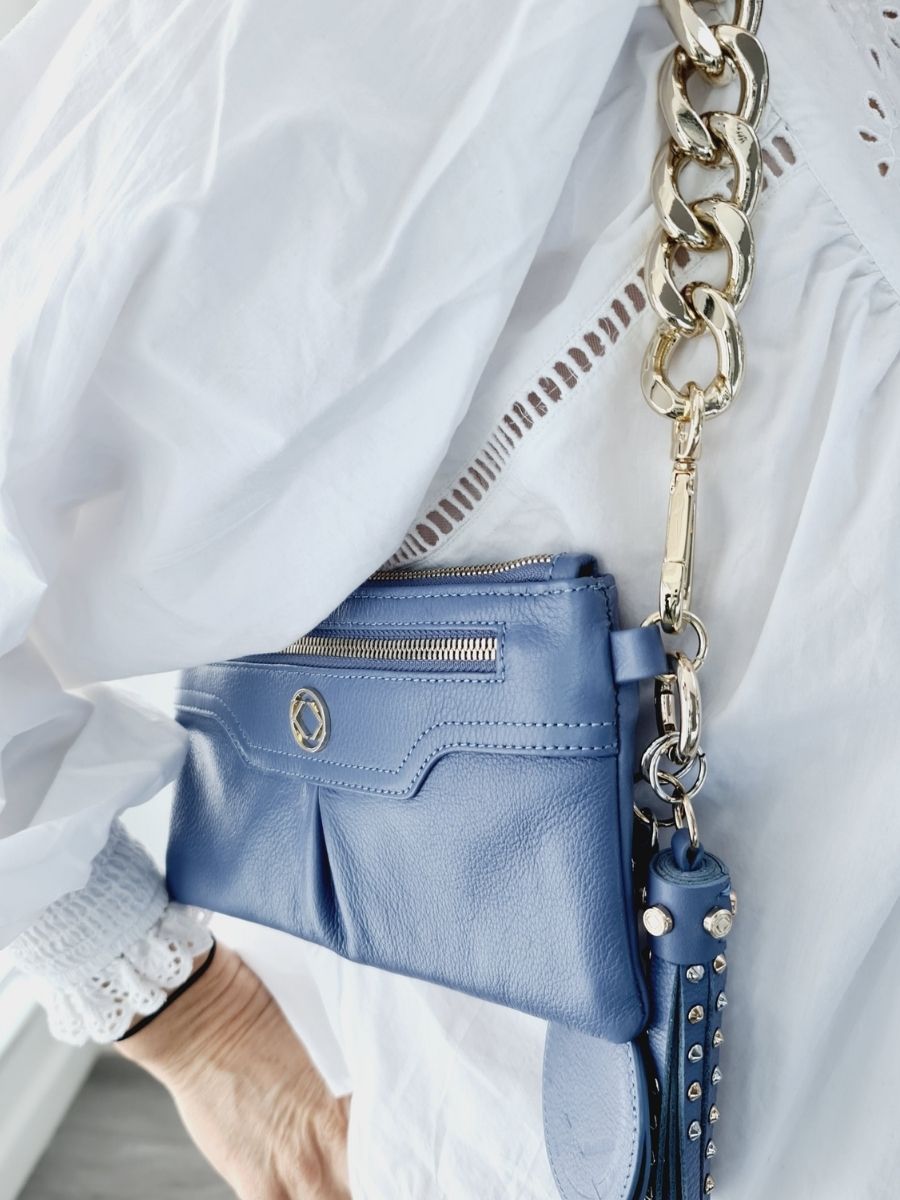 Your life. Your Kit. Your way.
Teddy is perfect as a travel wallet to stow passports and currency when travelling, or use as an evening bag, either cross-body or clutch style. Teddy is a super handy purse/clutch design that is perfect for holding your everyday essentials.
What Makes This Vintage Blue Leather Clutch So Amazing

Shop our Instagram
Mum
Teddy is a perfect leather clutch bag to use inside your leather backpack or to carry across your body when the rest of the world is on your back - literaly. This allows fuss free, easy access to your phone, keys, cards and other essentials and is a gret accessory to go with your KeriKit Leather Backpack.
Boss
If you need a bag to take you from work to a ight out then Teddy is the perfect leather clutch bag for you. with perfect pockets to stow away your lipgloss, keys, phone and cash you can easily transfer your essentials out of your larger bag and head out with Teddy by your side.
Me
Take on the world instyle and venture out into the big wide world with Teddy by your side. This little leather cross body clutch is a great size to carry up to 5 passports easily along with your phone, lipgloss, handcream and cards and makes the perfect travel comanion.
{"id":6575507406942,"title":"Slight Seconds Teddy Vintage Blue Leather Cross Body Clutch - Limited Edition","handle":"slight-seconds-teddy-vintage-blue-leather-cross-body-clutch-limited-edition","description":"\u003ch1\u003e \u003cstrong\u003eAbout the Clutch\u003c\/strong\u003e\n\u003c\/h1\u003e\n\u003cp\u003e\u003cspan\u003eSometimes in manufacturing things don't always go according to plan. Thanks to our stringent QC process only perfect products make it to you (most of the time!) These slight seconds items may have one or two or all of the possible defects listed:\u003c\/span\u003e\u003cbr\u003e\u003cbr\u003e\u003cspan\u003eInconsistent grain in the leather, tiny black dots, marks, creased leather, tiny cut mark, wonky logo or stitching.\u003c\/span\u003e\u003cbr\u003e\u003cbr\u003e\u003cspan\u003ePLEASE NOTE THIS ITEM CANNOT BE BOUGHT WITH ANY ADDITIONAL COUPONS OR CODES. IF A CODE IS USED THE ITEM WILL BE REMOVED AND YOU WILL BE REFUNDED FOR THIS ITEM IN YOUR ORDER.\u003c\/span\u003e\u003cbr\u003e\u003cbr\u003e\u003cspan\u003eSnap one of these beauties up quickly as these small imperfections do not affect the usability of the bag in anyway.\u003c\/span\u003e\u003c\/p\u003e","published_at":"2021-07-20T14:38:28Z","created_at":"2021-06-10T20:36:24Z","vendor":"KeriKit England","type":"bag","tags":["badge-Limited Edition","Blue","cross body","HIDDEN","INFL","kitbuilder","Purse","sale","travel wallet","vintage blue"],"price":7500,"price_min":7500,"price_max":7500,"available":true,"price_varies":false,"compare_at_price":14500,"compare_at_price_min":14500,"compare_at_price_max":14500,"compare_at_price_varies":false,"variants":[{"id":39375877046366,"title":"Default Title","option1":"Default Title","option2":null,"option3":null,"sku":"INFL-TED-VINBLUE-SOF-HN","requires_shipping":true,"taxable":true,"featured_image":null,"available":true,"name":"Slight Seconds Teddy Vintage Blue Leather Cross Body Clutch - Limited Edition","public_title":null,"options":["Default Title"],"price":7500,"weight":300,"compare_at_price":14500,"inventory_management":"shopify","barcode":"719833252516","requires_selling_plan":false,"selling_plan_allocations":[]}],"images":["\/\/cdn.shopify.com\/s\/files\/1\/0221\/6335\/7796\/products\/Teddyvintageblue-frontview-2048x2048_98e4a2e0-50fa-4dce-a280-c84b0e8272c3.jpg?v=1623357393","\/\/cdn.shopify.com\/s\/files\/1\/0221\/6335\/7796\/products\/TeddyVB-clutch-2048x2048_5fe90f41-57b6-4088-b657-4953f5529457.jpg?v=1623357394","\/\/cdn.shopify.com\/s\/files\/1\/0221\/6335\/7796\/products\/TEDDYVINTAGEBLUE14608_628e0a2e-583f-4df6-955b-4326113cbdfb.jpg?v=1623357394","\/\/cdn.shopify.com\/s\/files\/1\/0221\/6335\/7796\/products\/TeddyVB-backview-2048x2048_18eaaae9-335e-4b38-a0ac-417b9ddc309e.jpg?v=1623357394","\/\/cdn.shopify.com\/s\/files\/1\/0221\/6335\/7796\/products\/BannerPairedImages_13_acc00e6e-0011-4759-adaa-0dedcbc30469.png?v=1623357394","\/\/cdn.shopify.com\/s\/files\/1\/0221\/6335\/7796\/products\/TEDDYVINTAGEBLUE14858_1a465dc7-f164-40a5-ae09-2b103dc54860.jpg?v=1623357394","\/\/cdn.shopify.com\/s\/files\/1\/0221\/6335\/7796\/products\/TEDDYVINTAGEBLUE14859_4afcc24c-1973-4a22-9e7e-946e45142fa5.jpg?v=1623357394","\/\/cdn.shopify.com\/s\/files\/1\/0221\/6335\/7796\/products\/TEDDYVINTAGEBLUE14857_85fca263-3262-4cf1-afad-56116eb39a51.jpg?v=1623357394","\/\/cdn.shopify.com\/s\/files\/1\/0221\/6335\/7796\/products\/TEDDY_0129_beab2d5f-641b-4a0e-bab2-a362410ad8b5.jpg?v=1623357394","\/\/cdn.shopify.com\/s\/files\/1\/0221\/6335\/7796\/products\/TeddyGroup2048x2048_3c7a789f-de89-4fd5-b06a-48d7c6aa6e25.jpg?v=1623357395","\/\/cdn.shopify.com\/s\/files\/1\/0221\/6335\/7796\/products\/Teddyvintageblue-GretchenChain-2048x2048_b2075ffc-2012-43bd-83ad-a0c3eeaf5858.jpg?v=1623357395","\/\/cdn.shopify.com\/s\/files\/1\/0221\/6335\/7796\/products\/Teddy-StevieStuddedVintageBlue-WarrMidiVB-2048x2048_159030a8-c5ae-460c-8a0e-e6e385434268.jpg?v=1623357393"],"featured_image":"\/\/cdn.shopify.com\/s\/files\/1\/0221\/6335\/7796\/products\/Teddyvintageblue-frontview-2048x2048_98e4a2e0-50fa-4dce-a280-c84b0e8272c3.jpg?v=1623357393","options":["Title"],"media":[{"alt":"Luxury designer Teddy vintage blue leather organiser crossbody clutch","id":20450173583454,"position":1,"preview_image":{"aspect_ratio":1.0,"height":2048,"width":2048,"src":"https:\/\/cdn.shopify.com\/s\/files\/1\/0221\/6335\/7796\/products\/Teddyvintageblue-frontview-2048x2048_98e4a2e0-50fa-4dce-a280-c84b0e8272c3.jpg?v=1623357393"},"aspect_ratio":1.0,"height":2048,"media_type":"image","src":"https:\/\/cdn.shopify.com\/s\/files\/1\/0221\/6335\/7796\/products\/Teddyvintageblue-frontview-2048x2048_98e4a2e0-50fa-4dce-a280-c84b0e8272c3.jpg?v=1623357393","width":2048},{"alt":"Luxury designer Teddy vintage blue leather organiser crossbody clutch","id":20450173616222,"position":2,"preview_image":{"aspect_ratio":1.0,"height":2048,"width":2048,"src":"https:\/\/cdn.shopify.com\/s\/files\/1\/0221\/6335\/7796\/products\/TeddyVB-clutch-2048x2048_5fe90f41-57b6-4088-b657-4953f5529457.jpg?v=1623357393"},"aspect_ratio":1.0,"height":2048,"media_type":"image","src":"https:\/\/cdn.shopify.com\/s\/files\/1\/0221\/6335\/7796\/products\/TeddyVB-clutch-2048x2048_5fe90f41-57b6-4088-b657-4953f5529457.jpg?v=1623357393","width":2048},{"alt":"Luxury designer Teddy vintage blue leather organiser crossbody clutch","id":20450173648990,"position":3,"preview_image":{"aspect_ratio":1.0,"height":2048,"width":2048,"src":"https:\/\/cdn.shopify.com\/s\/files\/1\/0221\/6335\/7796\/products\/TEDDYVINTAGEBLUE14608_628e0a2e-583f-4df6-955b-4326113cbdfb.jpg?v=1623357393"},"aspect_ratio":1.0,"height":2048,"media_type":"image","src":"https:\/\/cdn.shopify.com\/s\/files\/1\/0221\/6335\/7796\/products\/TEDDYVINTAGEBLUE14608_628e0a2e-583f-4df6-955b-4326113cbdfb.jpg?v=1623357393","width":2048},{"alt":"Luxury designer Teddy vintage blue leather organiser crossbody clutch","id":20450173681758,"position":4,"preview_image":{"aspect_ratio":1.0,"height":2048,"width":2048,"src":"https:\/\/cdn.shopify.com\/s\/files\/1\/0221\/6335\/7796\/products\/TeddyVB-backview-2048x2048_18eaaae9-335e-4b38-a0ac-417b9ddc309e.jpg?v=1623357393"},"aspect_ratio":1.0,"height":2048,"media_type":"image","src":"https:\/\/cdn.shopify.com\/s\/files\/1\/0221\/6335\/7796\/products\/TeddyVB-backview-2048x2048_18eaaae9-335e-4b38-a0ac-417b9ddc309e.jpg?v=1623357393","width":2048},{"alt":"Luxury designer Teddy vintage blue leather organiser crossbody clutch","id":20450173714526,"position":5,"preview_image":{"aspect_ratio":1.0,"height":1000,"width":1000,"src":"https:\/\/cdn.shopify.com\/s\/files\/1\/0221\/6335\/7796\/products\/BannerPairedImages_13_acc00e6e-0011-4759-adaa-0dedcbc30469.png?v=1623357393"},"aspect_ratio":1.0,"height":1000,"media_type":"image","src":"https:\/\/cdn.shopify.com\/s\/files\/1\/0221\/6335\/7796\/products\/BannerPairedImages_13_acc00e6e-0011-4759-adaa-0dedcbc30469.png?v=1623357393","width":1000},{"alt":"Luxury designer Teddy vintage blue leather organiser crossbody clutch","id":20450173747294,"position":6,"preview_image":{"aspect_ratio":1.0,"height":2048,"width":2048,"src":"https:\/\/cdn.shopify.com\/s\/files\/1\/0221\/6335\/7796\/products\/TEDDYVINTAGEBLUE14858_1a465dc7-f164-40a5-ae09-2b103dc54860.jpg?v=1623357393"},"aspect_ratio":1.0,"height":2048,"media_type":"image","src":"https:\/\/cdn.shopify.com\/s\/files\/1\/0221\/6335\/7796\/products\/TEDDYVINTAGEBLUE14858_1a465dc7-f164-40a5-ae09-2b103dc54860.jpg?v=1623357393","width":2048},{"alt":"Luxury designer Teddy vintage blue leather organiser crossbody clutch","id":20450173780062,"position":7,"preview_image":{"aspect_ratio":1.0,"height":2048,"width":2048,"src":"https:\/\/cdn.shopify.com\/s\/files\/1\/0221\/6335\/7796\/products\/TEDDYVINTAGEBLUE14859_4afcc24c-1973-4a22-9e7e-946e45142fa5.jpg?v=1623357393"},"aspect_ratio":1.0,"height":2048,"media_type":"image","src":"https:\/\/cdn.shopify.com\/s\/files\/1\/0221\/6335\/7796\/products\/TEDDYVINTAGEBLUE14859_4afcc24c-1973-4a22-9e7e-946e45142fa5.jpg?v=1623357393","width":2048},{"alt":"Luxury designer Teddy vintage blue leather organiser crossbody clutch","id":20450173812830,"position":8,"preview_image":{"aspect_ratio":1.0,"height":2048,"width":2048,"src":"https:\/\/cdn.shopify.com\/s\/files\/1\/0221\/6335\/7796\/products\/TEDDYVINTAGEBLUE14857_85fca263-3262-4cf1-afad-56116eb39a51.jpg?v=1623357393"},"aspect_ratio":1.0,"height":2048,"media_type":"image","src":"https:\/\/cdn.shopify.com\/s\/files\/1\/0221\/6335\/7796\/products\/TEDDYVINTAGEBLUE14857_85fca263-3262-4cf1-afad-56116eb39a51.jpg?v=1623357393","width":2048},{"alt":"Luxury designer Teddy vintage blue leather organiser crossbody clutch","id":20450173845598,"position":9,"preview_image":{"aspect_ratio":1.236,"height":1346,"width":1664,"src":"https:\/\/cdn.shopify.com\/s\/files\/1\/0221\/6335\/7796\/products\/TEDDY_0129_beab2d5f-641b-4a0e-bab2-a362410ad8b5.jpg?v=1623357393"},"aspect_ratio":1.236,"height":1346,"media_type":"image","src":"https:\/\/cdn.shopify.com\/s\/files\/1\/0221\/6335\/7796\/products\/TEDDY_0129_beab2d5f-641b-4a0e-bab2-a362410ad8b5.jpg?v=1623357393","width":1664},{"alt":"Luxury designer Teddy vintage blue leather organiser crossbody clutch","id":20450173878366,"position":10,"preview_image":{"aspect_ratio":1.0,"height":2048,"width":2048,"src":"https:\/\/cdn.shopify.com\/s\/files\/1\/0221\/6335\/7796\/products\/TeddyGroup2048x2048_3c7a789f-de89-4fd5-b06a-48d7c6aa6e25.jpg?v=1623357393"},"aspect_ratio":1.0,"height":2048,"media_type":"image","src":"https:\/\/cdn.shopify.com\/s\/files\/1\/0221\/6335\/7796\/products\/TeddyGroup2048x2048_3c7a789f-de89-4fd5-b06a-48d7c6aa6e25.jpg?v=1623357393","width":2048},{"alt":"Luxury designer Teddy vintage blue leather organiser crossbody clutch","id":20450173911134,"position":11,"preview_image":{"aspect_ratio":1.0,"height":2048,"width":2048,"src":"https:\/\/cdn.shopify.com\/s\/files\/1\/0221\/6335\/7796\/products\/Teddyvintageblue-GretchenChain-2048x2048_b2075ffc-2012-43bd-83ad-a0c3eeaf5858.jpg?v=1623357393"},"aspect_ratio":1.0,"height":2048,"media_type":"image","src":"https:\/\/cdn.shopify.com\/s\/files\/1\/0221\/6335\/7796\/products\/Teddyvintageblue-GretchenChain-2048x2048_b2075ffc-2012-43bd-83ad-a0c3eeaf5858.jpg?v=1623357393","width":2048},{"alt":null,"id":20450173943902,"position":12,"preview_image":{"aspect_ratio":1.0,"height":2048,"width":2048,"src":"https:\/\/cdn.shopify.com\/s\/files\/1\/0221\/6335\/7796\/products\/Teddy-StevieStuddedVintageBlue-WarrMidiVB-2048x2048_159030a8-c5ae-460c-8a0e-e6e385434268.jpg?v=1623357393"},"aspect_ratio":1.0,"height":2048,"media_type":"image","src":"https:\/\/cdn.shopify.com\/s\/files\/1\/0221\/6335\/7796\/products\/Teddy-StevieStuddedVintageBlue-WarrMidiVB-2048x2048_159030a8-c5ae-460c-8a0e-e6e385434268.jpg?v=1623357393","width":2048}],"requires_selling_plan":false,"selling_plan_groups":[],"content":"\u003ch1\u003e \u003cstrong\u003eAbout the Clutch\u003c\/strong\u003e\n\u003c\/h1\u003e\n\u003cp\u003e\u003cspan\u003eSometimes in manufacturing things don't always go according to plan. Thanks to our stringent QC process only perfect products make it to you (most of the time!) These slight seconds items may have one or two or all of the possible defects listed:\u003c\/span\u003e\u003cbr\u003e\u003cbr\u003e\u003cspan\u003eInconsistent grain in the leather, tiny black dots, marks, creased leather, tiny cut mark, wonky logo or stitching.\u003c\/span\u003e\u003cbr\u003e\u003cbr\u003e\u003cspan\u003ePLEASE NOTE THIS ITEM CANNOT BE BOUGHT WITH ANY ADDITIONAL COUPONS OR CODES. IF A CODE IS USED THE ITEM WILL BE REMOVED AND YOU WILL BE REFUNDED FOR THIS ITEM IN YOUR ORDER.\u003c\/span\u003e\u003cbr\u003e\u003cbr\u003e\u003cspan\u003eSnap one of these beauties up quickly as these small imperfections do not affect the usability of the bag in anyway.\u003c\/span\u003e\u003c\/p\u003e"}