Slight Seconds Milly Leather Organiser Wallet
Need to know
About the Wallet
Sometimes in manufacturing things don't always go according to plan. Thanks to our stringent QC process only perfect products make it to you (most of the time!) These slight seconds items may have one or two or all of the possible defects listed:

Inconsistent grain in the leather, tiny black dots, marks, creased leather, tiny cut mark, wonky logo or stitching.

PLEASE NOTE THIS ITEM CANNOT BE BOUGHT WITH ANY ADDITIONAL COUPONS OR CODES. IF A CODE IS USED THE ITEM WILL BE REMOVED AND YOU WILL BE REFUNDED FOR THIS ITEM IN YOUR ORDER.

Snap one of these beauties up quickly as these small imperfections do not affect the usability of the bag in anyway.
Features and Sizing
Features:
•Butter-soft premium full grain leather
•Signature Waterproof Jacquard Lining
•Removable Leather Wrist Loop
•Gusseted back zip pocket
•Internal mesh zip pocket
•Elastic loop for USB, headphones or charge cable
•Clear plastic photo slot
•2 x Passport Holders
•2 x Slip Pockets for notes
•Multiple card holders
•Softglide zips
Size & Weight:
• L 22 cm x W 2 cm x H 11cm
• 0.5 KG
Delivery and Returns
Shipping 
We offer Free UK delivery on all orders over £75
We also offer next day delivery for £5.75 via APC on orders booked before 10am Mon-Fri
Please allow 3 additional days for delivery if your item is being personalised
Worldwide
We offer FREE WORLDWIDE DELIVERY for all orders over £200
We also offer express shipping with 2 day delivery throughout USA for £35 via Fedex on orders booked before 10am Mon-Fri
Returns
We are happy to accept returns within 30 days, and offer a 1 year warranty on all bags.
For full Delivery and Returns details, click here.
Please note buyer is responsible for the return fees and insurance of the item being returned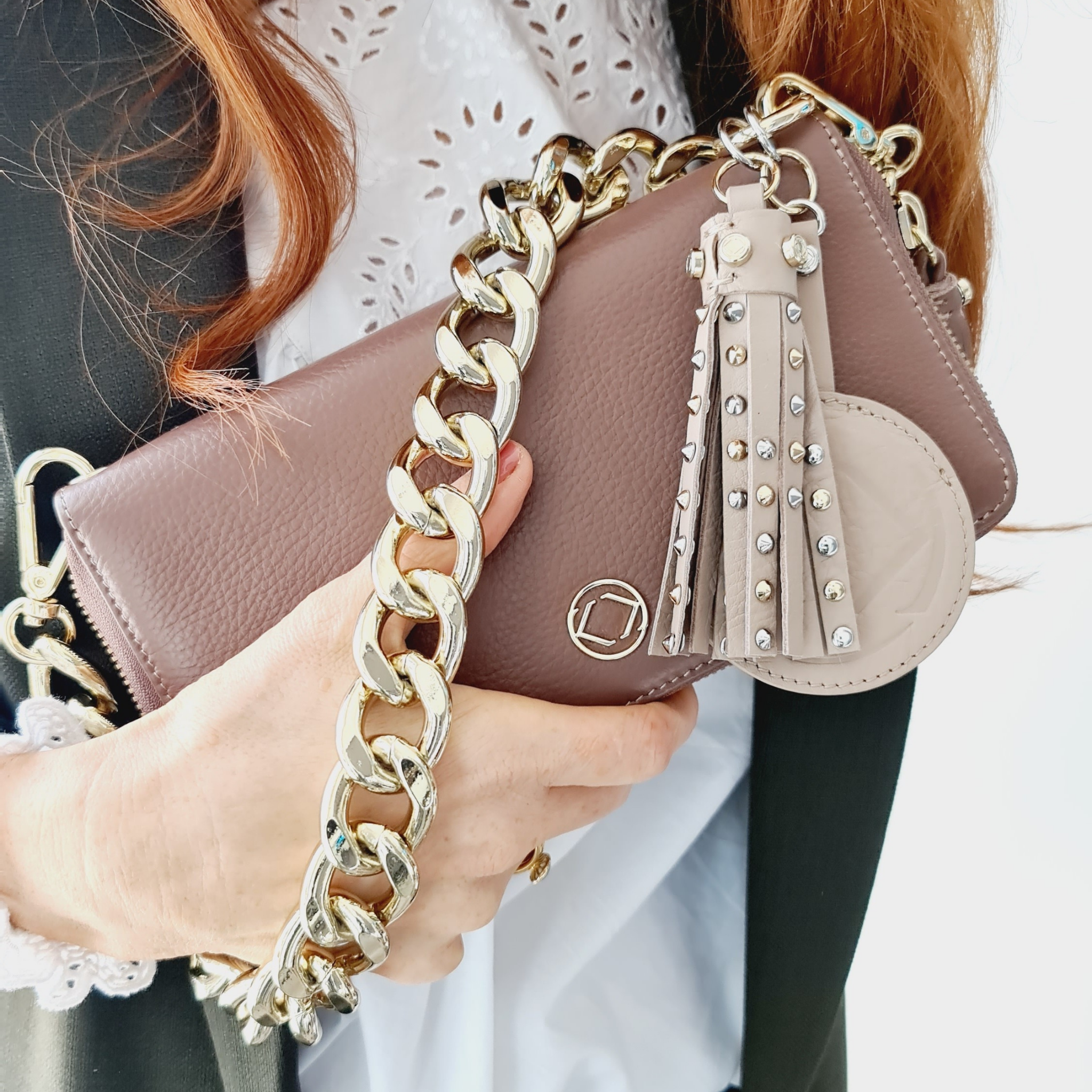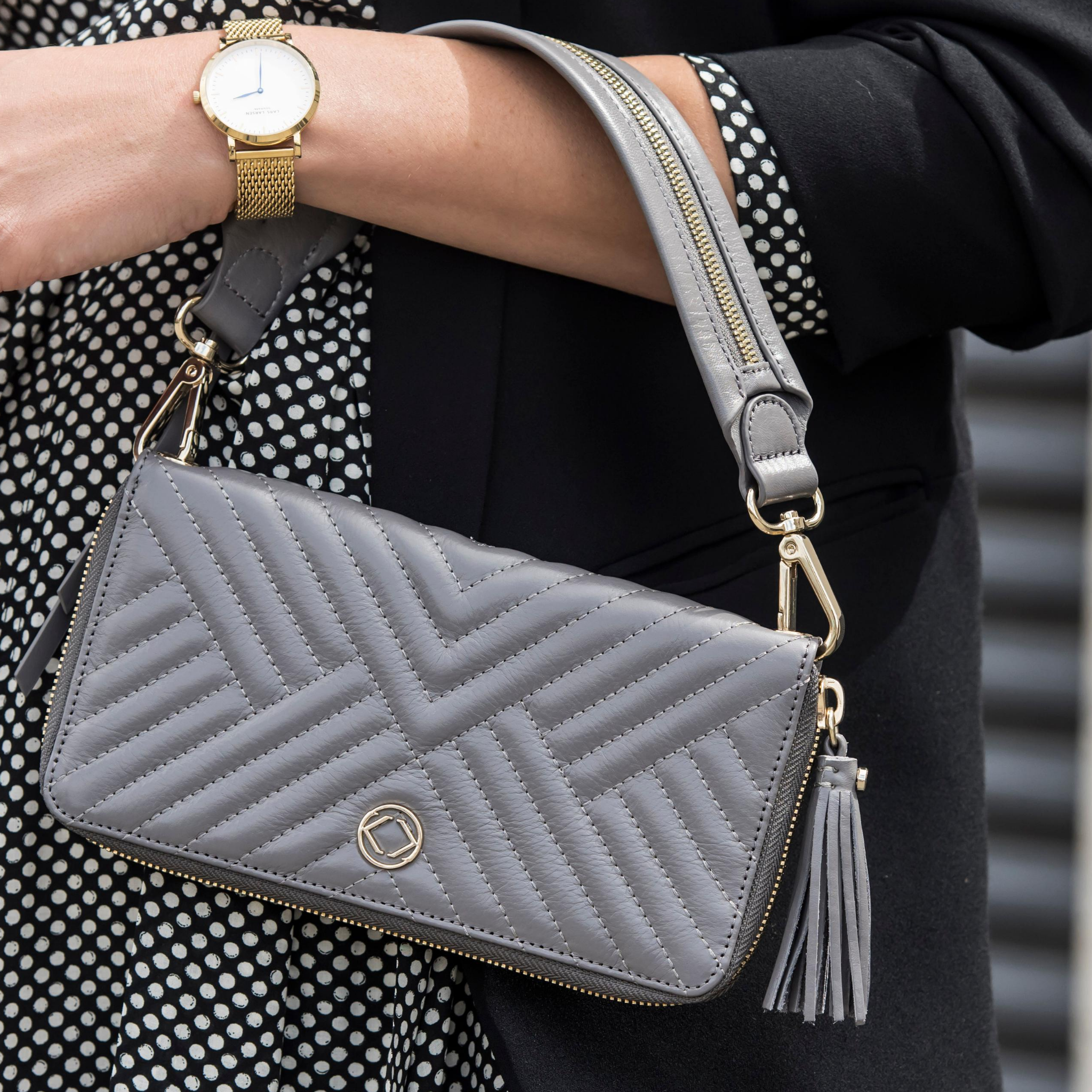 Your life. Your Kit. Your way.
Milly is the perfect leather travel wallet that sits by your side looking gorgeous and keeping your organised. Pop your keys, phone and cash inside and you have all you need for the school run.
What Makes This Stunning Leather Travel Wallet So Amazing

Shop our Instagram
Mum
Milly is the perfect travel wallet that sits by your side keeping your organised on the go. Handy slip pockets keep your essentials organised, this is a lifesaver when travelling with your family.
Boss
Travel in style with the Milly leather travel wallet. Keep tickets, passports and all your travel tech in one place and ready for action. When you get to your destination it doubles up as the perfect leather clutch bag or cross body bag for client meetings and evenings out.
Me
Milly is the perfect leather travel wallet, ready for when you get that all important bit of me time away with your friends and loved ones. Glide through passport control with all your essentials organised and close at hand for when you need them most.
{"id":6575502032990,"title":"Slight Seconds Milly Leather Organiser Wallet","handle":"slight-seconds-milly-leather-organiser-wallet","description":"\u003ch1\u003e\u003cstrong\u003eAbout the Wallet\u003c\/strong\u003e\u003c\/h1\u003e\n\u003cp\u003e\u003cspan\u003eSometimes in manufacturing things don't always go according to plan. Thanks to our stringent QC process only perfect products make it to you (most of the time!) These slight seconds items may have one or two or all of the possible defects listed:\u003c\/span\u003e\u003cbr\u003e\u003cbr\u003e\u003cspan\u003eInconsistent grain in the leather, tiny black dots, marks, creased leather, tiny cut mark, wonky logo or stitching.\u003c\/span\u003e\u003cbr\u003e\u003cbr\u003e\u003cspan\u003ePLEASE NOTE THIS ITEM CANNOT BE BOUGHT WITH ANY ADDITIONAL COUPONS OR CODES. IF A CODE IS USED THE ITEM WILL BE REMOVED AND YOU WILL BE REFUNDED FOR THIS ITEM IN YOUR ORDER.\u003c\/span\u003e\u003cbr\u003e\u003cbr\u003e\u003cspan\u003eSnap one of these beauties up quickly as these small imperfections do not affect the usability of the bag in anyway.\u003c\/span\u003e\u003c\/p\u003e","published_at":"2021-07-08T15:39:40Z","created_at":"2021-06-10T20:00:14Z","vendor":"KeriKit England","type":"Accessories","tags":["HIDDEN","INFL","kitbuilder","milly","travel wallet","Travel\/ Weekender Bag"],"price":5500,"price_min":5500,"price_max":7500,"available":true,"price_varies":true,"compare_at_price":12400,"compare_at_price_min":12400,"compare_at_price_max":17500,"compare_at_price_varies":true,"variants":[{"id":39375854403678,"title":"Black Croc","option1":"Black Croc","option2":null,"option3":null,"sku":"INFL-MIL-BLK-CROC-JUCH-HN","requires_shipping":true,"taxable":true,"featured_image":{"id":28177605722206,"product_id":6575502032990,"position":2,"created_at":"2021-06-10T20:00:34Z","updated_at":"2021-06-10T20:34:31Z","alt":null,"width":2048,"height":2048,"src":"https:\/\/cdn.shopify.com\/s\/files\/1\/0221\/6335\/7796\/products\/MillyOrganiserWallet-BlackCroc_5e7b5b10-4d93-4dab-a557-197ee4bc519e.jpg?v=1623357271","variant_ids":[39375854403678]},"available":false,"name":"Slight Seconds Milly Leather Organiser Wallet - Black Croc","public_title":"Black Croc","options":["Black Croc"],"price":7500,"weight":250,"compare_at_price":17500,"inventory_management":"shopify","barcode":"715706092265","featured_media":{"alt":null,"id":20450116304990,"position":2,"preview_image":{"aspect_ratio":1.0,"height":2048,"width":2048,"src":"https:\/\/cdn.shopify.com\/s\/files\/1\/0221\/6335\/7796\/products\/MillyOrganiserWallet-BlackCroc_5e7b5b10-4d93-4dab-a557-197ee4bc519e.jpg?v=1623355235"}},"requires_selling_plan":false,"selling_plan_allocations":[]},{"id":39375854436446,"title":"Quilted Dark Grey","option1":"Quilted Dark Grey","option2":null,"option3":null,"sku":"INFL-MIL-DKG-QULT-JU-HN","requires_shipping":true,"taxable":true,"featured_image":{"id":28177605951582,"product_id":6575502032990,"position":9,"created_at":"2021-06-10T20:00:34Z","updated_at":"2021-06-10T20:34:31Z","alt":null,"width":2048,"height":2048,"src":"https:\/\/cdn.shopify.com\/s\/files\/1\/0221\/6335\/7796\/products\/MILLIEDARKGREY3211_44eb74e8-1f67-4833-9d54-2cc8061d2713.png?v=1623357271","variant_ids":[39375854436446]},"available":false,"name":"Slight Seconds Milly Leather Organiser Wallet - Quilted Dark Grey","public_title":"Quilted Dark Grey","options":["Quilted Dark Grey"],"price":6500,"weight":250,"compare_at_price":16500,"inventory_management":"shopify","barcode":"715706092241","featured_media":{"alt":null,"id":20450116534366,"position":9,"preview_image":{"aspect_ratio":1.0,"height":2048,"width":2048,"src":"https:\/\/cdn.shopify.com\/s\/files\/1\/0221\/6335\/7796\/products\/MILLIEDARKGREY3211_44eb74e8-1f67-4833-9d54-2cc8061d2713.png?v=1623355235"}},"requires_selling_plan":false,"selling_plan_allocations":[]},{"id":39375854501982,"title":"Oxblood","option1":"Oxblood","option2":null,"option3":null,"sku":"INFL-MIL-OX-HX-HN","requires_shipping":true,"taxable":true,"featured_image":{"id":28177606443102,"product_id":6575502032990,"position":17,"created_at":"2021-06-10T20:00:35Z","updated_at":"2021-06-10T20:34:31Z","alt":null,"width":2048,"height":2048,"src":"https:\/\/cdn.shopify.com\/s\/files\/1\/0221\/6335\/7796\/products\/MillyOXBLOOD-FRONT-2048X2048_3e3c52ac-aa7a-4362-8884-8a76c8a8a816.png?v=1623357271","variant_ids":[39375854501982]},"available":true,"name":"Slight Seconds Milly Leather Organiser Wallet - Oxblood","public_title":"Oxblood","options":["Oxblood"],"price":5500,"weight":300,"compare_at_price":14500,"inventory_management":"shopify","barcode":"715706092227","featured_media":{"alt":null,"id":20450117025886,"position":17,"preview_image":{"aspect_ratio":1.0,"height":2048,"width":2048,"src":"https:\/\/cdn.shopify.com\/s\/files\/1\/0221\/6335\/7796\/products\/MillyOXBLOOD-FRONT-2048X2048_3e3c52ac-aa7a-4362-8884-8a76c8a8a816.png?v=1623355235"}},"requires_selling_plan":false,"selling_plan_allocations":[]},{"id":39375854534750,"title":"Mink","option1":"Mink","option2":null,"option3":null,"sku":"INFL-MIL-MINK-JU-HN","requires_shipping":true,"taxable":true,"featured_image":{"id":28177606738014,"product_id":6575502032990,"position":26,"created_at":"2021-06-10T20:00:35Z","updated_at":"2021-06-10T20:34:31Z","alt":null,"width":2048,"height":2048,"src":"https:\/\/cdn.shopify.com\/s\/files\/1\/0221\/6335\/7796\/products\/MILLIEMINC3206_de007eaa-d05c-4207-b4da-5212e8d2a3c9.png?v=1623357271","variant_ids":[39375854534750]},"available":true,"name":"Slight Seconds Milly Leather Organiser Wallet - Mink","public_title":"Mink","options":["Mink"],"price":5500,"weight":250,"compare_at_price":14500,"inventory_management":"shopify","barcode":"715706092234","featured_media":{"alt":null,"id":20450117320798,"position":26,"preview_image":{"aspect_ratio":1.0,"height":2048,"width":2048,"src":"https:\/\/cdn.shopify.com\/s\/files\/1\/0221\/6335\/7796\/products\/MILLIEMINC3206_de007eaa-d05c-4207-b4da-5212e8d2a3c9.png?v=1623355236"}},"requires_selling_plan":false,"selling_plan_allocations":[]},{"id":39375874326622,"title":"Black","option1":"Black","option2":null,"option3":null,"sku":"INFL-MIL-BLK-JUCH-HN","requires_shipping":true,"taxable":true,"featured_image":{"id":28177658478686,"product_id":6575502032990,"position":35,"created_at":"2021-06-10T20:33:55Z","updated_at":"2021-06-10T20:34:31Z","alt":null,"width":2048,"height":2048,"src":"https:\/\/cdn.shopify.com\/s\/files\/1\/0221\/6335\/7796\/products\/MillyOrganiserWallet-BlackLeather.jpg?v=1623357271","variant_ids":[39375874326622]},"available":false,"name":"Slight Seconds Milly Leather Organiser Wallet - Black","public_title":"Black","options":["Black"],"price":5500,"weight":250,"compare_at_price":12400,"inventory_management":"shopify","barcode":"783956118301","featured_media":{"alt":null,"id":20450170241118,"position":35,"preview_image":{"aspect_ratio":1.0,"height":2048,"width":2048,"src":"https:\/\/cdn.shopify.com\/s\/files\/1\/0221\/6335\/7796\/products\/MillyOrganiserWallet-BlackLeather.jpg?v=1623357234"}},"requires_selling_plan":false,"selling_plan_allocations":[]}],"images":["\/\/cdn.shopify.com\/s\/files\/1\/0221\/6335\/7796\/products\/SlightSecondsMillyClutch-Group-2048x2048.jpg?v=1623357271","\/\/cdn.shopify.com\/s\/files\/1\/0221\/6335\/7796\/products\/MillyOrganiserWallet-BlackCroc_5e7b5b10-4d93-4dab-a557-197ee4bc519e.jpg?v=1623357271","\/\/cdn.shopify.com\/s\/files\/1\/0221\/6335\/7796\/products\/MillyBlackCroc-WebsterKhaki-2048x2048_74099965-198e-4896-8e92-66f160d34426.jpg?v=1623357271","\/\/cdn.shopify.com\/s\/files\/1\/0221\/6335\/7796\/products\/MillyblackCroc-Backview-2048x2048_61577670-e3f4-4395-8a5c-b03d8ecf1f8a.jpg?v=1623357271","\/\/cdn.shopify.com\/s\/files\/1\/0221\/6335\/7796\/products\/MillyBlackCroc-Gretchen-2048x2048_d5216a60-c4d2-4e42-818f-09a6753dbe03.jpg?v=1623357271","\/\/cdn.shopify.com\/s\/files\/1\/0221\/6335\/7796\/products\/MillyBlackCroc-InsideEmpty-2048x2048_fbb66de5-32fa-44f6-a6d9-7b7bb4d13f54.jpg?v=1623357271","\/\/cdn.shopify.com\/s\/files\/1\/0221\/6335\/7796\/products\/MillyBLKCroc-InsideViewPacked-KKNotebook-2048x2048_227c4c12-e942-4af1-84a5-8272f31c858e.jpg?v=1623357271","\/\/cdn.shopify.com\/s\/files\/1\/0221\/6335\/7796\/products\/MillyBLKCroc-InsideViewPacked-2048x2048_277ca003-779c-4363-b9ca-ce91fa8853a1.jpg?v=1623357271","\/\/cdn.shopify.com\/s\/files\/1\/0221\/6335\/7796\/products\/MILLIEDARKGREY3211_44eb74e8-1f67-4833-9d54-2cc8061d2713.png?v=1623357271","\/\/cdn.shopify.com\/s\/files\/1\/0221\/6335\/7796\/products\/MILLYQUILTDARKGREY-GRETCHENDARKGREY_743d85e8-3f9f-42b1-a627-807c2f9a383f.png?v=1623357271","\/\/cdn.shopify.com\/s\/files\/1\/0221\/6335\/7796\/products\/MILLIEDARKGREY3212_bfadd15d-6924-4e6a-8676-3e8e1bc86e82.png?v=1623357271","\/\/cdn.shopify.com\/s\/files\/1\/0221\/6335\/7796\/products\/MillyDKGray-Clutch-2048x2048_85416c66-8cb2-40d6-8d00-0e58ffbf549a.jpg?v=1623357271","\/\/cdn.shopify.com\/s\/files\/1\/0221\/6335\/7796\/products\/MILLIEDARKGREYEMPTY3213_02968b6e-9eb6-4db1-87b4-84b2f011d04e.png?v=1623357271","\/\/cdn.shopify.com\/s\/files\/1\/0221\/6335\/7796\/products\/MillyDKGray-InsidePacked-2048x2048_af7cbd64-5231-46ec-a3e7-bb3bce10d1f5.jpg?v=1623357271","\/\/cdn.shopify.com\/s\/files\/1\/0221\/6335\/7796\/products\/MILLIEDARKGREYFILLED3214_09b8097e-1630-420e-bfea-8b361e040b84.png?v=1623357271","\/\/cdn.shopify.com\/s\/files\/1\/0221\/6335\/7796\/products\/MillyDKGray-StevieStuddedTaupe-2048x2048_fd262a61-2fa0-456f-b478-56ac24f32f54.jpg?v=1623357271","\/\/cdn.shopify.com\/s\/files\/1\/0221\/6335\/7796\/products\/MillyOXBLOOD-FRONT-2048X2048_3e3c52ac-aa7a-4362-8884-8a76c8a8a816.png?v=1623357271","\/\/cdn.shopify.com\/s\/files\/1\/0221\/6335\/7796\/products\/MillyOxblood-InsideViewEmpty-2048x2048_948a2cd4-e8ab-411e-9b5e-0bb8cdac5f8f.jpg?v=1623357271","\/\/cdn.shopify.com\/s\/files\/1\/0221\/6335\/7796\/products\/MillyOxblood-InsideViewPacked-2048x2048_6f6b2143-c733-4a39-8bef-23346a85a14f.jpg?v=1623357271","\/\/cdn.shopify.com\/s\/files\/1\/0221\/6335\/7796\/products\/MILLIEOXBLOODFILLED3217_e9690071-ab58-4751-8168-6a04f9cf9928.jpg?v=1623357271","\/\/cdn.shopify.com\/s\/files\/1\/0221\/6335\/7796\/products\/MillyOxbloodClutch-wrist-2048X2048_e3c6a55d-a5e9-4468-8c35-724e39e69243.jpg?v=1623357271","\/\/cdn.shopify.com\/s\/files\/1\/0221\/6335\/7796\/products\/MILLIEOXBLOOD3205_adef121b-4c69-4b3b-95ad-4f270e0551f9.jpg?v=1623357271","\/\/cdn.shopify.com\/s\/files\/1\/0221\/6335\/7796\/products\/MillyOxblood-crossbody-2048x2048_d4db616d-1900-4524-84f1-6289c6967387.jpg?v=1623357271","\/\/cdn.shopify.com\/s\/files\/1\/0221\/6335\/7796\/products\/MillyOxblood-AmberOxblood_1a214fea-cf97-4f19-aedb-71430461de6d.jpg?v=1623357271","\/\/cdn.shopify.com\/s\/files\/1\/0221\/6335\/7796\/products\/SS21Imagery2048_1_83bef393-ae21-41e2-897e-c8b987342591.png?v=1623357271","\/\/cdn.shopify.com\/s\/files\/1\/0221\/6335\/7796\/products\/MILLIEMINC3206_de007eaa-d05c-4207-b4da-5212e8d2a3c9.png?v=1623357271","\/\/cdn.shopify.com\/s\/files\/1\/0221\/6335\/7796\/products\/MillyMinkClutch_2_426db220-49a1-4149-8289-0f497ba2e296.png?v=1623357271","\/\/cdn.shopify.com\/s\/files\/1\/0221\/6335\/7796\/products\/MILLIEMINCEMPTY3218_c8cc1673-9beb-45ac-ac6d-0a40495d7a43.png?v=1623357271","\/\/cdn.shopify.com\/s\/files\/1\/0221\/6335\/7796\/products\/MILLIEMINC3207_26577777-3d98-48ad-8641-8ace0ec18a47.png?v=1623357271","\/\/cdn.shopify.com\/s\/files\/1\/0221\/6335\/7796\/products\/MillyMink-InsidePacked-2048x2048_eabba744-012d-4984-90c7-43b27b6f9a27.jpg?v=1623357271","\/\/cdn.shopify.com\/s\/files\/1\/0221\/6335\/7796\/products\/MILLIEMINCFILLED3219_a86c8e3a-935f-40bd-83c2-6dd01a5f3579.png?v=1623357271","\/\/cdn.shopify.com\/s\/files\/1\/0221\/6335\/7796\/products\/MillyMink-Tilly-KKNotebook-2048x2048_0ead0435-c4eb-4991-abfa-9e17574ce64d.jpg?v=1623357271","\/\/cdn.shopify.com\/s\/files\/1\/0221\/6335\/7796\/products\/SS21Imagery2048_7cd3b51d-2171-4fce-a3c6-2f80daecac5b.png?v=1623357271","\/\/cdn.shopify.com\/s\/files\/1\/0221\/6335\/7796\/products\/MillyMink-WebsterMiniMuted-2048x2048_a521ca2e-fc5a-48c0-8a42-46d7b71b5c26.jpg?v=1623357271","\/\/cdn.shopify.com\/s\/files\/1\/0221\/6335\/7796\/products\/MillyOrganiserWallet-BlackLeather.jpg?v=1623357271","\/\/cdn.shopify.com\/s\/files\/1\/0221\/6335\/7796\/products\/MillyBlackleather_Webster.jpg?v=1623357271","\/\/cdn.shopify.com\/s\/files\/1\/0221\/6335\/7796\/products\/MillyblackLeather-insideEmpty-2048x2048.jpg?v=1623357271","\/\/cdn.shopify.com\/s\/files\/1\/0221\/6335\/7796\/products\/MillyBlackLeather-InsidePacked-2048x2048.jpg?v=1623357271","\/\/cdn.shopify.com\/s\/files\/1\/0221\/6335\/7796\/products\/MillyBlackLeather-Backview-2048x2048.jpg?v=1623357271","\/\/cdn.shopify.com\/s\/files\/1\/0221\/6335\/7796\/products\/Millie.png?v=1623357271"],"featured_image":"\/\/cdn.shopify.com\/s\/files\/1\/0221\/6335\/7796\/products\/SlightSecondsMillyClutch-Group-2048x2048.jpg?v=1623357271","options":["Colour"],"media":[{"alt":null,"id":20450170273886,"position":1,"preview_image":{"aspect_ratio":1.0,"height":2048,"width":2048,"src":"https:\/\/cdn.shopify.com\/s\/files\/1\/0221\/6335\/7796\/products\/SlightSecondsMillyClutch-Group-2048x2048.jpg?v=1623357235"},"aspect_ratio":1.0,"height":2048,"media_type":"image","src":"https:\/\/cdn.shopify.com\/s\/files\/1\/0221\/6335\/7796\/products\/SlightSecondsMillyClutch-Group-2048x2048.jpg?v=1623357235","width":2048},{"alt":null,"id":20450116304990,"position":2,"preview_image":{"aspect_ratio":1.0,"height":2048,"width":2048,"src":"https:\/\/cdn.shopify.com\/s\/files\/1\/0221\/6335\/7796\/products\/MillyOrganiserWallet-BlackCroc_5e7b5b10-4d93-4dab-a557-197ee4bc519e.jpg?v=1623355235"},"aspect_ratio":1.0,"height":2048,"media_type":"image","src":"https:\/\/cdn.shopify.com\/s\/files\/1\/0221\/6335\/7796\/products\/MillyOrganiserWallet-BlackCroc_5e7b5b10-4d93-4dab-a557-197ee4bc519e.jpg?v=1623355235","width":2048},{"alt":null,"id":20450116337758,"position":3,"preview_image":{"aspect_ratio":1.0,"height":2048,"width":2048,"src":"https:\/\/cdn.shopify.com\/s\/files\/1\/0221\/6335\/7796\/products\/MillyBlackCroc-WebsterKhaki-2048x2048_74099965-198e-4896-8e92-66f160d34426.jpg?v=1623355235"},"aspect_ratio":1.0,"height":2048,"media_type":"image","src":"https:\/\/cdn.shopify.com\/s\/files\/1\/0221\/6335\/7796\/products\/MillyBlackCroc-WebsterKhaki-2048x2048_74099965-198e-4896-8e92-66f160d34426.jpg?v=1623355235","width":2048},{"alt":null,"id":20450116370526,"position":4,"preview_image":{"aspect_ratio":1.0,"height":2048,"width":2048,"src":"https:\/\/cdn.shopify.com\/s\/files\/1\/0221\/6335\/7796\/products\/MillyblackCroc-Backview-2048x2048_61577670-e3f4-4395-8a5c-b03d8ecf1f8a.jpg?v=1623355235"},"aspect_ratio":1.0,"height":2048,"media_type":"image","src":"https:\/\/cdn.shopify.com\/s\/files\/1\/0221\/6335\/7796\/products\/MillyblackCroc-Backview-2048x2048_61577670-e3f4-4395-8a5c-b03d8ecf1f8a.jpg?v=1623355235","width":2048},{"alt":null,"id":20450116403294,"position":5,"preview_image":{"aspect_ratio":1.0,"height":2048,"width":2048,"src":"https:\/\/cdn.shopify.com\/s\/files\/1\/0221\/6335\/7796\/products\/MillyBlackCroc-Gretchen-2048x2048_d5216a60-c4d2-4e42-818f-09a6753dbe03.jpg?v=1623355235"},"aspect_ratio":1.0,"height":2048,"media_type":"image","src":"https:\/\/cdn.shopify.com\/s\/files\/1\/0221\/6335\/7796\/products\/MillyBlackCroc-Gretchen-2048x2048_d5216a60-c4d2-4e42-818f-09a6753dbe03.jpg?v=1623355235","width":2048},{"alt":null,"id":20450116436062,"position":6,"preview_image":{"aspect_ratio":1.0,"height":2048,"width":2048,"src":"https:\/\/cdn.shopify.com\/s\/files\/1\/0221\/6335\/7796\/products\/MillyBlackCroc-InsideEmpty-2048x2048_fbb66de5-32fa-44f6-a6d9-7b7bb4d13f54.jpg?v=1623355235"},"aspect_ratio":1.0,"height":2048,"media_type":"image","src":"https:\/\/cdn.shopify.com\/s\/files\/1\/0221\/6335\/7796\/products\/MillyBlackCroc-InsideEmpty-2048x2048_fbb66de5-32fa-44f6-a6d9-7b7bb4d13f54.jpg?v=1623355235","width":2048},{"alt":null,"id":20450116468830,"position":7,"preview_image":{"aspect_ratio":1.0,"height":2048,"width":2048,"src":"https:\/\/cdn.shopify.com\/s\/files\/1\/0221\/6335\/7796\/products\/MillyBLKCroc-InsideViewPacked-KKNotebook-2048x2048_227c4c12-e942-4af1-84a5-8272f31c858e.jpg?v=1623355235"},"aspect_ratio":1.0,"height":2048,"media_type":"image","src":"https:\/\/cdn.shopify.com\/s\/files\/1\/0221\/6335\/7796\/products\/MillyBLKCroc-InsideViewPacked-KKNotebook-2048x2048_227c4c12-e942-4af1-84a5-8272f31c858e.jpg?v=1623355235","width":2048},{"alt":null,"id":20450116501598,"position":8,"preview_image":{"aspect_ratio":1.0,"height":2048,"width":2048,"src":"https:\/\/cdn.shopify.com\/s\/files\/1\/0221\/6335\/7796\/products\/MillyBLKCroc-InsideViewPacked-2048x2048_277ca003-779c-4363-b9ca-ce91fa8853a1.jpg?v=1623355235"},"aspect_ratio":1.0,"height":2048,"media_type":"image","src":"https:\/\/cdn.shopify.com\/s\/files\/1\/0221\/6335\/7796\/products\/MillyBLKCroc-InsideViewPacked-2048x2048_277ca003-779c-4363-b9ca-ce91fa8853a1.jpg?v=1623355235","width":2048},{"alt":null,"id":20450116534366,"position":9,"preview_image":{"aspect_ratio":1.0,"height":2048,"width":2048,"src":"https:\/\/cdn.shopify.com\/s\/files\/1\/0221\/6335\/7796\/products\/MILLIEDARKGREY3211_44eb74e8-1f67-4833-9d54-2cc8061d2713.png?v=1623355235"},"aspect_ratio":1.0,"height":2048,"media_type":"image","src":"https:\/\/cdn.shopify.com\/s\/files\/1\/0221\/6335\/7796\/products\/MILLIEDARKGREY3211_44eb74e8-1f67-4833-9d54-2cc8061d2713.png?v=1623355235","width":2048},{"alt":null,"id":20450116567134,"position":10,"preview_image":{"aspect_ratio":1.0,"height":2048,"width":2048,"src":"https:\/\/cdn.shopify.com\/s\/files\/1\/0221\/6335\/7796\/products\/MILLYQUILTDARKGREY-GRETCHENDARKGREY_743d85e8-3f9f-42b1-a627-807c2f9a383f.png?v=1623355235"},"aspect_ratio":1.0,"height":2048,"media_type":"image","src":"https:\/\/cdn.shopify.com\/s\/files\/1\/0221\/6335\/7796\/products\/MILLYQUILTDARKGREY-GRETCHENDARKGREY_743d85e8-3f9f-42b1-a627-807c2f9a383f.png?v=1623355235","width":2048},{"alt":null,"id":20450116599902,"position":11,"preview_image":{"aspect_ratio":1.0,"height":2048,"width":2048,"src":"https:\/\/cdn.shopify.com\/s\/files\/1\/0221\/6335\/7796\/products\/MILLIEDARKGREY3212_bfadd15d-6924-4e6a-8676-3e8e1bc86e82.png?v=1623355235"},"aspect_ratio":1.0,"height":2048,"media_type":"image","src":"https:\/\/cdn.shopify.com\/s\/files\/1\/0221\/6335\/7796\/products\/MILLIEDARKGREY3212_bfadd15d-6924-4e6a-8676-3e8e1bc86e82.png?v=1623355235","width":2048},{"alt":null,"id":20450116632670,"position":12,"preview_image":{"aspect_ratio":1.0,"height":2048,"width":2048,"src":"https:\/\/cdn.shopify.com\/s\/files\/1\/0221\/6335\/7796\/products\/MillyDKGray-Clutch-2048x2048_85416c66-8cb2-40d6-8d00-0e58ffbf549a.jpg?v=1623355235"},"aspect_ratio":1.0,"height":2048,"media_type":"image","src":"https:\/\/cdn.shopify.com\/s\/files\/1\/0221\/6335\/7796\/products\/MillyDKGray-Clutch-2048x2048_85416c66-8cb2-40d6-8d00-0e58ffbf549a.jpg?v=1623355235","width":2048},{"alt":null,"id":20450116665438,"position":13,"preview_image":{"aspect_ratio":1.0,"height":2048,"width":2048,"src":"https:\/\/cdn.shopify.com\/s\/files\/1\/0221\/6335\/7796\/products\/MILLIEDARKGREYEMPTY3213_02968b6e-9eb6-4db1-87b4-84b2f011d04e.png?v=1623355235"},"aspect_ratio":1.0,"height":2048,"media_type":"image","src":"https:\/\/cdn.shopify.com\/s\/files\/1\/0221\/6335\/7796\/products\/MILLIEDARKGREYEMPTY3213_02968b6e-9eb6-4db1-87b4-84b2f011d04e.png?v=1623355235","width":2048},{"alt":null,"id":20450116698206,"position":14,"preview_image":{"aspect_ratio":1.0,"height":2048,"width":2048,"src":"https:\/\/cdn.shopify.com\/s\/files\/1\/0221\/6335\/7796\/products\/MillyDKGray-InsidePacked-2048x2048_af7cbd64-5231-46ec-a3e7-bb3bce10d1f5.jpg?v=1623355235"},"aspect_ratio":1.0,"height":2048,"media_type":"image","src":"https:\/\/cdn.shopify.com\/s\/files\/1\/0221\/6335\/7796\/products\/MillyDKGray-InsidePacked-2048x2048_af7cbd64-5231-46ec-a3e7-bb3bce10d1f5.jpg?v=1623355235","width":2048},{"alt":null,"id":20450116730974,"position":15,"preview_image":{"aspect_ratio":1.0,"height":2048,"width":2048,"src":"https:\/\/cdn.shopify.com\/s\/files\/1\/0221\/6335\/7796\/products\/MILLIEDARKGREYFILLED3214_09b8097e-1630-420e-bfea-8b361e040b84.png?v=1623355235"},"aspect_ratio":1.0,"height":2048,"media_type":"image","src":"https:\/\/cdn.shopify.com\/s\/files\/1\/0221\/6335\/7796\/products\/MILLIEDARKGREYFILLED3214_09b8097e-1630-420e-bfea-8b361e040b84.png?v=1623355235","width":2048},{"alt":null,"id":20450116763742,"position":16,"preview_image":{"aspect_ratio":1.0,"height":2048,"width":2048,"src":"https:\/\/cdn.shopify.com\/s\/files\/1\/0221\/6335\/7796\/products\/MillyDKGray-StevieStuddedTaupe-2048x2048_fd262a61-2fa0-456f-b478-56ac24f32f54.jpg?v=1623355235"},"aspect_ratio":1.0,"height":2048,"media_type":"image","src":"https:\/\/cdn.shopify.com\/s\/files\/1\/0221\/6335\/7796\/products\/MillyDKGray-StevieStuddedTaupe-2048x2048_fd262a61-2fa0-456f-b478-56ac24f32f54.jpg?v=1623355235","width":2048},{"alt":null,"id":20450117025886,"position":17,"preview_image":{"aspect_ratio":1.0,"height":2048,"width":2048,"src":"https:\/\/cdn.shopify.com\/s\/files\/1\/0221\/6335\/7796\/products\/MillyOXBLOOD-FRONT-2048X2048_3e3c52ac-aa7a-4362-8884-8a76c8a8a816.png?v=1623355235"},"aspect_ratio":1.0,"height":2048,"media_type":"image","src":"https:\/\/cdn.shopify.com\/s\/files\/1\/0221\/6335\/7796\/products\/MillyOXBLOOD-FRONT-2048X2048_3e3c52ac-aa7a-4362-8884-8a76c8a8a816.png?v=1623355235","width":2048},{"alt":null,"id":20450117058654,"position":18,"preview_image":{"aspect_ratio":1.0,"height":2048,"width":2048,"src":"https:\/\/cdn.shopify.com\/s\/files\/1\/0221\/6335\/7796\/products\/MillyOxblood-InsideViewEmpty-2048x2048_948a2cd4-e8ab-411e-9b5e-0bb8cdac5f8f.jpg?v=1623355235"},"aspect_ratio":1.0,"height":2048,"media_type":"image","src":"https:\/\/cdn.shopify.com\/s\/files\/1\/0221\/6335\/7796\/products\/MillyOxblood-InsideViewEmpty-2048x2048_948a2cd4-e8ab-411e-9b5e-0bb8cdac5f8f.jpg?v=1623355235","width":2048},{"alt":null,"id":20450117091422,"position":19,"preview_image":{"aspect_ratio":1.0,"height":2048,"width":2048,"src":"https:\/\/cdn.shopify.com\/s\/files\/1\/0221\/6335\/7796\/products\/MillyOxblood-InsideViewPacked-2048x2048_6f6b2143-c733-4a39-8bef-23346a85a14f.jpg?v=1623355235"},"aspect_ratio":1.0,"height":2048,"media_type":"image","src":"https:\/\/cdn.shopify.com\/s\/files\/1\/0221\/6335\/7796\/products\/MillyOxblood-InsideViewPacked-2048x2048_6f6b2143-c733-4a39-8bef-23346a85a14f.jpg?v=1623355235","width":2048},{"alt":null,"id":20450117124190,"position":20,"preview_image":{"aspect_ratio":1.0,"height":2048,"width":2048,"src":"https:\/\/cdn.shopify.com\/s\/files\/1\/0221\/6335\/7796\/products\/MILLIEOXBLOODFILLED3217_e9690071-ab58-4751-8168-6a04f9cf9928.jpg?v=1623355235"},"aspect_ratio":1.0,"height":2048,"media_type":"image","src":"https:\/\/cdn.shopify.com\/s\/files\/1\/0221\/6335\/7796\/products\/MILLIEOXBLOODFILLED3217_e9690071-ab58-4751-8168-6a04f9cf9928.jpg?v=1623355235","width":2048},{"alt":null,"id":20450117156958,"position":21,"preview_image":{"aspect_ratio":1.0,"height":2048,"width":2048,"src":"https:\/\/cdn.shopify.com\/s\/files\/1\/0221\/6335\/7796\/products\/MillyOxbloodClutch-wrist-2048X2048_e3c6a55d-a5e9-4468-8c35-724e39e69243.jpg?v=1623355236"},"aspect_ratio":1.0,"height":2048,"media_type":"image","src":"https:\/\/cdn.shopify.com\/s\/files\/1\/0221\/6335\/7796\/products\/MillyOxbloodClutch-wrist-2048X2048_e3c6a55d-a5e9-4468-8c35-724e39e69243.jpg?v=1623355236","width":2048},{"alt":null,"id":20450117189726,"position":22,"preview_image":{"aspect_ratio":1.0,"height":2048,"width":2048,"src":"https:\/\/cdn.shopify.com\/s\/files\/1\/0221\/6335\/7796\/products\/MILLIEOXBLOOD3205_adef121b-4c69-4b3b-95ad-4f270e0551f9.jpg?v=1623355236"},"aspect_ratio":1.0,"height":2048,"media_type":"image","src":"https:\/\/cdn.shopify.com\/s\/files\/1\/0221\/6335\/7796\/products\/MILLIEOXBLOOD3205_adef121b-4c69-4b3b-95ad-4f270e0551f9.jpg?v=1623355236","width":2048},{"alt":null,"id":20450117222494,"position":23,"preview_image":{"aspect_ratio":1.0,"height":2048,"width":2048,"src":"https:\/\/cdn.shopify.com\/s\/files\/1\/0221\/6335\/7796\/products\/MillyOxblood-crossbody-2048x2048_d4db616d-1900-4524-84f1-6289c6967387.jpg?v=1623355236"},"aspect_ratio":1.0,"height":2048,"media_type":"image","src":"https:\/\/cdn.shopify.com\/s\/files\/1\/0221\/6335\/7796\/products\/MillyOxblood-crossbody-2048x2048_d4db616d-1900-4524-84f1-6289c6967387.jpg?v=1623355236","width":2048},{"alt":null,"id":20450117255262,"position":24,"preview_image":{"aspect_ratio":1.0,"height":2048,"width":2048,"src":"https:\/\/cdn.shopify.com\/s\/files\/1\/0221\/6335\/7796\/products\/MillyOxblood-AmberOxblood_1a214fea-cf97-4f19-aedb-71430461de6d.jpg?v=1623355236"},"aspect_ratio":1.0,"height":2048,"media_type":"image","src":"https:\/\/cdn.shopify.com\/s\/files\/1\/0221\/6335\/7796\/products\/MillyOxblood-AmberOxblood_1a214fea-cf97-4f19-aedb-71430461de6d.jpg?v=1623355236","width":2048},{"alt":null,"id":20450117288030,"position":25,"preview_image":{"aspect_ratio":1.0,"height":2048,"width":2048,"src":"https:\/\/cdn.shopify.com\/s\/files\/1\/0221\/6335\/7796\/products\/SS21Imagery2048_1_83bef393-ae21-41e2-897e-c8b987342591.png?v=1623355236"},"aspect_ratio":1.0,"height":2048,"media_type":"image","src":"https:\/\/cdn.shopify.com\/s\/files\/1\/0221\/6335\/7796\/products\/SS21Imagery2048_1_83bef393-ae21-41e2-897e-c8b987342591.png?v=1623355236","width":2048},{"alt":null,"id":20450117320798,"position":26,"preview_image":{"aspect_ratio":1.0,"height":2048,"width":2048,"src":"https:\/\/cdn.shopify.com\/s\/files\/1\/0221\/6335\/7796\/products\/MILLIEMINC3206_de007eaa-d05c-4207-b4da-5212e8d2a3c9.png?v=1623355236"},"aspect_ratio":1.0,"height":2048,"media_type":"image","src":"https:\/\/cdn.shopify.com\/s\/files\/1\/0221\/6335\/7796\/products\/MILLIEMINC3206_de007eaa-d05c-4207-b4da-5212e8d2a3c9.png?v=1623355236","width":2048},{"alt":null,"id":20450117353566,"position":27,"preview_image":{"aspect_ratio":1.0,"height":2048,"width":2048,"src":"https:\/\/cdn.shopify.com\/s\/files\/1\/0221\/6335\/7796\/products\/MillyMinkClutch_2_426db220-49a1-4149-8289-0f497ba2e296.png?v=1623355236"},"aspect_ratio":1.0,"height":2048,"media_type":"image","src":"https:\/\/cdn.shopify.com\/s\/files\/1\/0221\/6335\/7796\/products\/MillyMinkClutch_2_426db220-49a1-4149-8289-0f497ba2e296.png?v=1623355236","width":2048},{"alt":null,"id":20450117386334,"position":28,"preview_image":{"aspect_ratio":1.0,"height":2048,"width":2048,"src":"https:\/\/cdn.shopify.com\/s\/files\/1\/0221\/6335\/7796\/products\/MILLIEMINCEMPTY3218_c8cc1673-9beb-45ac-ac6d-0a40495d7a43.png?v=1623355236"},"aspect_ratio":1.0,"height":2048,"media_type":"image","src":"https:\/\/cdn.shopify.com\/s\/files\/1\/0221\/6335\/7796\/products\/MILLIEMINCEMPTY3218_c8cc1673-9beb-45ac-ac6d-0a40495d7a43.png?v=1623355236","width":2048},{"alt":null,"id":20450117419102,"position":29,"preview_image":{"aspect_ratio":1.0,"height":2048,"width":2048,"src":"https:\/\/cdn.shopify.com\/s\/files\/1\/0221\/6335\/7796\/products\/MILLIEMINC3207_26577777-3d98-48ad-8641-8ace0ec18a47.png?v=1623355236"},"aspect_ratio":1.0,"height":2048,"media_type":"image","src":"https:\/\/cdn.shopify.com\/s\/files\/1\/0221\/6335\/7796\/products\/MILLIEMINC3207_26577777-3d98-48ad-8641-8ace0ec18a47.png?v=1623355236","width":2048},{"alt":null,"id":20450117451870,"position":30,"preview_image":{"aspect_ratio":1.0,"height":2048,"width":2048,"src":"https:\/\/cdn.shopify.com\/s\/files\/1\/0221\/6335\/7796\/products\/MillyMink-InsidePacked-2048x2048_eabba744-012d-4984-90c7-43b27b6f9a27.jpg?v=1623355236"},"aspect_ratio":1.0,"height":2048,"media_type":"image","src":"https:\/\/cdn.shopify.com\/s\/files\/1\/0221\/6335\/7796\/products\/MillyMink-InsidePacked-2048x2048_eabba744-012d-4984-90c7-43b27b6f9a27.jpg?v=1623355236","width":2048},{"alt":null,"id":20450117484638,"position":31,"preview_image":{"aspect_ratio":1.0,"height":2048,"width":2048,"src":"https:\/\/cdn.shopify.com\/s\/files\/1\/0221\/6335\/7796\/products\/MILLIEMINCFILLED3219_a86c8e3a-935f-40bd-83c2-6dd01a5f3579.png?v=1623355236"},"aspect_ratio":1.0,"height":2048,"media_type":"image","src":"https:\/\/cdn.shopify.com\/s\/files\/1\/0221\/6335\/7796\/products\/MILLIEMINCFILLED3219_a86c8e3a-935f-40bd-83c2-6dd01a5f3579.png?v=1623355236","width":2048},{"alt":null,"id":20450117550174,"position":32,"preview_image":{"aspect_ratio":1.0,"height":2048,"width":2048,"src":"https:\/\/cdn.shopify.com\/s\/files\/1\/0221\/6335\/7796\/products\/MillyMink-Tilly-KKNotebook-2048x2048_0ead0435-c4eb-4991-abfa-9e17574ce64d.jpg?v=1623355236"},"aspect_ratio":1.0,"height":2048,"media_type":"image","src":"https:\/\/cdn.shopify.com\/s\/files\/1\/0221\/6335\/7796\/products\/MillyMink-Tilly-KKNotebook-2048x2048_0ead0435-c4eb-4991-abfa-9e17574ce64d.jpg?v=1623355236","width":2048},{"alt":null,"id":20450117615710,"position":33,"preview_image":{"aspect_ratio":1.0,"height":2048,"width":2048,"src":"https:\/\/cdn.shopify.com\/s\/files\/1\/0221\/6335\/7796\/products\/SS21Imagery2048_7cd3b51d-2171-4fce-a3c6-2f80daecac5b.png?v=1623355236"},"aspect_ratio":1.0,"height":2048,"media_type":"image","src":"https:\/\/cdn.shopify.com\/s\/files\/1\/0221\/6335\/7796\/products\/SS21Imagery2048_7cd3b51d-2171-4fce-a3c6-2f80daecac5b.png?v=1623355236","width":2048},{"alt":null,"id":20450117648478,"position":34,"preview_image":{"aspect_ratio":1.0,"height":2048,"width":2048,"src":"https:\/\/cdn.shopify.com\/s\/files\/1\/0221\/6335\/7796\/products\/MillyMink-WebsterMiniMuted-2048x2048_a521ca2e-fc5a-48c0-8a42-46d7b71b5c26.jpg?v=1623355236"},"aspect_ratio":1.0,"height":2048,"media_type":"image","src":"https:\/\/cdn.shopify.com\/s\/files\/1\/0221\/6335\/7796\/products\/MillyMink-WebsterMiniMuted-2048x2048_a521ca2e-fc5a-48c0-8a42-46d7b71b5c26.jpg?v=1623355236","width":2048},{"alt":null,"id":20450170241118,"position":35,"preview_image":{"aspect_ratio":1.0,"height":2048,"width":2048,"src":"https:\/\/cdn.shopify.com\/s\/files\/1\/0221\/6335\/7796\/products\/MillyOrganiserWallet-BlackLeather.jpg?v=1623357234"},"aspect_ratio":1.0,"height":2048,"media_type":"image","src":"https:\/\/cdn.shopify.com\/s\/files\/1\/0221\/6335\/7796\/products\/MillyOrganiserWallet-BlackLeather.jpg?v=1623357234","width":2048},{"alt":null,"id":20450170208350,"position":36,"preview_image":{"aspect_ratio":1.0,"height":2048,"width":2048,"src":"https:\/\/cdn.shopify.com\/s\/files\/1\/0221\/6335\/7796\/products\/MillyBlackleather_Webster.jpg?v=1623357234"},"aspect_ratio":1.0,"height":2048,"media_type":"image","src":"https:\/\/cdn.shopify.com\/s\/files\/1\/0221\/6335\/7796\/products\/MillyBlackleather_Webster.jpg?v=1623357234","width":2048},{"alt":null,"id":20450170404958,"position":37,"preview_image":{"aspect_ratio":1.0,"height":2048,"width":2048,"src":"https:\/\/cdn.shopify.com\/s\/files\/1\/0221\/6335\/7796\/products\/MillyblackLeather-insideEmpty-2048x2048.jpg?v=1623357235"},"aspect_ratio":1.0,"height":2048,"media_type":"image","src":"https:\/\/cdn.shopify.com\/s\/files\/1\/0221\/6335\/7796\/products\/MillyblackLeather-insideEmpty-2048x2048.jpg?v=1623357235","width":2048},{"alt":null,"id":20450170339422,"position":38,"preview_image":{"aspect_ratio":1.0,"height":2048,"width":2048,"src":"https:\/\/cdn.shopify.com\/s\/files\/1\/0221\/6335\/7796\/products\/MillyBlackLeather-InsidePacked-2048x2048.jpg?v=1623357235"},"aspect_ratio":1.0,"height":2048,"media_type":"image","src":"https:\/\/cdn.shopify.com\/s\/files\/1\/0221\/6335\/7796\/products\/MillyBlackLeather-InsidePacked-2048x2048.jpg?v=1623357235","width":2048},{"alt":null,"id":20450170306654,"position":39,"preview_image":{"aspect_ratio":1.0,"height":2048,"width":2048,"src":"https:\/\/cdn.shopify.com\/s\/files\/1\/0221\/6335\/7796\/products\/MillyBlackLeather-Backview-2048x2048.jpg?v=1623357235"},"aspect_ratio":1.0,"height":2048,"media_type":"image","src":"https:\/\/cdn.shopify.com\/s\/files\/1\/0221\/6335\/7796\/products\/MillyBlackLeather-Backview-2048x2048.jpg?v=1623357235","width":2048},{"alt":null,"id":20450170372190,"position":40,"preview_image":{"aspect_ratio":1.0,"height":2048,"width":2048,"src":"https:\/\/cdn.shopify.com\/s\/files\/1\/0221\/6335\/7796\/products\/Millie.png?v=1623357236"},"aspect_ratio":1.0,"height":2048,"media_type":"image","src":"https:\/\/cdn.shopify.com\/s\/files\/1\/0221\/6335\/7796\/products\/Millie.png?v=1623357236","width":2048}],"requires_selling_plan":false,"selling_plan_groups":[],"content":"\u003ch1\u003e\u003cstrong\u003eAbout the Wallet\u003c\/strong\u003e\u003c\/h1\u003e\n\u003cp\u003e\u003cspan\u003eSometimes in manufacturing things don't always go according to plan. Thanks to our stringent QC process only perfect products make it to you (most of the time!) These slight seconds items may have one or two or all of the possible defects listed:\u003c\/span\u003e\u003cbr\u003e\u003cbr\u003e\u003cspan\u003eInconsistent grain in the leather, tiny black dots, marks, creased leather, tiny cut mark, wonky logo or stitching.\u003c\/span\u003e\u003cbr\u003e\u003cbr\u003e\u003cspan\u003ePLEASE NOTE THIS ITEM CANNOT BE BOUGHT WITH ANY ADDITIONAL COUPONS OR CODES. IF A CODE IS USED THE ITEM WILL BE REMOVED AND YOU WILL BE REFUNDED FOR THIS ITEM IN YOUR ORDER.\u003c\/span\u003e\u003cbr\u003e\u003cbr\u003e\u003cspan\u003eSnap one of these beauties up quickly as these small imperfections do not affect the usability of the bag in anyway.\u003c\/span\u003e\u003c\/p\u003e"}