Need to know
About the bag:
Breathtakingly beautiful, the Amber Midi! The Amber Midi is 20% smaller than the larger Amber but equally as beautiful and packed with all the same features. With a unique top flap design offering easy access inside, along with a concealed kindle sleeve holder at the back. Internally we have added a padded slip pocket to house a tablet easily
What it's used for:
Perfect for everyday adventures and longer travels too, the Amber offers a soft, boxy look that is packed with practical features, like pockets-a-plenty inside and out. Whether you are being MUM with baby gear inside, being the BOSS and running between meetings, or indulging in some blissful ME-time with friends, the Amber is the perfect companion to keep you effortlessly organised and super-stylish too.
Made from butter-soft hard working KeriKit leather, with our signature KeriKit waterproof jacquard lining, the Amber will age beautifully with you.
Please note the following items shown are available as a separate purchase and do not come with the bag:
* Personalised Warrior Tassel
* Personalised Luggage tag
* Oprah Card Holder
* Rosa Card Holder
* Poppy Card Holder
Features and Sizing
Main compartment Features:

•Laptop up to 14"
•Elasticated Pockets for Nappies, Wipes, Charging Cables, Toiletries
•2 Insulated Bottle Holders
•Perfectly Placed Internal Side Pockets
•Roomy Interior KeriKit
Extras included:

•Laptop/iPad Pocket (Up to 13" in Laptop Sleeve
•2 External Insulated 2-way Double zip Side Pockets
•Internal Zipped Security Pocket
•Key / Dummy holder
•4 Card slots
•2 Pen loops
•Poppered Key Holder / Dummy Holder
•Secret External Security pocket
•Wipe Clean Leather
•Signature Waterproof Jacquard Lining
• Insulated Bottle Holders – Holds up to 6 bottles so perfect for twins
•Adjustable Padded Shoulder Straps
•Sturdy Grab Handle
•Personalise Me
•D-Rings (to affix buggy clips)
•Slip-over Trolley Straps
•Soft Glide Zips
•Separate Multi-use zip-top bag
Size & Weight:


L26 cm x W15 cm x H30 cm
1.1 KG
Delivery and Returns
Shipping 
We offer Free UK delivery on all orders over £175
We also offer next day delivery for £4.95 via DPD on orders booked before 10am Mon-Fri
Please allow 3 additional days for delivery if your item is being personalised
Worldwide
We offer FREE WORLDWIDE DELIVERY for all orders over £175
We also offer express shipping with NEXT DAY delivery throughout USA for £35 via Fedex on orders booked before 10am Mon-Fri
Returns
We are happy to accept returns within 30 days, and offer a 1 year warranty on all bags.
For full Delivery and Returns details, click here.
Please note buyer is responsible for the return fees and insurance of the item being returned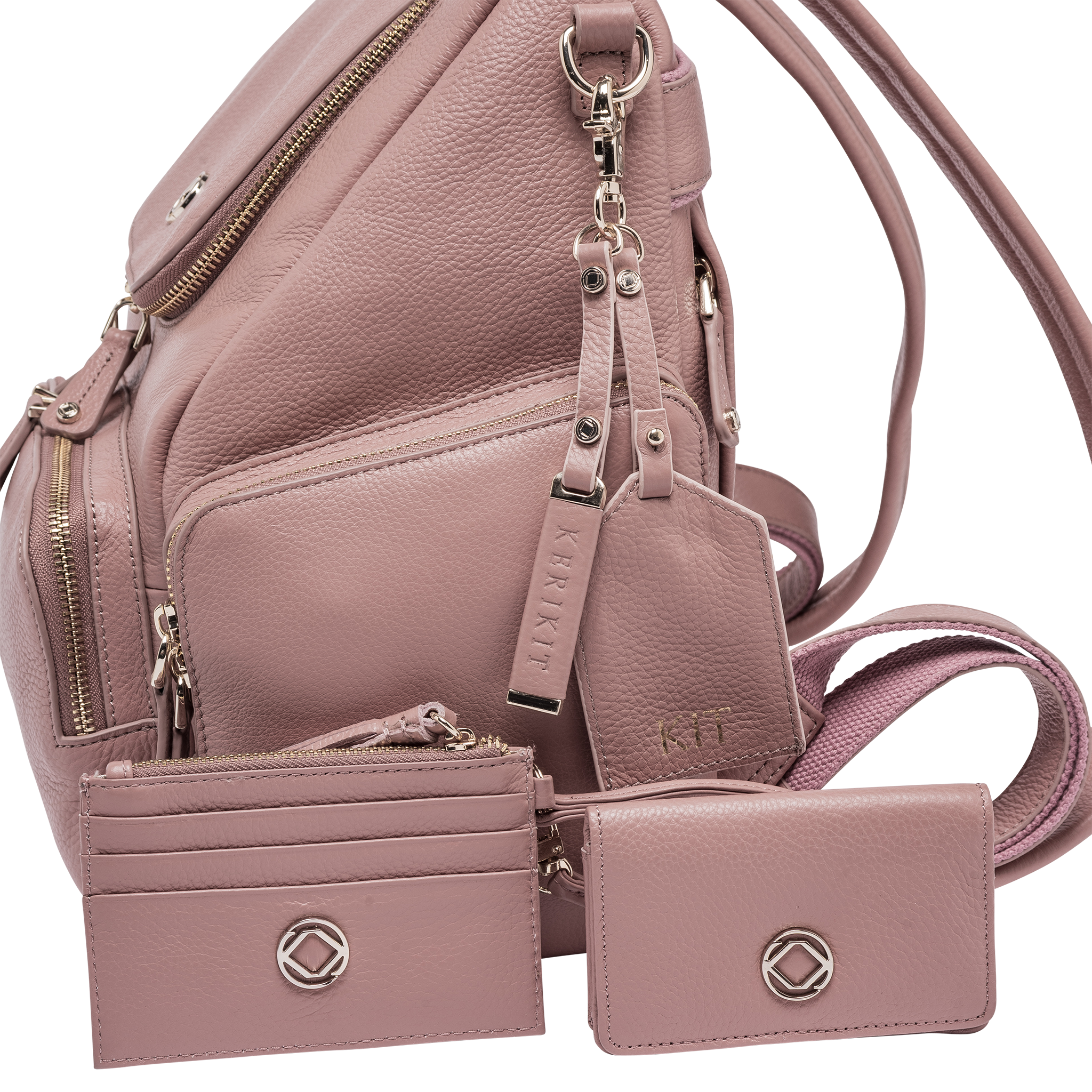 Build your Kit with matching accessories designed to make your life easier
Build your Kit and keep organised with gorgeous matching smaller items such as our Travel wallets, business card holders and card purses.
What Makes This Luxurious Bag So Amazing

Shop our Instagram
Mum
Amber Midi is the perfect sized leather backpack for when yo have your first child or your are coming out the other side and don't need to carry quite so much.
Boss
With perfectly placed pockets inside and out this handy leather backpack is your perfect work bag and travel companion. The secret integrated padded zip pocket allows you to carry your tech safely while the gorgeous exterior belies the functionality inside.
Me
Amber Midi matches every version of you, so when you head out on a day trip with friends or need to head from your play date to date night,know that with this bag you can go from day to night seamlessly.
{"id":3965927555166,"title":"Amber Midi Antique Rose Leather Backpack","handle":"amber-midi-antique-rose-leather-backpack-pre-order-now-for-delivery-january","description":"\u003ch3\u003e\u003cstrong\u003eAbout the bag:\u003c\/strong\u003e\u003c\/h3\u003e\n\u003cp\u003eBreathtakingly beautiful, the Amber Midi! The Amber Midi is 20% smaller than the larger Amber but equally as beautiful and packed with all the same features. With a unique top flap design offering easy access inside, along with a concealed kindle sleeve holder at the back. Internally we have added a padded slip pocket to house a tablet easily\u003c\/p\u003e\n\u003ch3\u003e\u003cstrong\u003eWhat it's used for:\u003c\/strong\u003e\u003c\/h3\u003e\n\u003cp\u003ePerfect for everyday adventures and longer travels too, the Amber offers a soft, boxy look that is packed with practical features, like pockets-a-plenty inside and out. Whether you are being MUM with baby gear inside, being the BOSS and running between meetings, or indulging in some blissful ME-time with friends, the Amber is the perfect companion to keep you effortlessly organised and super-stylish too.\u003c\/p\u003e\n\u003cp\u003eMade from butter-soft hard working KeriKit leather, with our signature KeriKit waterproof jacquard lining, the Amber will age beautifully with you.\u003c\/p\u003e\n\u003cp\u003ePlease note the following items shown are available as a separate purchase and do not come with the bag:\u003c\/p\u003e\n\u003cp\u003e* Personalised Warrior Tassel\u003c\/p\u003e\n\u003cp\u003e* Personalised Luggage tag\u003c\/p\u003e\n\u003cp\u003e* Oprah Card Holder\u003c\/p\u003e\n\u003cp\u003e* Rosa Card Holder\u003c\/p\u003e\n\u003cp\u003e* Poppy Card Holder\u003c\/p\u003e","published_at":"2019-12-12T20:04:59Z","created_at":"2019-09-12T14:14:00Z","vendor":"KeriKit","type":"Backpack","tags":["Amber","Backpack","boss","me","Mum","new-arrivals","product_amber_midi_symbols","Rose","Travel\/weekender Bag"],"price":24500,"price_min":24500,"price_max":24500,"available":false,"price_varies":false,"compare_at_price":null,"compare_at_price_min":0,"compare_at_price_max":0,"compare_at_price_varies":false,"variants":[{"id":29515885314142,"title":"Default Title","option1":"Default Title","option2":null,"option3":null,"sku":"AMB-MIDI-ROS-JU-HN","requires_shipping":true,"taxable":true,"featured_image":null,"available":false,"name":"Amber Midi Antique Rose Leather Backpack","public_title":null,"options":["Default Title"],"price":24500,"weight":1100,"compare_at_price":null,"inventory_management":"shopify","barcode":"0721782686458"}],"images":["\/\/cdn.shopify.com\/s\/files\/1\/0221\/6335\/7796\/products\/AMBER_MIDI_ANTIQUE_ROSE0164.png?v=1581016116","\/\/cdn.shopify.com\/s\/files\/1\/0221\/6335\/7796\/products\/DSC_9609.jpg?v=1581432971","\/\/cdn.shopify.com\/s\/files\/1\/0221\/6335\/7796\/products\/AMBER_MIDI_ANTIQUE_ROSE0171.png?v=1581432971","\/\/cdn.shopify.com\/s\/files\/1\/0221\/6335\/7796\/products\/AMBER_MIDI_ANTIQUE_ROSE0170.jpg?v=1581432971","\/\/cdn.shopify.com\/s\/files\/1\/0221\/6335\/7796\/products\/DSC_3083.jpg?v=1581432971","\/\/cdn.shopify.com\/s\/files\/1\/0221\/6335\/7796\/products\/AMBER_MIDI_ANTIQUE_ROSE0175.png?v=1581432971","\/\/cdn.shopify.com\/s\/files\/1\/0221\/6335\/7796\/products\/AMBER_MIDI_ANTIQUE_ROSE_CASE0328.png?v=1581432971","\/\/cdn.shopify.com\/s\/files\/1\/0221\/6335\/7796\/products\/AMBER_MIDI_ANTIQUE_ROSE_CASE0323.jpg?v=1581432971","\/\/cdn.shopify.com\/s\/files\/1\/0221\/6335\/7796\/products\/DSC_3148.jpg?v=1581432971","\/\/cdn.shopify.com\/s\/files\/1\/0221\/6335\/7796\/products\/remove_buoy_and_make_more_summery.jpg?v=1581432971","\/\/cdn.shopify.com\/s\/files\/1\/0221\/6335\/7796\/products\/ANTIQUE_ROSE_AMBER_MIDI0303.png?v=1581432971","\/\/cdn.shopify.com\/s\/files\/1\/0221\/6335\/7796\/products\/IMG_9857.jpg?v=1581432971","\/\/cdn.shopify.com\/s\/files\/1\/0221\/6335\/7796\/products\/IMG_9858.jpg?v=1581432753","\/\/cdn.shopify.com\/s\/files\/1\/0221\/6335\/7796\/products\/amber_kit_rose.png?v=1581432036","\/\/cdn.shopify.com\/s\/files\/1\/0221\/6335\/7796\/products\/AMBER_MIDI_BLACK_CROC_EMPTY_046.png?v=1581432036","\/\/cdn.shopify.com\/s\/files\/1\/0221\/6335\/7796\/products\/AMBER_MIDI_BLACK_BUSINESS0358.png?v=1581432036","\/\/cdn.shopify.com\/s\/files\/1\/0221\/6335\/7796\/products\/AMBER_MIDI_BLACK_CROC_BABY_DETAIL_043.png?v=1581432036"],"featured_image":"\/\/cdn.shopify.com\/s\/files\/1\/0221\/6335\/7796\/products\/AMBER_MIDI_ANTIQUE_ROSE0164.png?v=1581016116","options":["Title"],"media":[{"alt":"Amber Rose pink leather midi backpack organiser bag front view.","id":5793366081630,"position":1,"preview_image":{"aspect_ratio":1.0,"height":2048,"width":2048,"src":"https:\/\/cdn.shopify.com\/s\/files\/1\/0221\/6335\/7796\/products\/AMBER_MIDI_ANTIQUE_ROSE0164.png?v=1581015267"},"aspect_ratio":1.0,"height":2048,"media_type":"image","src":"https:\/\/cdn.shopify.com\/s\/files\/1\/0221\/6335\/7796\/products\/AMBER_MIDI_ANTIQUE_ROSE0164.png?v=1581015267","width":2048},{"alt":"Amber Rose pink designer midi leather backpack organiser bag in london.","id":5830314131550,"position":2,"preview_image":{"aspect_ratio":1.0,"height":2048,"width":2048,"src":"https:\/\/cdn.shopify.com\/s\/files\/1\/0221\/6335\/7796\/products\/DSC_9609.jpg?v=1581431569"},"aspect_ratio":1.0,"height":2048,"media_type":"image","src":"https:\/\/cdn.shopify.com\/s\/files\/1\/0221\/6335\/7796\/products\/DSC_9609.jpg?v=1581431569","width":2048},{"alt":"Amber Rose pink leather medium baby changing backpack side view with baby bottles inside","id":5793366540382,"position":3,"preview_image":{"aspect_ratio":1.0,"height":2048,"width":2048,"src":"https:\/\/cdn.shopify.com\/s\/files\/1\/0221\/6335\/7796\/products\/AMBER_MIDI_ANTIQUE_ROSE0171.png?v=1581015347"},"aspect_ratio":1.0,"height":2048,"media_type":"image","src":"https:\/\/cdn.shopify.com\/s\/files\/1\/0221\/6335\/7796\/products\/AMBER_MIDI_ANTIQUE_ROSE0171.png?v=1581015347","width":2048},{"alt":"Amber Rose pink midi leather backpack organiser bag side view with bottle holder","id":5707223269470,"position":4,"preview_image":{"aspect_ratio":1.0,"height":2048,"width":2048,"src":"https:\/\/cdn.shopify.com\/s\/files\/1\/0221\/6335\/7796\/products\/AMBER_MIDI_ANTIQUE_ROSE0170.jpg?v=1577458073"},"aspect_ratio":1.0,"height":2048,"media_type":"image","src":"https:\/\/cdn.shopify.com\/s\/files\/1\/0221\/6335\/7796\/products\/AMBER_MIDI_ANTIQUE_ROSE0170.jpg?v=1577458073","width":2048},{"alt":"Amber Rose pink leather midi backpack diaper bag with baby in arms.","id":5830314066014,"position":5,"preview_image":{"aspect_ratio":1.0,"height":2048,"width":2048,"src":"https:\/\/cdn.shopify.com\/s\/files\/1\/0221\/6335\/7796\/products\/DSC_3083.jpg?v=1581431518"},"aspect_ratio":1.0,"height":2048,"media_type":"image","src":"https:\/\/cdn.shopify.com\/s\/files\/1\/0221\/6335\/7796\/products\/DSC_3083.jpg?v=1581431518","width":2048},{"alt":"Amber Rose leather changing bag, and work bag. Image shows a Rose leather backpack with magic sleeves that can be used to attach a Carry-on.","id":5793368801374,"position":6,"preview_image":{"aspect_ratio":1.0,"height":2048,"width":2048,"src":"https:\/\/cdn.shopify.com\/s\/files\/1\/0221\/6335\/7796\/products\/AMBER_MIDI_ANTIQUE_ROSE0175.png?v=1581015846"},"aspect_ratio":1.0,"height":2048,"media_type":"image","src":"https:\/\/cdn.shopify.com\/s\/files\/1\/0221\/6335\/7796\/products\/AMBER_MIDI_ANTIQUE_ROSE0175.png?v=1581015846","width":2048},{"alt":"Pink leather midi backpack. Travel bag with a magic sleeve that slides over a trolley bag.","id":5793368768606,"position":7,"preview_image":{"aspect_ratio":1.0,"height":2048,"width":2048,"src":"https:\/\/cdn.shopify.com\/s\/files\/1\/0221\/6335\/7796\/products\/AMBER_MIDI_ANTIQUE_ROSE_CASE0328.png?v=1581015621"},"aspect_ratio":1.0,"height":2048,"media_type":"image","src":"https:\/\/cdn.shopify.com\/s\/files\/1\/0221\/6335\/7796\/products\/AMBER_MIDI_ANTIQUE_ROSE_CASE0328.png?v=1581015621","width":2048},{"alt":"designer pink leather midi backpack, the perfect travel bag with a magic sleeve that slides over a trolley bag","id":5707223203934,"position":8,"preview_image":{"aspect_ratio":1.0,"height":2048,"width":2048,"src":"https:\/\/cdn.shopify.com\/s\/files\/1\/0221\/6335\/7796\/products\/AMBER_MIDI_ANTIQUE_ROSE_CASE0323.jpg?v=1577458441"},"aspect_ratio":1.0,"height":2048,"media_type":"image","src":"https:\/\/cdn.shopify.com\/s\/files\/1\/0221\/6335\/7796\/products\/AMBER_MIDI_ANTIQUE_ROSE_CASE0323.jpg?v=1577458441","width":2048},{"alt":"Luxury pink leather midi size mummy bag backpack \/ diaper backpack out for the day with baby.","id":5830314098782,"position":9,"preview_image":{"aspect_ratio":1.0,"height":2048,"width":2048,"src":"https:\/\/cdn.shopify.com\/s\/files\/1\/0221\/6335\/7796\/products\/DSC_3148.jpg?v=1581432922"},"aspect_ratio":1.0,"height":2048,"media_type":"image","src":"https:\/\/cdn.shopify.com\/s\/files\/1\/0221\/6335\/7796\/products\/DSC_3148.jpg?v=1581432922","width":2048},{"alt":"Designer pink leather baby changing backpack \/ diaper bag with matching buggy clips attached to a pram.","id":5830314164318,"position":10,"preview_image":{"aspect_ratio":1.0,"height":2048,"width":2048,"src":"https:\/\/cdn.shopify.com\/s\/files\/1\/0221\/6335\/7796\/products\/remove_buoy_and_make_more_summery.jpg?v=1581432915"},"aspect_ratio":1.0,"height":2048,"media_type":"image","src":"https:\/\/cdn.shopify.com\/s\/files\/1\/0221\/6335\/7796\/products\/remove_buoy_and_make_more_summery.jpg?v=1581432915","width":2048},{"alt":"Amber Rose pink leather midi baby changing backpack. Image shows diaper bag with matching buggy clips attached to a pram.","id":5793368834142,"position":11,"preview_image":{"aspect_ratio":1.0,"height":2048,"width":2048,"src":"https:\/\/cdn.shopify.com\/s\/files\/1\/0221\/6335\/7796\/products\/ANTIQUE_ROSE_AMBER_MIDI0303.png?v=1581015519"},"aspect_ratio":1.0,"height":2048,"media_type":"image","src":"https:\/\/cdn.shopify.com\/s\/files\/1\/0221\/6335\/7796\/products\/ANTIQUE_ROSE_AMBER_MIDI0303.png?v=1581015519","width":2048},{"alt":"Amber Rose pink leather midi backpack organiser bag front viewAmber Rose pink leather midi backpack organiser bag front viewAmber Rose pink leather midi baby changing backpack \/ diaper bag internal view with waterproof lining and multiple pockets","id":5707237785694,"position":12,"preview_image":{"aspect_ratio":1.0,"height":2048,"width":2048,"src":"https:\/\/cdn.shopify.com\/s\/files\/1\/0221\/6335\/7796\/products\/IMG_9857.jpg?v=1577458177"},"aspect_ratio":1.0,"height":2048,"media_type":"image","src":"https:\/\/cdn.shopify.com\/s\/files\/1\/0221\/6335\/7796\/products\/IMG_9857.jpg?v=1577458177","width":2048},{"alt":"Amber Rose pink leather midi backpack organiser bag front viewAmber Rose pink leather midi backpack organiser bag front viewAmber Rose pink leather midi baby changing backpack \/ diaper bag internal view with waterproof lining and multiple pockets","id":5707237818462,"position":13,"preview_image":{"aspect_ratio":1.0,"height":2048,"width":2048,"src":"https:\/\/cdn.shopify.com\/s\/files\/1\/0221\/6335\/7796\/products\/IMG_9858.jpg?v=1577458187"},"aspect_ratio":1.0,"height":2048,"media_type":"image","src":"https:\/\/cdn.shopify.com\/s\/files\/1\/0221\/6335\/7796\/products\/IMG_9858.jpg?v=1577458187","width":2048},{"alt":"Amber rose midi backpack and matching kit with accessories","id":5707236868190,"position":14,"preview_image":{"aspect_ratio":1.0,"height":2048,"width":2048,"src":"https:\/\/cdn.shopify.com\/s\/files\/1\/0221\/6335\/7796\/products\/amber_kit_rose.png?v=1577458504"},"aspect_ratio":1.0,"height":2048,"media_type":"image","src":"https:\/\/cdn.shopify.com\/s\/files\/1\/0221\/6335\/7796\/products\/amber_kit_rose.png?v=1577458504","width":2048},{"alt":"midi leather backpack shown with work items inside - the perfect midi work bag","id":5679105278046,"position":15,"preview_image":{"aspect_ratio":1.0,"height":2048,"width":2048,"src":"https:\/\/cdn.shopify.com\/s\/files\/1\/0221\/6335\/7796\/products\/AMBER_MIDI_BLACK_CROC_EMPTY_046.png?v=1577458533"},"aspect_ratio":1.0,"height":2048,"media_type":"image","src":"https:\/\/cdn.shopify.com\/s\/files\/1\/0221\/6335\/7796\/products\/AMBER_MIDI_BLACK_CROC_EMPTY_046.png?v=1577458533","width":2048},{"alt":"midi leather backpack internal view with work items ","id":5679105179742,"position":16,"preview_image":{"aspect_ratio":1.0,"height":2048,"width":2048,"src":"https:\/\/cdn.shopify.com\/s\/files\/1\/0221\/6335\/7796\/products\/AMBER_MIDI_BLACK_BUSINESS0358.png?v=1577458556"},"aspect_ratio":1.0,"height":2048,"media_type":"image","src":"https:\/\/cdn.shopify.com\/s\/files\/1\/0221\/6335\/7796\/products\/AMBER_MIDI_BLACK_BUSINESS0358.png?v=1577458556","width":2048},{"alt":"midi leather baby changing backpack and diaper bag with baby items inside","id":5679105212510,"position":17,"preview_image":{"aspect_ratio":1.0,"height":2048,"width":2048,"src":"https:\/\/cdn.shopify.com\/s\/files\/1\/0221\/6335\/7796\/products\/AMBER_MIDI_BLACK_CROC_BABY_DETAIL_043.png?v=1577458589"},"aspect_ratio":1.0,"height":2048,"media_type":"image","src":"https:\/\/cdn.shopify.com\/s\/files\/1\/0221\/6335\/7796\/products\/AMBER_MIDI_BLACK_CROC_BABY_DETAIL_043.png?v=1577458589","width":2048}],"content":"\u003ch3\u003e\u003cstrong\u003eAbout the bag:\u003c\/strong\u003e\u003c\/h3\u003e\n\u003cp\u003eBreathtakingly beautiful, the Amber Midi! The Amber Midi is 20% smaller than the larger Amber but equally as beautiful and packed with all the same features. With a unique top flap design offering easy access inside, along with a concealed kindle sleeve holder at the back. Internally we have added a padded slip pocket to house a tablet easily\u003c\/p\u003e\n\u003ch3\u003e\u003cstrong\u003eWhat it's used for:\u003c\/strong\u003e\u003c\/h3\u003e\n\u003cp\u003ePerfect for everyday adventures and longer travels too, the Amber offers a soft, boxy look that is packed with practical features, like pockets-a-plenty inside and out. Whether you are being MUM with baby gear inside, being the BOSS and running between meetings, or indulging in some blissful ME-time with friends, the Amber is the perfect companion to keep you effortlessly organised and super-stylish too.\u003c\/p\u003e\n\u003cp\u003eMade from butter-soft hard working KeriKit leather, with our signature KeriKit waterproof jacquard lining, the Amber will age beautifully with you.\u003c\/p\u003e\n\u003cp\u003ePlease note the following items shown are available as a separate purchase and do not come with the bag:\u003c\/p\u003e\n\u003cp\u003e* Personalised Warrior Tassel\u003c\/p\u003e\n\u003cp\u003e* Personalised Luggage tag\u003c\/p\u003e\n\u003cp\u003e* Oprah Card Holder\u003c\/p\u003e\n\u003cp\u003e* Rosa Card Holder\u003c\/p\u003e\n\u003cp\u003e* Poppy Card Holder\u003c\/p\u003e"}