Need to know
About the Bag:
Thea is the perfect do-everything, go-everywhere, roomy holdall, ideal for a quick getaway, a busy day at the office or packed-up ready for your trip to hospital. The modern boxy shape has soft feminine curves for maximum packing volume, and the handy internal pockets are perfectly laid out to house all your items neatly. This is a bag that takes you from Namaste at 9am to your team meeting at 10am, right through to catching your evening flight.
What it's used for:
Thea can be worn 3 ways: using the short shoulder straps, across the body with the removable cross-body strap included, or on a trolley bag thanks to the ingenious double-zip pocket that transforms into a trolley sleeve. So whether it's a hospital trip, business trip or weekend away, Thea is your essential travel companion.
Made from butter-soft hard working KeriKit leather, with our signature KeriKit waterproof jacquard lining, Thea can be accessorised with colourful KeriKit detachable straps, KeriKit Warrior Keyring, or your own scarves and charms.
Features and Sizing
Main compartment Features:

•Laptop up to 14"
•Elasticated Pockets for Nappies, Wipes, Charging Cables, Toiletries
•2 Insulated Bottle Holders
•Perfectly Placed Internal Side Pockets
•Roomy Interior

KeriKit Extras included:
•2 External Insulated Side Pockets
•Internal Zipped Security Pocket
•Poppered Key Holder / Dummy Holder
•External Security pocket
•Rings (to affix buggy clips)
•Adjustable Cross Body Strap Included
•Compatible with KeriKit Adjustable Cross-body Straps (sold separately)
•Double-zip back Pocket that converts to Trolley Sleeve
•Rings (to affix buggy clips)
•Interior security pocket
•Wipe Clean Leather
•Signature Waterproof Jacquard Lining
•Personalise Me
•Separate Multi-use zip-top bag
•Two way Zip Top For Added Security
•SoftGlide Zips
Size & Weight:

•L 45 cm x W 17 cm x H 26 cm
•1.27 KG
Delivery and Returns
Shipping 
We offer Free UK delivery on all orders over £175
We also offer next day delivery for £4.95 via DPD on orders booked before 10am Mon-Fri
Please allow 3 additional days for delivery if your item is being personalised
Worldwide
We offer FREE WORLDWIDE DELIVERY for all orders over £175
We also offer express shipping with NEXT DAY delivery throughout USA for £35 via Fedex on orders booked before 10am Mon-Fri
Returns
We are happy to accept returns within 30 days, and offer a 1 year warranty on all bags.
For full Delivery and Returns details, click here.
Please note buyer is responsible for the return fees and insurance of the item being returned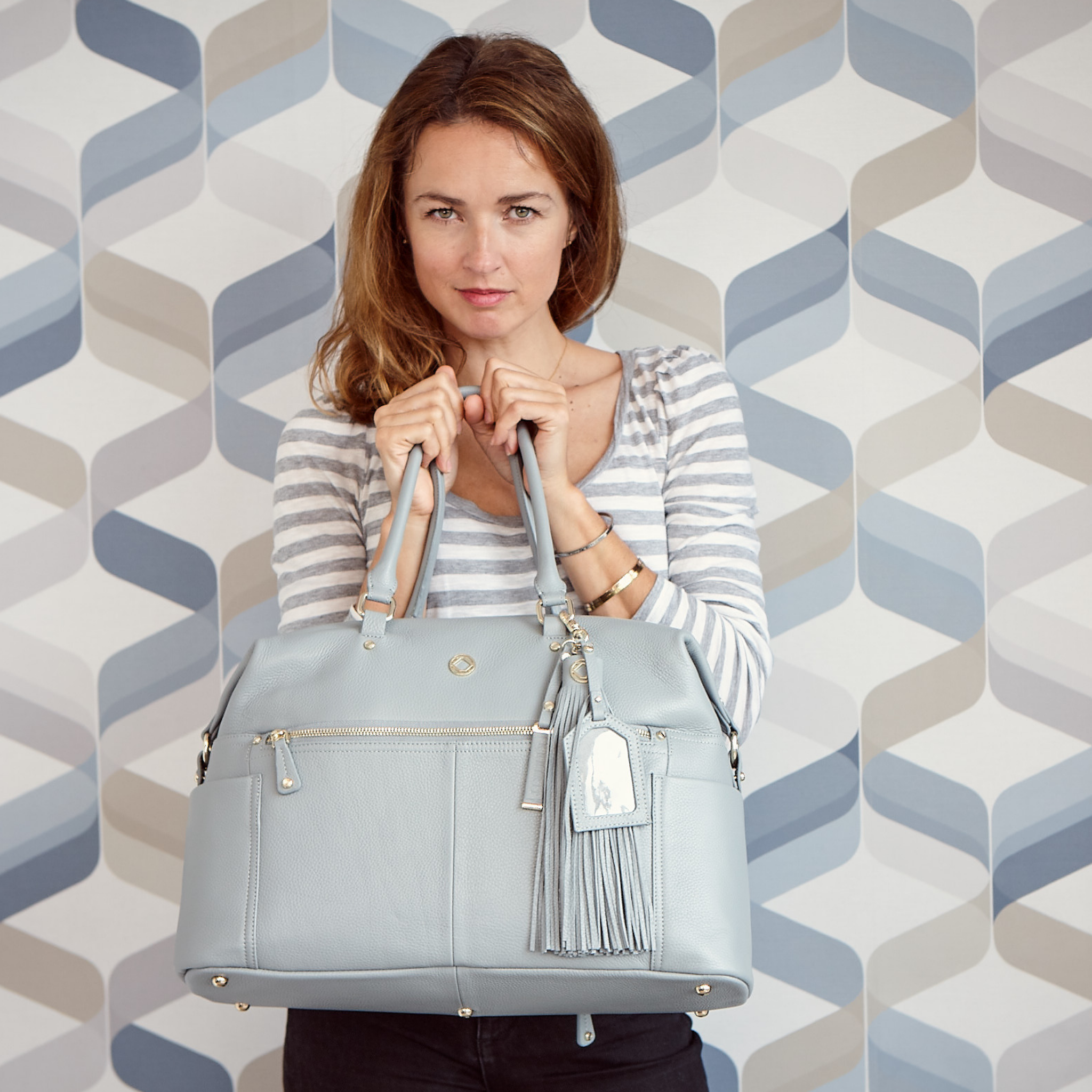 Must-Have Kit for Every Adventure
A classic holdall design for everyday use, but also the perfect carry-on travel bag to make check-in a breeze. Thea is a must-have for every bag collection and makes a gorgeous hospital bag too
What Makes This Luxurious Thea Bag So Amazing

Shop our Instagram
Mum
Thea is the perfect bag for those who need to carry it all. Forget the never full single compartment and think neatly organised and perfectly placed pockets. In a glance you can see everything is packed and in it's place and you can find everything in a second, while only carrying what you need.
Boss
Thea is super lightweight and transitions perfectly from a roomy workbag to your cabin bag. The genius slip pockets ensures no more bashed ankles as you glide through check in. Thea is made to move and works hard so you don't have to.
Me
Every KeriKit bag is styled to look sleek and professional, with fashion-forward style, and a place for everything. Carry your yoga gear, lunch and work essentials inside the Thea leather holdall, with ease.
{"id":3229104046180,"title":"Thea Dove Grey Leather Hold-All","handle":"thea-dove-grey-leather-holdall","description":"\u003ch3\u003e\u003cstrong\u003eAbout the Bag:\u003c\/strong\u003e\u003c\/h3\u003e\n\u003cp\u003eThea is the perfect do-everything, go-everywhere, roomy holdall, ideal for a quick getaway, a busy day at the office or packed-up ready for your trip to hospital. The modern boxy shape has soft feminine curves for maximum packing volume, and the handy internal pockets are perfectly laid out to house all your items neatly. This is a bag that takes you from Namaste at 9am to your team meeting at 10am, right through to catching your evening flight.\u003c\/p\u003e\n\u003ch3\u003e\u003cstrong\u003eWhat it's used for:\u003c\/strong\u003e\u003c\/h3\u003e\n\u003cp\u003eThea can be worn 3 ways: using the short shoulder straps, across the body with the removable cross-body strap included, or on a trolley bag thanks to the ingenious double-zip pocket that transforms into a trolley sleeve. So whether it's a hospital trip, business trip or weekend away, Thea is your essential travel companion.\u003c\/p\u003e\n\u003cp\u003eMade from butter-soft hard working KeriKit leather, with our signature KeriKit waterproof jacquard lining, Thea can be accessorised with colourful KeriKit detachable straps, KeriKit Warrior Keyring, or your own scarves and charms.\u003c\/p\u003e","published_at":"2019-04-02T15:29:29Z","created_at":"2019-04-02T15:33:16Z","vendor":"KeriKit","type":"SHOULDER BAG","tags":["boss","Cross Body Bag","Dove Grey","Holdall","me","mum","product_lennox_symbols","sale","Shoulder Bag","Thea","Travel\/ Weekender Bag"],"price":14500,"price_min":14500,"price_max":14500,"available":true,"price_varies":false,"compare_at_price":29500,"compare_at_price_min":29500,"compare_at_price_max":29500,"compare_at_price_varies":false,"variants":[{"id":26308990566500,"title":"Default Title","option1":"Default Title","option2":null,"option3":null,"sku":"THEA-DVGREY-JUCH-HN","requires_shipping":true,"taxable":true,"featured_image":null,"available":true,"name":"Thea Dove Grey Leather Hold-All","public_title":null,"options":["Default Title"],"price":14500,"weight":1270,"compare_at_price":29500,"inventory_management":"shopify","barcode":"0721782686304"}],"images":["\/\/cdn.shopify.com\/s\/files\/1\/0221\/6335\/7796\/products\/thea_dove_grey_2.png?v=1560343870","\/\/cdn.shopify.com\/s\/files\/1\/0221\/6335\/7796\/products\/DSC_8007.JPG?v=1560343870","\/\/cdn.shopify.com\/s\/files\/1\/0221\/6335\/7796\/products\/thea_dove_grey.png?v=1560343870","\/\/cdn.shopify.com\/s\/files\/1\/0221\/6335\/7796\/products\/thea_dove_grey_3.png?v=1560343870","\/\/cdn.shopify.com\/s\/files\/1\/0221\/6335\/7796\/products\/thea_dove_grey_4.png?v=1560343870","\/\/cdn.shopify.com\/s\/files\/1\/0221\/6335\/7796\/products\/DSC_8053.JPG?v=1560343870","\/\/cdn.shopify.com\/s\/files\/1\/0221\/6335\/7796\/products\/DSC_8075.JPG?v=1560343870","\/\/cdn.shopify.com\/s\/files\/1\/0221\/6335\/7796\/products\/DSC_8102.JPG?v=1560343870","\/\/cdn.shopify.com\/s\/files\/1\/0221\/6335\/7796\/products\/thea_dove_grey_5.png?v=1560343870","\/\/cdn.shopify.com\/s\/files\/1\/0221\/6335\/7796\/products\/thea_dove_grey_1.png?v=1560343870","\/\/cdn.shopify.com\/s\/files\/1\/0221\/6335\/7796\/products\/thea_dove_grey_6.png?v=1560343870","\/\/cdn.shopify.com\/s\/files\/1\/0221\/6335\/7796\/products\/thea_dove_grey_1.jpg?v=1560343870","\/\/cdn.shopify.com\/s\/files\/1\/0221\/6335\/7796\/products\/thea_dove_grey_2.jpg?v=1560343870","\/\/cdn.shopify.com\/s\/files\/1\/0221\/6335\/7796\/products\/DSC_7884.JPG?v=1560343870","\/\/cdn.shopify.com\/s\/files\/1\/0221\/6335\/7796\/products\/thea_grey_4.png?v=1560343870","\/\/cdn.shopify.com\/s\/files\/1\/0221\/6335\/7796\/products\/DSC_7919.JPG?v=1560343870","\/\/cdn.shopify.com\/s\/files\/1\/0221\/6335\/7796\/products\/thea_grey_5.png?v=1560343870","\/\/cdn.shopify.com\/s\/files\/1\/0221\/6335\/7796\/products\/DSC_7951.JPG?v=1560343870","\/\/cdn.shopify.com\/s\/files\/1\/0221\/6335\/7796\/products\/thea_grey_2.png?v=1560343870","\/\/cdn.shopify.com\/s\/files\/1\/0221\/6335\/7796\/products\/DSC_9728.JPG?v=1560343870","\/\/cdn.shopify.com\/s\/files\/1\/0221\/6335\/7796\/products\/thea_nylon_3.png?v=1560343870","\/\/cdn.shopify.com\/s\/files\/1\/0221\/6335\/7796\/products\/thea_grey_3_6f50c8c0-13a3-46a5-906d-9af7e0447906.png?v=1560343870","\/\/cdn.shopify.com\/s\/files\/1\/0221\/6335\/7796\/products\/DSC_7516.JPG?v=1560343870"],"featured_image":"\/\/cdn.shopify.com\/s\/files\/1\/0221\/6335\/7796\/products\/thea_dove_grey_2.png?v=1560343870","options":["Title"],"media":[{"alt":"Thea Dove Grey Leather Hold-All","id":1575232536670,"position":1,"preview_image":{"aspect_ratio":1.0,"height":2048,"width":2048,"src":"https:\/\/cdn.shopify.com\/s\/files\/1\/0221\/6335\/7796\/products\/thea_dove_grey_2.png?v=1569222679"},"aspect_ratio":1.0,"height":2048,"media_type":"image","src":"https:\/\/cdn.shopify.com\/s\/files\/1\/0221\/6335\/7796\/products\/thea_dove_grey_2.png?v=1569222679","width":2048},{"alt":"Thea Dove Grey Leather Hold-All","id":1575233028190,"position":2,"preview_image":{"aspect_ratio":1.0,"height":2048,"width":2048,"src":"https:\/\/cdn.shopify.com\/s\/files\/1\/0221\/6335\/7796\/products\/DSC_8007.JPG?v=1569222679"},"aspect_ratio":1.0,"height":2048,"media_type":"image","src":"https:\/\/cdn.shopify.com\/s\/files\/1\/0221\/6335\/7796\/products\/DSC_8007.JPG?v=1569222679","width":2048},{"alt":"Thea Dove Grey Leather Hold-All","id":1579490443358,"position":3,"preview_image":{"aspect_ratio":1.0,"height":2048,"width":2048,"src":"https:\/\/cdn.shopify.com\/s\/files\/1\/0221\/6335\/7796\/products\/thea_dove_grey.png?v=1569223548"},"aspect_ratio":1.0,"height":2048,"media_type":"image","src":"https:\/\/cdn.shopify.com\/s\/files\/1\/0221\/6335\/7796\/products\/thea_dove_grey.png?v=1569223548","width":2048},{"alt":"Thea Dove Grey Leather Hold-All","id":1575232569438,"position":4,"preview_image":{"aspect_ratio":1.0,"height":2048,"width":2048,"src":"https:\/\/cdn.shopify.com\/s\/files\/1\/0221\/6335\/7796\/products\/thea_dove_grey_3.png?v=1569222679"},"aspect_ratio":1.0,"height":2048,"media_type":"image","src":"https:\/\/cdn.shopify.com\/s\/files\/1\/0221\/6335\/7796\/products\/thea_dove_grey_3.png?v=1569222679","width":2048},{"alt":"Thea Dove Grey Leather Hold-All","id":1575232602206,"position":5,"preview_image":{"aspect_ratio":1.0,"height":2048,"width":2048,"src":"https:\/\/cdn.shopify.com\/s\/files\/1\/0221\/6335\/7796\/products\/thea_dove_grey_4.png?v=1569222679"},"aspect_ratio":1.0,"height":2048,"media_type":"image","src":"https:\/\/cdn.shopify.com\/s\/files\/1\/0221\/6335\/7796\/products\/thea_dove_grey_4.png?v=1569222679","width":2048},{"alt":"Thea Dove Grey Leather Hold-All","id":1575233060958,"position":6,"preview_image":{"aspect_ratio":1.0,"height":2048,"width":2048,"src":"https:\/\/cdn.shopify.com\/s\/files\/1\/0221\/6335\/7796\/products\/DSC_8053.JPG?v=1569222679"},"aspect_ratio":1.0,"height":2048,"media_type":"image","src":"https:\/\/cdn.shopify.com\/s\/files\/1\/0221\/6335\/7796\/products\/DSC_8053.JPG?v=1569222679","width":2048},{"alt":"Thea Dove Grey Leather Hold-All","id":1575233093726,"position":7,"preview_image":{"aspect_ratio":1.0,"height":2048,"width":2048,"src":"https:\/\/cdn.shopify.com\/s\/files\/1\/0221\/6335\/7796\/products\/DSC_8075.JPG?v=1569222679"},"aspect_ratio":1.0,"height":2048,"media_type":"image","src":"https:\/\/cdn.shopify.com\/s\/files\/1\/0221\/6335\/7796\/products\/DSC_8075.JPG?v=1569222679","width":2048},{"alt":"Thea Dove Grey Leather Hold-All","id":1575233126494,"position":8,"preview_image":{"aspect_ratio":1.0,"height":2048,"width":2048,"src":"https:\/\/cdn.shopify.com\/s\/files\/1\/0221\/6335\/7796\/products\/DSC_8102.JPG?v=1569222679"},"aspect_ratio":1.0,"height":2048,"media_type":"image","src":"https:\/\/cdn.shopify.com\/s\/files\/1\/0221\/6335\/7796\/products\/DSC_8102.JPG?v=1569222679","width":2048},{"alt":"Thea Dove Grey Leather Hold-All","id":1575232634974,"position":9,"preview_image":{"aspect_ratio":1.0,"height":2048,"width":2048,"src":"https:\/\/cdn.shopify.com\/s\/files\/1\/0221\/6335\/7796\/products\/thea_dove_grey_5.png?v=1569222679"},"aspect_ratio":1.0,"height":2048,"media_type":"image","src":"https:\/\/cdn.shopify.com\/s\/files\/1\/0221\/6335\/7796\/products\/thea_dove_grey_5.png?v=1569222679","width":2048},{"alt":"Thea Dove Grey Leather Hold-All","id":1575232471134,"position":10,"preview_image":{"aspect_ratio":1.0,"height":2048,"width":2048,"src":"https:\/\/cdn.shopify.com\/s\/files\/1\/0221\/6335\/7796\/products\/thea_dove_grey_1.png?v=1569222679"},"aspect_ratio":1.0,"height":2048,"media_type":"image","src":"https:\/\/cdn.shopify.com\/s\/files\/1\/0221\/6335\/7796\/products\/thea_dove_grey_1.png?v=1569222679","width":2048},{"alt":"Thea Dove Grey Leather Hold-All","id":1575232667742,"position":11,"preview_image":{"aspect_ratio":1.0,"height":2048,"width":2048,"src":"https:\/\/cdn.shopify.com\/s\/files\/1\/0221\/6335\/7796\/products\/thea_dove_grey_6.png?v=1569222679"},"aspect_ratio":1.0,"height":2048,"media_type":"image","src":"https:\/\/cdn.shopify.com\/s\/files\/1\/0221\/6335\/7796\/products\/thea_dove_grey_6.png?v=1569222679","width":2048},{"alt":"Thea Dove Grey Leather Hold-All","id":1575232438366,"position":12,"preview_image":{"aspect_ratio":1.0,"height":2048,"width":2048,"src":"https:\/\/cdn.shopify.com\/s\/files\/1\/0221\/6335\/7796\/products\/thea_dove_grey_1.jpg?v=1569222679"},"aspect_ratio":1.0,"height":2048,"media_type":"image","src":"https:\/\/cdn.shopify.com\/s\/files\/1\/0221\/6335\/7796\/products\/thea_dove_grey_1.jpg?v=1569222679","width":2048},{"alt":"Thea Dove Grey Leather Hold-All","id":1575232503902,"position":13,"preview_image":{"aspect_ratio":1.0,"height":2048,"width":2048,"src":"https:\/\/cdn.shopify.com\/s\/files\/1\/0221\/6335\/7796\/products\/thea_dove_grey_2.jpg?v=1569222679"},"aspect_ratio":1.0,"height":2048,"media_type":"image","src":"https:\/\/cdn.shopify.com\/s\/files\/1\/0221\/6335\/7796\/products\/thea_dove_grey_2.jpg?v=1569222679","width":2048},{"alt":"Thea Dove Grey Leather Hold-All","id":1575232864350,"position":14,"preview_image":{"aspect_ratio":1.0,"height":2048,"width":2048,"src":"https:\/\/cdn.shopify.com\/s\/files\/1\/0221\/6335\/7796\/products\/DSC_7884.JPG?v=1569222679"},"aspect_ratio":1.0,"height":2048,"media_type":"image","src":"https:\/\/cdn.shopify.com\/s\/files\/1\/0221\/6335\/7796\/products\/DSC_7884.JPG?v=1569222679","width":2048},{"alt":"Thea Dove Grey Leather Hold-All","id":1585744019550,"position":15,"preview_image":{"aspect_ratio":1.0,"height":2048,"width":2048,"src":"https:\/\/cdn.shopify.com\/s\/files\/1\/0221\/6335\/7796\/products\/thea_grey_4.png?v=1569224789"},"aspect_ratio":1.0,"height":2048,"media_type":"image","src":"https:\/\/cdn.shopify.com\/s\/files\/1\/0221\/6335\/7796\/products\/thea_grey_4.png?v=1569224789","width":2048},{"alt":"Thea Dove Grey Leather Hold-All","id":1575232897118,"position":16,"preview_image":{"aspect_ratio":1.0,"height":2048,"width":2048,"src":"https:\/\/cdn.shopify.com\/s\/files\/1\/0221\/6335\/7796\/products\/DSC_7919.JPG?v=1569222679"},"aspect_ratio":1.0,"height":2048,"media_type":"image","src":"https:\/\/cdn.shopify.com\/s\/files\/1\/0221\/6335\/7796\/products\/DSC_7919.JPG?v=1569222679","width":2048},{"alt":"Thea Dove Grey Leather Hold-All","id":1585744052318,"position":17,"preview_image":{"aspect_ratio":1.0,"height":2048,"width":2048,"src":"https:\/\/cdn.shopify.com\/s\/files\/1\/0221\/6335\/7796\/products\/thea_grey_5.png?v=1569224789"},"aspect_ratio":1.0,"height":2048,"media_type":"image","src":"https:\/\/cdn.shopify.com\/s\/files\/1\/0221\/6335\/7796\/products\/thea_grey_5.png?v=1569224789","width":2048},{"alt":"Thea Dove Grey Leather Hold-All","id":1575232929886,"position":18,"preview_image":{"aspect_ratio":1.0,"height":2048,"width":2048,"src":"https:\/\/cdn.shopify.com\/s\/files\/1\/0221\/6335\/7796\/products\/DSC_7951.JPG?v=1569222679"},"aspect_ratio":1.0,"height":2048,"media_type":"image","src":"https:\/\/cdn.shopify.com\/s\/files\/1\/0221\/6335\/7796\/products\/DSC_7951.JPG?v=1569222679","width":2048},{"alt":"Thea Dove Grey Leather Hold-All","id":1585743954014,"position":19,"preview_image":{"aspect_ratio":1.0,"height":2048,"width":2048,"src":"https:\/\/cdn.shopify.com\/s\/files\/1\/0221\/6335\/7796\/products\/thea_grey_2.png?v=1569224789"},"aspect_ratio":1.0,"height":2048,"media_type":"image","src":"https:\/\/cdn.shopify.com\/s\/files\/1\/0221\/6335\/7796\/products\/thea_grey_2.png?v=1569224789","width":2048},{"alt":"Thea Dove Grey Leather Hold-All","id":1575233159262,"position":20,"preview_image":{"aspect_ratio":1.0,"height":2048,"width":2048,"src":"https:\/\/cdn.shopify.com\/s\/files\/1\/0221\/6335\/7796\/products\/DSC_9728.JPG?v=1569222679"},"aspect_ratio":1.0,"height":2048,"media_type":"image","src":"https:\/\/cdn.shopify.com\/s\/files\/1\/0221\/6335\/7796\/products\/DSC_9728.JPG?v=1569222679","width":2048},{"alt":"Thea Dove Grey Leather Hold-All","id":1579490476126,"position":21,"preview_image":{"aspect_ratio":1.0,"height":2048,"width":2048,"src":"https:\/\/cdn.shopify.com\/s\/files\/1\/0221\/6335\/7796\/products\/thea_nylon_3.png?v=1569223548"},"aspect_ratio":1.0,"height":2048,"media_type":"image","src":"https:\/\/cdn.shopify.com\/s\/files\/1\/0221\/6335\/7796\/products\/thea_nylon_3.png?v=1569223548","width":2048},{"alt":"Thea Dove Grey Leather Hold-All","id":1585743986782,"position":22,"preview_image":{"aspect_ratio":1.0,"height":2048,"width":2048,"src":"https:\/\/cdn.shopify.com\/s\/files\/1\/0221\/6335\/7796\/products\/thea_grey_3_6f50c8c0-13a3-46a5-906d-9af7e0447906.png?v=1569224789"},"aspect_ratio":1.0,"height":2048,"media_type":"image","src":"https:\/\/cdn.shopify.com\/s\/files\/1\/0221\/6335\/7796\/products\/thea_grey_3_6f50c8c0-13a3-46a5-906d-9af7e0447906.png?v=1569224789","width":2048},{"alt":"Thea Dove Grey Leather Hold-All","id":1575232831582,"position":23,"preview_image":{"aspect_ratio":1.0,"height":2048,"width":2048,"src":"https:\/\/cdn.shopify.com\/s\/files\/1\/0221\/6335\/7796\/products\/DSC_7516.JPG?v=1569222679"},"aspect_ratio":1.0,"height":2048,"media_type":"image","src":"https:\/\/cdn.shopify.com\/s\/files\/1\/0221\/6335\/7796\/products\/DSC_7516.JPG?v=1569222679","width":2048}],"content":"\u003ch3\u003e\u003cstrong\u003eAbout the Bag:\u003c\/strong\u003e\u003c\/h3\u003e\n\u003cp\u003eThea is the perfect do-everything, go-everywhere, roomy holdall, ideal for a quick getaway, a busy day at the office or packed-up ready for your trip to hospital. The modern boxy shape has soft feminine curves for maximum packing volume, and the handy internal pockets are perfectly laid out to house all your items neatly. This is a bag that takes you from Namaste at 9am to your team meeting at 10am, right through to catching your evening flight.\u003c\/p\u003e\n\u003ch3\u003e\u003cstrong\u003eWhat it's used for:\u003c\/strong\u003e\u003c\/h3\u003e\n\u003cp\u003eThea can be worn 3 ways: using the short shoulder straps, across the body with the removable cross-body strap included, or on a trolley bag thanks to the ingenious double-zip pocket that transforms into a trolley sleeve. So whether it's a hospital trip, business trip or weekend away, Thea is your essential travel companion.\u003c\/p\u003e\n\u003cp\u003eMade from butter-soft hard working KeriKit leather, with our signature KeriKit waterproof jacquard lining, Thea can be accessorised with colourful KeriKit detachable straps, KeriKit Warrior Keyring, or your own scarves and charms.\u003c\/p\u003e"}