Need to know
About the bag:
Lennox is our sumptuous slouch leather handbag that helps any woman look effortlessly cool. But don't be fooled by its laidback aura – Lennox works hard to be truly versatile and keeps your essentials organised for whatever life throws at you, from pregnancy right through to retirement. The Lennox boasts a perfect carry-all design, with soft unstructured sides and a large, roomy interior. Perfectly placed pockets around the inside wall allow for easy access to your essentials, without anything else getting in the way. This new version has the option of wearing it as a shoulder bag, cross body bag or as a backpack thanks to the new slimmer longer strap that comes with it. please note the shorter wide strap is available as a separate purchase.
What it's used for:
Oozing elegance in every situation, this beautiful slouchy leather handbag can be worn over the shoulder with the padded removable leather strap included, or worn cross-body with the new slimmer crossbody strap that also converts into a crossover bag which means you can wear it as a backpack too.
If you require a shorter wider strap then you can purchase the matching leather cross body strap or opt for a contrasting webster webbing strap - both sold separately.
So whether it's a business meeting, or brunch with friends, Lennox seamlessly adapts to your lifestyle. Made from butter-soft hard working KeriKit leather, with our signature KeriKit waterproof jacquard lining, Lennox is the perfect day to night handbag, school-run to work meeting work bag, or every day bag that can just as easily support you as your travel cabin bag.
Please note the slim crossover strap and the short zip detail shoulder strap come with this bag. the following items are available as a separate purchase:
* Stevie Studded Strap
* Personalised Warrior tassel
* Personalised luggage tag
* Short wide leather cross body strap
* Poppy zip top card holder
* Rainbow Webster Strap
* Tilly Studded Purse
Features and Sizing
Main compartment Features:


Laptop up to 13"
Elasticated Pockets for Nappies, Wipes, Charging Cables, Toiletries
2 Insulated Bottle Holders
Perfectly Placed Internal Side Pockets
Roomy Interior
KeriKit Extras included:


2 External Insulated Side Pockets
Internal Zipped Security Pocket
Poppered Key Holder / Dummy Holder
External Security pocket
Rings (to affix buggy clips)
Short, Removable Leather Shoulder Strap
Long slim leather and webbing matching Cross body / Crossover strap
Compatible with KeriKit Webster Adjustable Cross-body Straps and matching shorter Leather Cross Body Straps (sold separately)
Personalise Me
D-Rings (to affix buggy/yoga clips)
Interior security pocket
Wipe Clean Leather
Multi Use Zip top bag included
Now converts into a backpack!
Size and Weight:
L 40 cm x W 17 cm x H 36 cm
1.2 KG
Delivery and Returns
Shipping 
We offer Free UK delivery on all orders over £175
We also offer next day delivery for £5.75 via APC on orders booked before 10am Mon-Fri
Please allow 3 additional days for delivery if your item is being personalised
Worldwide
We offer FREE WORLDWIDE DELIVERY for all orders over £175
We also offer express shipping with NEXT DAY delivery throughout USA for £35 via Fedex on orders booked before 10am Mon-Fri
Returns
We are happy to accept returns within 30 days, and offer a 1 year warranty on all bags.
For full Delivery and Returns details, click here.
Please note buyer is responsible for the return fees and insurance of the item being returned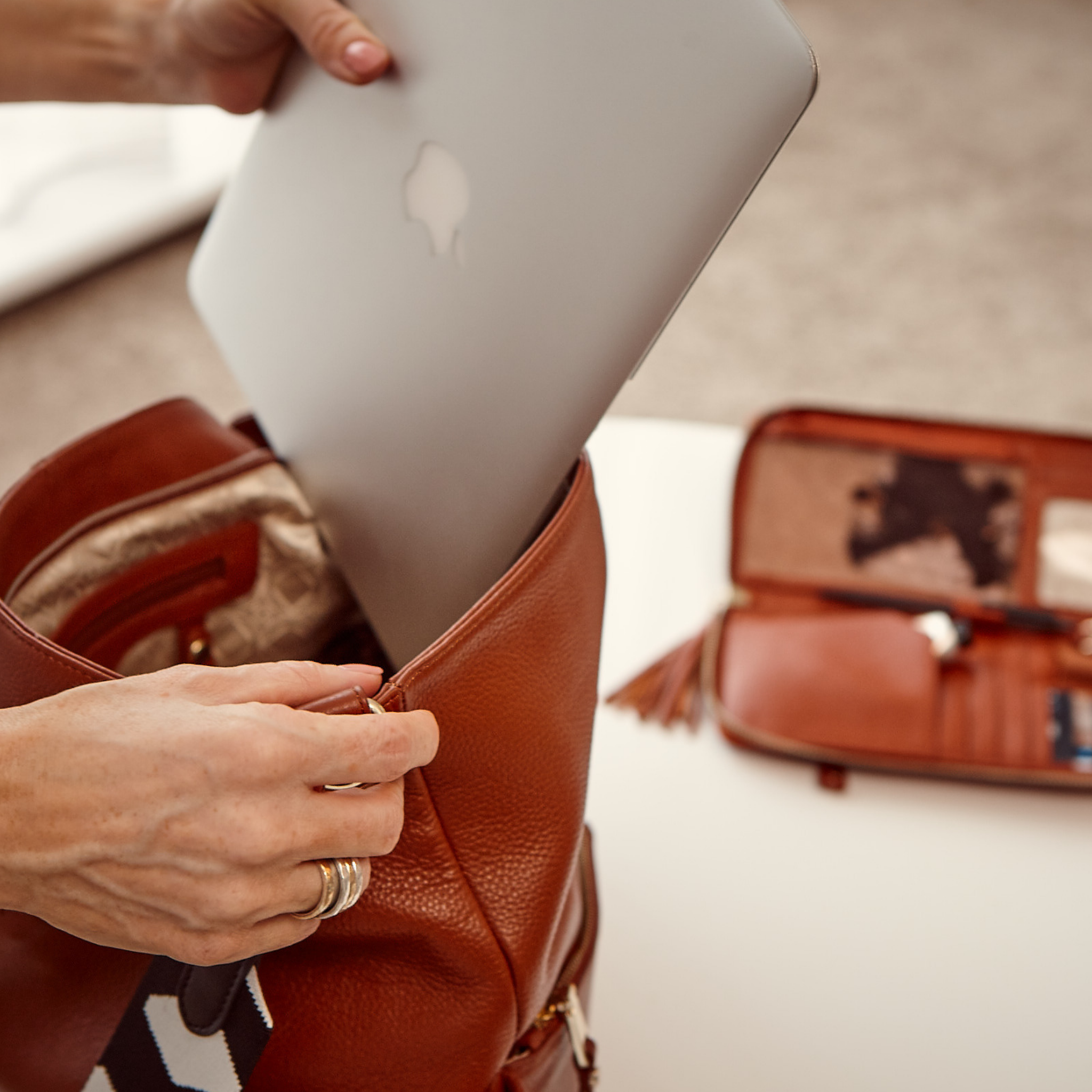 Happiness is finding an exquisite butter-soft leather handbag with perfectly placed pockets for everything
Lennox is our sexy slouch bag perfect for the modern mother who always looks effortlessly cool. But don't be fooled by its laidback aura – Lennox works hard to be truly multifunctional and keep you organised without compromising on style. This beautiful tan leather handbag has designated pockets for your daily essentials and can be worn over the shoulder or on a cross-body strap, so whether it's a business meeting or a day out with baby Lennox seamlessly adapts to your lifestyle.
What Makes This Designer Leather Changing Bag So Amazing

Shop our Instagram
Mum
Not everyone wants a bag that looks like a changing bag, we understand! Lennox is the perfect leather Kit bag that can take from play date to date night and back to the school run again the next day without the need to change a thing.
Boss
Thanks to the perfectly placed pockets and roomy interior you can pack it all in your Lennox. There is space for your lunch, Magazines, Kindle, Laptop and gym Kit with room to spare.
Me
While Lennox boasts a laid back vibe, the internal layout makes this the perfect travel bag. So if your sightseeing, or on a busy day out, Lennox has all the space you need to keep you organised and hydrated on the go.
{"id":4378353762398,"title":"Lennox Toffee Crossover Leather Handbag","handle":"lennox-toffee-crossover-leather-handbag-pre-rder-now-for-deliver-january-15th","description":"\u003ch3\u003e\u003cstrong\u003eAbout the bag:\u003c\/strong\u003e\u003c\/h3\u003e\n\u003cp\u003eLennox is our sumptuous slouch leather handbag that helps any woman look effortlessly cool. But don't be fooled by its laidback aura – Lennox works hard to be truly versatile and keeps your essentials organised for whatever life throws at you, from pregnancy right through to retirement. The Lennox boasts a perfect carry-all design, with soft unstructured sides and a large, roomy interior. Perfectly placed pockets around the inside wall allow for easy access to your essentials, without anything else getting in the way. This new version has the option of wearing it as a shoulder bag, cross body bag or as a backpack thanks to the new slimmer longer strap that comes with it. please note the shorter wide strap is available as a separate purchase.\u003c\/p\u003e\n\u003ch3\u003e\u003cstrong\u003eWhat it's used for:\u003c\/strong\u003e\u003c\/h3\u003e\n\u003cp\u003eOozing elegance in every situation, this beautiful slouchy leather handbag can be worn over the shoulder with the padded removable leather strap included, or worn cross-body with the new slimmer crossbody strap that also converts into a crossover bag which means you can wear it as a backpack too.\u003c\/p\u003e\n\u003cp\u003eIf you require a shorter wider strap then you can purchase the matching leather cross body strap or opt for a contrasting webster webbing strap - both sold separately.\u003c\/p\u003e\n\u003cp\u003eSo whether it's a business meeting, or brunch with friends, Lennox seamlessly adapts to your lifestyle. Made from butter-soft hard working KeriKit leather, with our signature KeriKit waterproof jacquard lining, Lennox is the perfect day to night handbag, school-run to work meeting work bag, or every day bag that can just as easily support you as your travel cabin bag.\u003c\/p\u003e\n\u003cp\u003ePlease note the slim crossover strap and the short zip detail shoulder strap come with this bag. the following items are available as a separate purchase:\u003c\/p\u003e\n\u003cp\u003e* Stevie Studded Strap\u003c\/p\u003e\n\u003cp\u003e* Personalised Warrior tassel\u003c\/p\u003e\n\u003cp\u003e* Personalised luggage tag\u003c\/p\u003e\n\u003cp\u003e* Short wide leather cross body strap\u003c\/p\u003e\n\u003cp\u003e* Poppy zip top card holder\u003c\/p\u003e\n\u003cp\u003e* Rainbow Webster Strap\u003c\/p\u003e\n\u003cp\u003e* Tilly Studded Purse\u003c\/p\u003e","published_at":"2019-12-15T16:28:10Z","created_at":"2019-12-15T16:28:10Z","vendor":"KeriKit","type":"SHOULDER BAG","tags":["boss","Cross Body Bag","Handbag","Lennox","me","mum","product_lennox_symbols","Shoulder Bag","STILL IN STOCK","Toffee"],"price":26000,"price_min":26000,"price_max":26000,"available":true,"price_varies":false,"compare_at_price":null,"compare_at_price_min":0,"compare_at_price_max":0,"compare_at_price_varies":false,"variants":[{"id":31206744686686,"title":"Default Title","option1":"Default Title","option2":null,"option3":null,"sku":"LEN-CROS-TOF-JU-HN","requires_shipping":true,"taxable":true,"featured_image":null,"available":true,"name":"Lennox Toffee Crossover Leather Handbag","public_title":null,"options":["Default Title"],"price":26000,"weight":1120,"compare_at_price":null,"inventory_management":"shopify","barcode":"0721782686199"}],"images":["\/\/cdn.shopify.com\/s\/files\/1\/0221\/6335\/7796\/products\/LENOX_TOFFEE018_9fb7d4aa-2bce-4c9a-9a1b-40871068ad46.png?v=1583448535","\/\/cdn.shopify.com\/s\/files\/1\/0221\/6335\/7796\/products\/lennox_toffee_10.png?v=1583448535","\/\/cdn.shopify.com\/s\/files\/1\/0221\/6335\/7796\/products\/LENNOX_TOFFEE0149_3c6d2eef-fb27-41bf-8a8a-b033eb18d8f5.jpg?v=1583448535","\/\/cdn.shopify.com\/s\/files\/1\/0221\/6335\/7796\/products\/Toffee_Lennox_5ea965f7-31aa-4e4c-b22d-5434ac9df9ab.png?v=1583448535","\/\/cdn.shopify.com\/s\/files\/1\/0221\/6335\/7796\/products\/LENOX_TOFFEE023_1f43077c-5cb2-455a-86b4-d88a989c1662.png?v=1583448535","\/\/cdn.shopify.com\/s\/files\/1\/0221\/6335\/7796\/products\/LENNOX_TOFFEE0311_d6b1edc0-94ca-4c2d-9699-fe4d9386aea6.jpg?v=1583448535","\/\/cdn.shopify.com\/s\/files\/1\/0221\/6335\/7796\/products\/lennox_toffee_8_67dd76fd-6be9-4581-a0ab-99b60f299c2d.png?v=1583448535","\/\/cdn.shopify.com\/s\/files\/1\/0221\/6335\/7796\/products\/LENOX_TOFFEE022_2ef41848-0636-46d3-83bf-359bd3690a2f.png?v=1583448535","\/\/cdn.shopify.com\/s\/files\/1\/0221\/6335\/7796\/products\/lennox_toffee_7_1aec2db7-97ee-44b4-a7c0-958177d576b6.jpg?v=1580759662","\/\/cdn.shopify.com\/s\/files\/1\/0221\/6335\/7796\/products\/lennox_toffee_e92a16a1-aefc-4315-83e7-ff3b967fe966.png?v=1580759662","\/\/cdn.shopify.com\/s\/files\/1\/0221\/6335\/7796\/products\/LENOX_TOFFEE020_4099b43f-eecd-4781-bbb6-c3edca1635e2.png?v=1580759662","\/\/cdn.shopify.com\/s\/files\/1\/0221\/6335\/7796\/products\/Lennox_toffee_9_ae5aeda8-0788-4f9a-a973-0dba3042a860.png?v=1580759662","\/\/cdn.shopify.com\/s\/files\/1\/0221\/6335\/7796\/products\/LENOX_TOFFEE024_704ef54b-557f-4059-8e22-d2e96aee2ea8.png?v=1580759662","\/\/cdn.shopify.com\/s\/files\/1\/0221\/6335\/7796\/products\/lennox_toffee_12_5be23a95-855a-4670-b8f9-74f782c89abc.png?v=1580759662","\/\/cdn.shopify.com\/s\/files\/1\/0221\/6335\/7796\/products\/lennox_toffee_11_dfdf9dbc-9e37-47c7-a9ef-e549c9b25782.png?v=1580759662","\/\/cdn.shopify.com\/s\/files\/1\/0221\/6335\/7796\/products\/LENNOX_TOFFEE0148.jpg?v=1580759662","\/\/cdn.shopify.com\/s\/files\/1\/0221\/6335\/7796\/products\/LENNOX_TOFFEE0311.jpg?v=1580759683","\/\/cdn.shopify.com\/s\/files\/1\/0221\/6335\/7796\/products\/Untitled_design_46_8ee1ad18-0f58-42fe-83a6-7db50f257d18.png?v=1580759662","\/\/cdn.shopify.com\/s\/files\/1\/0221\/6335\/7796\/products\/lennox_toffee_9_7b9f0901-5454-4e16-b6a1-e8cb74d1a760.png?v=1580759662","\/\/cdn.shopify.com\/s\/files\/1\/0221\/6335\/7796\/products\/lennox_toffee_12_1ad11d83-19f1-4d15-b87c-1713b1401d5b.png?v=1580759662","\/\/cdn.shopify.com\/s\/files\/1\/0221\/6335\/7796\/products\/lennox_toffee_19.png?v=1580759662","\/\/cdn.shopify.com\/s\/files\/1\/0221\/6335\/7796\/products\/lennox_toffee_21.png?v=1580759662","\/\/cdn.shopify.com\/s\/files\/1\/0221\/6335\/7796\/products\/lennox_toffee_22.png?v=1580759662","\/\/cdn.shopify.com\/s\/files\/1\/0221\/6335\/7796\/products\/LENNOX_TOFFEE0148_7bc9454f-cc1a-43b8-a16e-ba1bfe35c5fd.jpg?v=1580759662"],"featured_image":"\/\/cdn.shopify.com\/s\/files\/1\/0221\/6335\/7796\/products\/LENOX_TOFFEE018_9fb7d4aa-2bce-4c9a-9a1b-40871068ad46.png?v=1583448535","options":["Title"],"media":[{"alt":"Lennox Toffee Leather Handbag","id":5684593918046,"position":1,"preview_image":{"aspect_ratio":1.0,"height":2048,"width":2048,"src":"https:\/\/cdn.shopify.com\/s\/files\/1\/0221\/6335\/7796\/products\/LENOX_TOFFEE018_9fb7d4aa-2bce-4c9a-9a1b-40871068ad46.png?v=1576427296"},"aspect_ratio":1.0,"height":2048,"media_type":"image","src":"https:\/\/cdn.shopify.com\/s\/files\/1\/0221\/6335\/7796\/products\/LENOX_TOFFEE018_9fb7d4aa-2bce-4c9a-9a1b-40871068ad46.png?v=1576427296","width":2048},{"alt":null,"id":5722453246046,"position":2,"preview_image":{"aspect_ratio":1.0,"height":2048,"width":2048,"src":"https:\/\/cdn.shopify.com\/s\/files\/1\/0221\/6335\/7796\/products\/lennox_toffee_10.png?v=1578343471"},"aspect_ratio":1.0,"height":2048,"media_type":"image","src":"https:\/\/cdn.shopify.com\/s\/files\/1\/0221\/6335\/7796\/products\/lennox_toffee_10.png?v=1578343471","width":2048},{"alt":"Lennox Tan leather changing bag, and work bag. Image shows this tan leather shoulder bag as a back view which can also be used as a backpack","id":5784050565214,"position":3,"preview_image":{"aspect_ratio":1.0,"height":2048,"width":2048,"src":"https:\/\/cdn.shopify.com\/s\/files\/1\/0221\/6335\/7796\/products\/LENNOX_TOFFEE0149_3c6d2eef-fb27-41bf-8a8a-b033eb18d8f5.jpg?v=1580759554"},"aspect_ratio":1.0,"height":2048,"media_type":"image","src":"https:\/\/cdn.shopify.com\/s\/files\/1\/0221\/6335\/7796\/products\/LENNOX_TOFFEE0149_3c6d2eef-fb27-41bf-8a8a-b033eb18d8f5.jpg?v=1580759554","width":2048},{"alt":null,"id":5684593950814,"position":4,"preview_image":{"aspect_ratio":1.0,"height":2048,"width":2048,"src":"https:\/\/cdn.shopify.com\/s\/files\/1\/0221\/6335\/7796\/products\/Toffee_Lennox_5ea965f7-31aa-4e4c-b22d-5434ac9df9ab.png?v=1576427296"},"aspect_ratio":1.0,"height":2048,"media_type":"image","src":"https:\/\/cdn.shopify.com\/s\/files\/1\/0221\/6335\/7796\/products\/Toffee_Lennox_5ea965f7-31aa-4e4c-b22d-5434ac9df9ab.png?v=1576427296","width":2048},{"alt":"Lennox Toffee Leather Handbag","id":5684594049118,"position":5,"preview_image":{"aspect_ratio":1.0,"height":2048,"width":2048,"src":"https:\/\/cdn.shopify.com\/s\/files\/1\/0221\/6335\/7796\/products\/LENOX_TOFFEE023_1f43077c-5cb2-455a-86b4-d88a989c1662.png?v=1576427296"},"aspect_ratio":1.0,"height":2048,"media_type":"image","src":"https:\/\/cdn.shopify.com\/s\/files\/1\/0221\/6335\/7796\/products\/LENOX_TOFFEE023_1f43077c-5cb2-455a-86b4-d88a989c1662.png?v=1576427296","width":2048},{"alt":"Lennox Tan leather changing bag, and work bag. Image shows this tan leather diaper bag on a pram with our matching buggy clips","id":5784056365150,"position":6,"preview_image":{"aspect_ratio":1.0,"height":2048,"width":2048,"src":"https:\/\/cdn.shopify.com\/s\/files\/1\/0221\/6335\/7796\/products\/LENNOX_TOFFEE0311_d6b1edc0-94ca-4c2d-9699-fe4d9386aea6.jpg?v=1580752906"},"aspect_ratio":1.0,"height":2048,"media_type":"image","src":"https:\/\/cdn.shopify.com\/s\/files\/1\/0221\/6335\/7796\/products\/LENNOX_TOFFEE0311_d6b1edc0-94ca-4c2d-9699-fe4d9386aea6.jpg?v=1580752906","width":2048},{"alt":"Lennox Toffee Leather Handbag","id":5684594180190,"position":7,"preview_image":{"aspect_ratio":1.0,"height":2048,"width":2048,"src":"https:\/\/cdn.shopify.com\/s\/files\/1\/0221\/6335\/7796\/products\/lennox_toffee_8_67dd76fd-6be9-4581-a0ab-99b60f299c2d.png?v=1576427297"},"aspect_ratio":1.0,"height":2048,"media_type":"image","src":"https:\/\/cdn.shopify.com\/s\/files\/1\/0221\/6335\/7796\/products\/lennox_toffee_8_67dd76fd-6be9-4581-a0ab-99b60f299c2d.png?v=1576427297","width":2048},{"alt":"Lennox Toffee Leather Handbag","id":5684594016350,"position":8,"preview_image":{"aspect_ratio":1.0,"height":2048,"width":2048,"src":"https:\/\/cdn.shopify.com\/s\/files\/1\/0221\/6335\/7796\/products\/LENOX_TOFFEE022_2ef41848-0636-46d3-83bf-359bd3690a2f.png?v=1576427296"},"aspect_ratio":1.0,"height":2048,"media_type":"image","src":"https:\/\/cdn.shopify.com\/s\/files\/1\/0221\/6335\/7796\/products\/LENOX_TOFFEE022_2ef41848-0636-46d3-83bf-359bd3690a2f.png?v=1576427296","width":2048},{"alt":"Lennox Toffee Leather Handbag","id":5684593983582,"position":9,"preview_image":{"aspect_ratio":1.0,"height":2048,"width":2048,"src":"https:\/\/cdn.shopify.com\/s\/files\/1\/0221\/6335\/7796\/products\/lennox_toffee_7_1aec2db7-97ee-44b4-a7c0-958177d576b6.jpg?v=1576427296"},"aspect_ratio":1.0,"height":2048,"media_type":"image","src":"https:\/\/cdn.shopify.com\/s\/files\/1\/0221\/6335\/7796\/products\/lennox_toffee_7_1aec2db7-97ee-44b4-a7c0-958177d576b6.jpg?v=1576427296","width":2048},{"alt":"Lennox Toffee Leather Handbag","id":5684594278494,"position":10,"preview_image":{"aspect_ratio":1.0,"height":2048,"width":2048,"src":"https:\/\/cdn.shopify.com\/s\/files\/1\/0221\/6335\/7796\/products\/lennox_toffee_e92a16a1-aefc-4315-83e7-ff3b967fe966.png?v=1576427297"},"aspect_ratio":1.0,"height":2048,"media_type":"image","src":"https:\/\/cdn.shopify.com\/s\/files\/1\/0221\/6335\/7796\/products\/lennox_toffee_e92a16a1-aefc-4315-83e7-ff3b967fe966.png?v=1576427297","width":2048},{"alt":"Lennox Toffee Leather Handbag","id":5684594081886,"position":11,"preview_image":{"aspect_ratio":1.0,"height":2048,"width":2048,"src":"https:\/\/cdn.shopify.com\/s\/files\/1\/0221\/6335\/7796\/products\/LENOX_TOFFEE020_4099b43f-eecd-4781-bbb6-c3edca1635e2.png?v=1576427296"},"aspect_ratio":1.0,"height":2048,"media_type":"image","src":"https:\/\/cdn.shopify.com\/s\/files\/1\/0221\/6335\/7796\/products\/LENOX_TOFFEE020_4099b43f-eecd-4781-bbb6-c3edca1635e2.png?v=1576427296","width":2048},{"alt":null,"id":5684594114654,"position":12,"preview_image":{"aspect_ratio":1.0,"height":2048,"width":2048,"src":"https:\/\/cdn.shopify.com\/s\/files\/1\/0221\/6335\/7796\/products\/Lennox_toffee_9_ae5aeda8-0788-4f9a-a973-0dba3042a860.png?v=1576427297"},"aspect_ratio":1.0,"height":2048,"media_type":"image","src":"https:\/\/cdn.shopify.com\/s\/files\/1\/0221\/6335\/7796\/products\/Lennox_toffee_9_ae5aeda8-0788-4f9a-a973-0dba3042a860.png?v=1576427297","width":2048},{"alt":"Lennox Toffee Leather Handbag","id":5684594147422,"position":13,"preview_image":{"aspect_ratio":1.0,"height":2048,"width":2048,"src":"https:\/\/cdn.shopify.com\/s\/files\/1\/0221\/6335\/7796\/products\/LENOX_TOFFEE024_704ef54b-557f-4059-8e22-d2e96aee2ea8.png?v=1576427297"},"aspect_ratio":1.0,"height":2048,"media_type":"image","src":"https:\/\/cdn.shopify.com\/s\/files\/1\/0221\/6335\/7796\/products\/LENOX_TOFFEE024_704ef54b-557f-4059-8e22-d2e96aee2ea8.png?v=1576427297","width":2048},{"alt":"Lennox Toffee Leather Handbag","id":5684594212958,"position":14,"preview_image":{"aspect_ratio":1.0,"height":2048,"width":2048,"src":"https:\/\/cdn.shopify.com\/s\/files\/1\/0221\/6335\/7796\/products\/lennox_toffee_12_5be23a95-855a-4670-b8f9-74f782c89abc.png?v=1576427297"},"aspect_ratio":1.0,"height":2048,"media_type":"image","src":"https:\/\/cdn.shopify.com\/s\/files\/1\/0221\/6335\/7796\/products\/lennox_toffee_12_5be23a95-855a-4670-b8f9-74f782c89abc.png?v=1576427297","width":2048},{"alt":"Lennox Toffee Leather Handbag","id":5684594245726,"position":15,"preview_image":{"aspect_ratio":1.0,"height":2048,"width":2048,"src":"https:\/\/cdn.shopify.com\/s\/files\/1\/0221\/6335\/7796\/products\/lennox_toffee_11_dfdf9dbc-9e37-47c7-a9ef-e549c9b25782.png?v=1576427297"},"aspect_ratio":1.0,"height":2048,"media_type":"image","src":"https:\/\/cdn.shopify.com\/s\/files\/1\/0221\/6335\/7796\/products\/lennox_toffee_11_dfdf9dbc-9e37-47c7-a9ef-e549c9b25782.png?v=1576427297","width":2048},{"alt":"Lennox Tan leather changing bag, and work bag. Image shows this tan leather shoulder bag with matching leather accessory and strap","id":5784295014494,"position":16,"preview_image":{"aspect_ratio":1.0,"height":2048,"width":2048,"src":"https:\/\/cdn.shopify.com\/s\/files\/1\/0221\/6335\/7796\/products\/LENNOX_TOFFEE0148.jpg?v=1580759600"},"aspect_ratio":1.0,"height":2048,"media_type":"image","src":"https:\/\/cdn.shopify.com\/s\/files\/1\/0221\/6335\/7796\/products\/LENNOX_TOFFEE0148.jpg?v=1580759600","width":2048},{"alt":"Lennox Tan leather changing bag, and work bag. Image shows this tan leather shoulder bag as a back view which can also be used as a backpack","id":5784301174878,"position":17,"preview_image":{"aspect_ratio":1.0,"height":2048,"width":2048,"src":"https:\/\/cdn.shopify.com\/s\/files\/1\/0221\/6335\/7796\/products\/LENNOX_TOFFEE0311.jpg?v=1580759655"},"aspect_ratio":1.0,"height":2048,"media_type":"image","src":"https:\/\/cdn.shopify.com\/s\/files\/1\/0221\/6335\/7796\/products\/LENNOX_TOFFEE0311.jpg?v=1580759655","width":2048},{"alt":"Lennox Toffee Leather Handbag","id":5684594311262,"position":18,"preview_image":{"aspect_ratio":1.0,"height":2048,"width":2048,"src":"https:\/\/cdn.shopify.com\/s\/files\/1\/0221\/6335\/7796\/products\/Untitled_design_46_8ee1ad18-0f58-42fe-83a6-7db50f257d18.png?v=1576427297"},"aspect_ratio":1.0,"height":2048,"media_type":"image","src":"https:\/\/cdn.shopify.com\/s\/files\/1\/0221\/6335\/7796\/products\/Untitled_design_46_8ee1ad18-0f58-42fe-83a6-7db50f257d18.png?v=1576427297","width":2048},{"alt":"Lennox Toffee Leather Handbag","id":5684594344030,"position":19,"preview_image":{"aspect_ratio":1.0,"height":2048,"width":2048,"src":"https:\/\/cdn.shopify.com\/s\/files\/1\/0221\/6335\/7796\/products\/lennox_toffee_9_7b9f0901-5454-4e16-b6a1-e8cb74d1a760.png?v=1576427297"},"aspect_ratio":1.0,"height":2048,"media_type":"image","src":"https:\/\/cdn.shopify.com\/s\/files\/1\/0221\/6335\/7796\/products\/lennox_toffee_9_7b9f0901-5454-4e16-b6a1-e8cb74d1a760.png?v=1576427297","width":2048},{"alt":null,"id":5722453311582,"position":20,"preview_image":{"aspect_ratio":1.0,"height":2048,"width":2048,"src":"https:\/\/cdn.shopify.com\/s\/files\/1\/0221\/6335\/7796\/products\/lennox_toffee_12_1ad11d83-19f1-4d15-b87c-1713b1401d5b.png?v=1578343471"},"aspect_ratio":1.0,"height":2048,"media_type":"image","src":"https:\/\/cdn.shopify.com\/s\/files\/1\/0221\/6335\/7796\/products\/lennox_toffee_12_1ad11d83-19f1-4d15-b87c-1713b1401d5b.png?v=1578343471","width":2048},{"alt":null,"id":5722453344350,"position":21,"preview_image":{"aspect_ratio":1.0,"height":2048,"width":2048,"src":"https:\/\/cdn.shopify.com\/s\/files\/1\/0221\/6335\/7796\/products\/lennox_toffee_19.png?v=1578343471"},"aspect_ratio":1.0,"height":2048,"media_type":"image","src":"https:\/\/cdn.shopify.com\/s\/files\/1\/0221\/6335\/7796\/products\/lennox_toffee_19.png?v=1578343471","width":2048},{"alt":null,"id":5722453442654,"position":22,"preview_image":{"aspect_ratio":1.0,"height":2048,"width":2048,"src":"https:\/\/cdn.shopify.com\/s\/files\/1\/0221\/6335\/7796\/products\/lennox_toffee_21.png?v=1578343471"},"aspect_ratio":1.0,"height":2048,"media_type":"image","src":"https:\/\/cdn.shopify.com\/s\/files\/1\/0221\/6335\/7796\/products\/lennox_toffee_21.png?v=1578343471","width":2048},{"alt":null,"id":5722453475422,"position":23,"preview_image":{"aspect_ratio":1.0,"height":2048,"width":2048,"src":"https:\/\/cdn.shopify.com\/s\/files\/1\/0221\/6335\/7796\/products\/lennox_toffee_22.png?v=1578343471"},"aspect_ratio":1.0,"height":2048,"media_type":"image","src":"https:\/\/cdn.shopify.com\/s\/files\/1\/0221\/6335\/7796\/products\/lennox_toffee_22.png?v=1578343471","width":2048},{"alt":"Lennox Tan leather changing bag, and work bag. Image shows this tan leather shoulder bag with a matching leather strap and smaller leather card and coins purse","id":5784056299614,"position":24,"preview_image":{"aspect_ratio":1.0,"height":2048,"width":2048,"src":"https:\/\/cdn.shopify.com\/s\/files\/1\/0221\/6335\/7796\/products\/LENNOX_TOFFEE0148_7bc9454f-cc1a-43b8-a16e-ba1bfe35c5fd.jpg?v=1580752840"},"aspect_ratio":1.0,"height":2048,"media_type":"image","src":"https:\/\/cdn.shopify.com\/s\/files\/1\/0221\/6335\/7796\/products\/LENNOX_TOFFEE0148_7bc9454f-cc1a-43b8-a16e-ba1bfe35c5fd.jpg?v=1580752840","width":2048}],"content":"\u003ch3\u003e\u003cstrong\u003eAbout the bag:\u003c\/strong\u003e\u003c\/h3\u003e\n\u003cp\u003eLennox is our sumptuous slouch leather handbag that helps any woman look effortlessly cool. But don't be fooled by its laidback aura – Lennox works hard to be truly versatile and keeps your essentials organised for whatever life throws at you, from pregnancy right through to retirement. The Lennox boasts a perfect carry-all design, with soft unstructured sides and a large, roomy interior. Perfectly placed pockets around the inside wall allow for easy access to your essentials, without anything else getting in the way. This new version has the option of wearing it as a shoulder bag, cross body bag or as a backpack thanks to the new slimmer longer strap that comes with it. please note the shorter wide strap is available as a separate purchase.\u003c\/p\u003e\n\u003ch3\u003e\u003cstrong\u003eWhat it's used for:\u003c\/strong\u003e\u003c\/h3\u003e\n\u003cp\u003eOozing elegance in every situation, this beautiful slouchy leather handbag can be worn over the shoulder with the padded removable leather strap included, or worn cross-body with the new slimmer crossbody strap that also converts into a crossover bag which means you can wear it as a backpack too.\u003c\/p\u003e\n\u003cp\u003eIf you require a shorter wider strap then you can purchase the matching leather cross body strap or opt for a contrasting webster webbing strap - both sold separately.\u003c\/p\u003e\n\u003cp\u003eSo whether it's a business meeting, or brunch with friends, Lennox seamlessly adapts to your lifestyle. Made from butter-soft hard working KeriKit leather, with our signature KeriKit waterproof jacquard lining, Lennox is the perfect day to night handbag, school-run to work meeting work bag, or every day bag that can just as easily support you as your travel cabin bag.\u003c\/p\u003e\n\u003cp\u003ePlease note the slim crossover strap and the short zip detail shoulder strap come with this bag. the following items are available as a separate purchase:\u003c\/p\u003e\n\u003cp\u003e* Stevie Studded Strap\u003c\/p\u003e\n\u003cp\u003e* Personalised Warrior tassel\u003c\/p\u003e\n\u003cp\u003e* Personalised luggage tag\u003c\/p\u003e\n\u003cp\u003e* Short wide leather cross body strap\u003c\/p\u003e\n\u003cp\u003e* Poppy zip top card holder\u003c\/p\u003e\n\u003cp\u003e* Rainbow Webster Strap\u003c\/p\u003e\n\u003cp\u003e* Tilly Studded Purse\u003c\/p\u003e"}