Need to know
About the bag:
The Award-winning Joy leather backpack is loved by stylish women all over the world, including a number of famous faces too, and now it's gone XL.
This gorgeous bag is for women with busy lifestyles who need practicality but don't want to compromise on style. The classic silhouette fuses soft, feminine lines with a modern stylish edge, and contains our perfectly designed internal layout to keep you cool, calm and collected, no matter what life has in store for you.
What it's used for:
Whether you're carrying Sudocrem with your sports gear, or nappies with your notebook, Joy has your back. Made from butter-soft hard-working KeriKit leather, with our signature KeriKit waterproof jacquard lining, indulge in the luxury of hands-free, effortless organisation with Joy. Your 'go everywhere, do everything' bag that fits in with who you are and where you are going.
Features and Sizing
Main compartment Features:
•Laptop up to 13/14"
•Elasticated Pockets for Nappies, Wipes, Charging Cables, Toiletries
•2 internal Insulated Bottle Holders
•Perfectly Placed Internal Side Pockets
•Roomy Interior
KeriKit Extras included:
•2 External Insulated Side Pockets
•Internal Zipped Security Pocket
•4 Card slots •2 Pen loops
•Poppered Key Holder / Dummy Holder
•Secret External Security pocket
•Adjustable Padded Shoulder Straps
•Sturdy Grab Handle
•D-Rings (to affix buggy clips)
•Slip-over Trolley Straps
•Soft Glide Lockable Zip Pockets
•Wipe Clean Leather
•Signature Waterproof Jacquard Lining
•Personalise Me
•Separate Multi-use zip-top bag
Size & Weight:
L 33 x W 20 cm x H 42 cm
1.5 Kg
Delivery and Returns
Shipping 
We offer Free UK delivery on all orders over £175
We also offer next day delivery for £4.95 via DPD on orders booked before 10am Mon-Fri
Please allow 3 additional days for delivery if your item is being personalised
Worldwide
We offer FREE WORLDWIDE DELIVERY for all orders over £175
We also offer express shipping with NEXT DAY delivery throughout USA for £35 via Fedex on orders booked before 10am Mon-Fri
Returns
We are happy to accept returns within 30 days, and offer a 1 year warranty on all bags.
For full Delivery and Returns details, click here.
Please note buyer is responsible for the return fees and insurance of the item being returned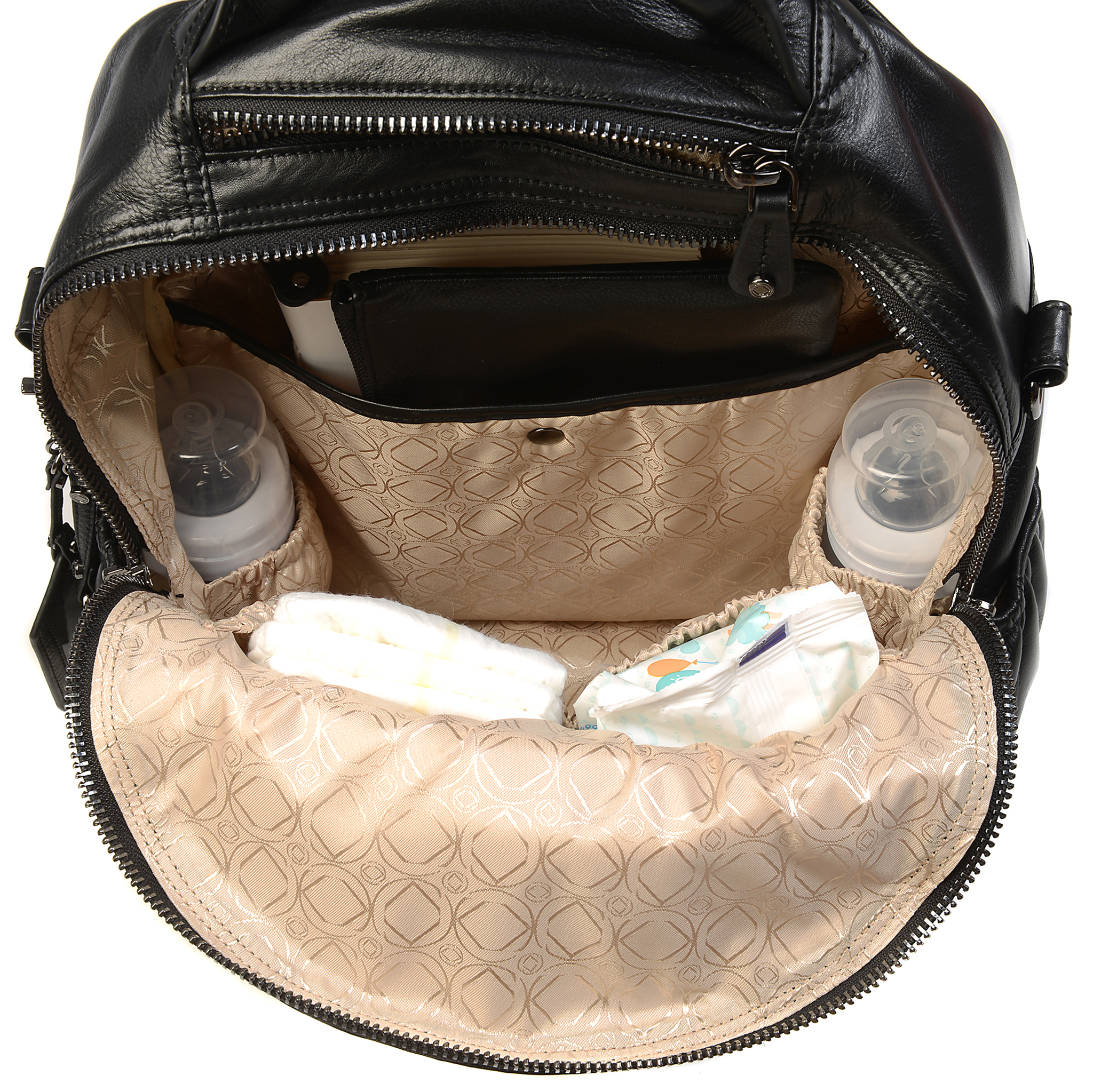 Raise The Next Generation In Style With Joy
Award-winning Joy is our trusted survival kit for mums on the go, juggling work and life often with a kid or two in tow, but with this design you can feel put together and ready to take the world on in style
WHAT MAKES THIS LEATHER BACKPACK SO AMAZING

Shop our Instagram
Mum
Stay calm and organised with your Joy changing bag when out and about with little ones, thanks to the waterproof lining and perfectly placed pockets to stow baby's dummy, nappies and wipes. There is a laptop sleeve too so as they grow up there is a place for their tech too.
Boss
Joy is styled to look sleek and professional and fuses fashion with function, so you are ready for the day ahead. Carry your yoga gear, lunch and work essentials inside, with ease.
Me
As arm candy goes, Joy always draws admiring stares, without compromising on usefulness. In colours and styles that work in every situation - including travel – Joy is the ultimate travel bag. Whether it's a day out or something more exotic – Joy has got your back.
{"id":3227994718308,"title":"Joy XL Black Studded Leather Backpack","handle":"joy-black-stud-leather-backpack","description":"\u003ch3\u003e\u003cstrong\u003eAbout the bag:\u003c\/strong\u003e\u003c\/h3\u003e\n\u003cp\u003eThe Award-winning Joy leather backpack is loved by stylish women all over the world, including a number of famous faces too, and now it's gone XL.\u003c\/p\u003e\n\u003cp\u003eThis gorgeous bag is for women with busy lifestyles who need practicality but don't want to compromise on style. The classic silhouette fuses soft, feminine lines with a modern stylish edge, and contains our perfectly designed internal layout to keep you cool, calm and collected, no matter what life has in store for you.\u003c\/p\u003e\n\u003ch3\u003e\u003cstrong\u003eWhat it's used for:\u003c\/strong\u003e\u003c\/h3\u003e\n\u003cp\u003eWhether you're carrying Sudocrem with your sports gear, or nappies with your notebook, Joy has your back. Made from butter-soft hard-working KeriKit leather, with our signature KeriKit waterproof jacquard lining, indulge in the luxury of hands-free, effortless organisation with Joy. Your 'go everywhere, do everything' bag that fits in with who you are and where you are going.\u003c\/p\u003e","published_at":"2019-04-02T11:36:27Z","created_at":"2019-04-02T11:36:44Z","vendor":"KeriKit","type":"Backpack","tags":["Backpack","Black Leather","boss","me","mum","product_joy_xl_symbols","Travel\/ Weekender Bag"],"price":31500,"price_min":31500,"price_max":31500,"available":true,"price_varies":false,"compare_at_price":null,"compare_at_price_min":0,"compare_at_price_max":0,"compare_at_price_varies":false,"variants":[{"id":26305106247780,"title":"Default Title","option1":"Default Title","option2":null,"option3":null,"sku":"JXLCS-BLK-SOF-HN","requires_shipping":true,"taxable":true,"featured_image":null,"available":true,"name":"Joy XL Black Studded Leather Backpack","public_title":null,"options":["Default Title"],"price":31500,"weight":1500,"compare_at_price":null,"inventory_management":"shopify","barcode":"0760625646556"}],"images":["\/\/cdn.shopify.com\/s\/files\/1\/0221\/6335\/7796\/products\/JOY_XL_BLACK_117.png?v=1580474686","\/\/cdn.shopify.com\/s\/files\/1\/0221\/6335\/7796\/products\/joy_XL_2.png?v=1580474693","\/\/cdn.shopify.com\/s\/files\/1\/0221\/6335\/7796\/products\/joy_black_unisex_24.jpg?v=1580474708","\/\/cdn.shopify.com\/s\/files\/1\/0221\/6335\/7796\/products\/joy_stud.png?v=1580474723","\/\/cdn.shopify.com\/s\/files\/1\/0221\/6335\/7796\/products\/JOY_XL_BLACK_121.png?v=1580474642","\/\/cdn.shopify.com\/s\/files\/1\/0221\/6335\/7796\/products\/JOY_XL_BLACK_122.png?v=1580474642","\/\/cdn.shopify.com\/s\/files\/1\/0221\/6335\/7796\/products\/JOY_XL_BLACK_119_2942d048-6325-49ae-abcf-685e4bf06dce.png?v=1580474642","\/\/cdn.shopify.com\/s\/files\/1\/0221\/6335\/7796\/products\/lennox_grey_6.png?v=1580474642","\/\/cdn.shopify.com\/s\/files\/1\/0221\/6335\/7796\/products\/joy_black_unisex_26_5419b2cd-413d-4c94-a6ef-ff9b96a605a5.jpg?v=1580474642","\/\/cdn.shopify.com\/s\/files\/1\/0221\/6335\/7796\/products\/joy_black_unisex_25_021b7f3d-446c-43a0-b995-37dfba838779.jpg?v=1580474642","\/\/cdn.shopify.com\/s\/files\/1\/0221\/6335\/7796\/products\/joy_black_unisex_1_f800c9cd-888e-4a2f-9270-e2f213fb2a99.jpg?v=1580474642","\/\/cdn.shopify.com\/s\/files\/1\/0221\/6335\/7796\/products\/joy_black_stud_16_845b04fd-6c76-4d97-be7a-507a3399de61.JPG?v=1580474642","\/\/cdn.shopify.com\/s\/files\/1\/0221\/6335\/7796\/products\/joy_black_stud_11.JPG?v=1580474642","\/\/cdn.shopify.com\/s\/files\/1\/0221\/6335\/7796\/products\/JOY_XL_BLACK_120_85e31ebd-0047-4e44-a712-26531732d4d3.png?v=1580474642","\/\/cdn.shopify.com\/s\/files\/1\/0221\/6335\/7796\/products\/JOY_XL_BLACK156.png?v=1580474642","\/\/cdn.shopify.com\/s\/files\/1\/0221\/6335\/7796\/products\/JOY_XL_BLACK155.png?v=1580474642","\/\/cdn.shopify.com\/s\/files\/1\/0221\/6335\/7796\/products\/joy_XL_3.png?v=1580474731","\/\/cdn.shopify.com\/s\/files\/1\/0221\/6335\/7796\/products\/DSC_9889.jpg?v=1580474642","\/\/cdn.shopify.com\/s\/files\/1\/0221\/6335\/7796\/products\/DSC_9886.jpg?v=1580474642","\/\/cdn.shopify.com\/s\/files\/1\/0221\/6335\/7796\/products\/joy_stud_1.png?v=1580474642","\/\/cdn.shopify.com\/s\/files\/1\/0221\/6335\/7796\/products\/joy_stud_2.png?v=1580474642","\/\/cdn.shopify.com\/s\/files\/1\/0221\/6335\/7796\/products\/joy_stud_3.png?v=1580474740","\/\/cdn.shopify.com\/s\/files\/1\/0221\/6335\/7796\/products\/DSC_0074.jpg?v=1580474650","\/\/cdn.shopify.com\/s\/files\/1\/0221\/6335\/7796\/products\/DSC_0070.jpg?v=1580474650"],"featured_image":"\/\/cdn.shopify.com\/s\/files\/1\/0221\/6335\/7796\/products\/JOY_XL_BLACK_117.png?v=1580474686","options":["Title"],"media":[{"alt":"Joy XL Black Studded Leather Backpack perfect as a leather changing bag, leather travel bag or a leather work bag.","id":1575238139998,"position":1,"preview_image":{"aspect_ratio":1.0,"height":2048,"width":2048,"src":"https:\/\/cdn.shopify.com\/s\/files\/1\/0221\/6335\/7796\/products\/JOY_XL_BLACK_117.png?v=1569222680"},"aspect_ratio":1.0,"height":2048,"media_type":"image","src":"https:\/\/cdn.shopify.com\/s\/files\/1\/0221\/6335\/7796\/products\/JOY_XL_BLACK_117.png?v=1569222680","width":2048},{"alt":"Joy XL Black Studded Leather Backpack perfect as a leather changing bag, leather travel bag or a leather work bag.","id":5779110035550,"position":2,"preview_image":{"aspect_ratio":1.0,"height":2048,"width":2048,"src":"https:\/\/cdn.shopify.com\/s\/files\/1\/0221\/6335\/7796\/products\/joy_XL_2.png?v=1580474607"},"aspect_ratio":1.0,"height":2048,"media_type":"image","src":"https:\/\/cdn.shopify.com\/s\/files\/1\/0221\/6335\/7796\/products\/joy_XL_2.png?v=1580474607","width":2048},{"alt":"Joy XL Black Studded Leather Backpack perfect as a leather changing bag, leather travel bag or a leather work bag. this is an internal view with the bag empty","id":1575192363102,"position":3,"preview_image":{"aspect_ratio":1.0,"height":2047,"width":2048,"src":"https:\/\/cdn.shopify.com\/s\/files\/1\/0221\/6335\/7796\/products\/joy_black_unisex_24.jpg?v=1569222673"},"aspect_ratio":1.0,"height":2047,"media_type":"image","src":"https:\/\/cdn.shopify.com\/s\/files\/1\/0221\/6335\/7796\/products\/joy_black_unisex_24.jpg?v=1569222673","width":2048},{"alt":"Joy XL Black Studded Leather Backpack perfect as a leather changing bag, leather travel bag or a leather work bag.","id":1585634508894,"position":4,"preview_image":{"aspect_ratio":1.0,"height":2048,"width":2048,"src":"https:\/\/cdn.shopify.com\/s\/files\/1\/0221\/6335\/7796\/products\/joy_stud.png?v=1569224769"},"aspect_ratio":1.0,"height":2048,"media_type":"image","src":"https:\/\/cdn.shopify.com\/s\/files\/1\/0221\/6335\/7796\/products\/joy_stud.png?v=1569224769","width":2048},{"alt":"Joy XL Black Stud Leather Backpack","id":1575238238302,"position":5,"preview_image":{"aspect_ratio":1.0,"height":2048,"width":2048,"src":"https:\/\/cdn.shopify.com\/s\/files\/1\/0221\/6335\/7796\/products\/JOY_XL_BLACK_121.png?v=1569222680"},"aspect_ratio":1.0,"height":2048,"media_type":"image","src":"https:\/\/cdn.shopify.com\/s\/files\/1\/0221\/6335\/7796\/products\/JOY_XL_BLACK_121.png?v=1569222680","width":2048},{"alt":"Joy XL Black Studded Leather Backpack","id":1575238271070,"position":6,"preview_image":{"aspect_ratio":1.0,"height":2048,"width":2048,"src":"https:\/\/cdn.shopify.com\/s\/files\/1\/0221\/6335\/7796\/products\/JOY_XL_BLACK_122.png?v=1569222680"},"aspect_ratio":1.0,"height":2048,"media_type":"image","src":"https:\/\/cdn.shopify.com\/s\/files\/1\/0221\/6335\/7796\/products\/JOY_XL_BLACK_122.png?v=1569222680","width":2048},{"alt":"Joy XL Black Stud Leather Backpack","id":1575238172766,"position":7,"preview_image":{"aspect_ratio":1.0,"height":2048,"width":2048,"src":"https:\/\/cdn.shopify.com\/s\/files\/1\/0221\/6335\/7796\/products\/JOY_XL_BLACK_119_2942d048-6325-49ae-abcf-685e4bf06dce.png?v=1569222680"},"aspect_ratio":1.0,"height":2048,"media_type":"image","src":"https:\/\/cdn.shopify.com\/s\/files\/1\/0221\/6335\/7796\/products\/JOY_XL_BLACK_119_2942d048-6325-49ae-abcf-685e4bf06dce.png?v=1569222680","width":2048},{"alt":"Joy XL Black Stud Leather Backpack","id":1585634541662,"position":8,"preview_image":{"aspect_ratio":1.0,"height":2048,"width":2048,"src":"https:\/\/cdn.shopify.com\/s\/files\/1\/0221\/6335\/7796\/products\/lennox_grey_6.png?v=1569224769"},"aspect_ratio":1.0,"height":2048,"media_type":"image","src":"https:\/\/cdn.shopify.com\/s\/files\/1\/0221\/6335\/7796\/products\/lennox_grey_6.png?v=1569224769","width":2048},{"alt":"Joy XL Black Stud Leather Backpack","id":1575192428638,"position":9,"preview_image":{"aspect_ratio":1.0,"height":2047,"width":2048,"src":"https:\/\/cdn.shopify.com\/s\/files\/1\/0221\/6335\/7796\/products\/joy_black_unisex_26_5419b2cd-413d-4c94-a6ef-ff9b96a605a5.jpg?v=1569222673"},"aspect_ratio":1.0,"height":2047,"media_type":"image","src":"https:\/\/cdn.shopify.com\/s\/files\/1\/0221\/6335\/7796\/products\/joy_black_unisex_26_5419b2cd-413d-4c94-a6ef-ff9b96a605a5.jpg?v=1569222673","width":2048},{"alt":"Joy XL Black Stud Leather Backpack","id":1575192395870,"position":10,"preview_image":{"aspect_ratio":1.0,"height":2047,"width":2048,"src":"https:\/\/cdn.shopify.com\/s\/files\/1\/0221\/6335\/7796\/products\/joy_black_unisex_25_021b7f3d-446c-43a0-b995-37dfba838779.jpg?v=1569222673"},"aspect_ratio":1.0,"height":2047,"media_type":"image","src":"https:\/\/cdn.shopify.com\/s\/files\/1\/0221\/6335\/7796\/products\/joy_black_unisex_25_021b7f3d-446c-43a0-b995-37dfba838779.jpg?v=1569222673","width":2048},{"alt":"Joy XL Black Stud Leather Backpack","id":1575192297566,"position":11,"preview_image":{"aspect_ratio":1.0,"height":2047,"width":2048,"src":"https:\/\/cdn.shopify.com\/s\/files\/1\/0221\/6335\/7796\/products\/joy_black_unisex_1_f800c9cd-888e-4a2f-9270-e2f213fb2a99.jpg?v=1569222673"},"aspect_ratio":1.0,"height":2047,"media_type":"image","src":"https:\/\/cdn.shopify.com\/s\/files\/1\/0221\/6335\/7796\/products\/joy_black_unisex_1_f800c9cd-888e-4a2f-9270-e2f213fb2a99.jpg?v=1569222673","width":2048},{"alt":"Joy XL Black Stud Leather Backpack","id":1569634943070,"position":12,"preview_image":{"aspect_ratio":1.0,"height":2048,"width":2048,"src":"https:\/\/cdn.shopify.com\/s\/files\/1\/0221\/6335\/7796\/products\/joy_black_stud_16_845b04fd-6c76-4d97-be7a-507a3399de61.JPG?v=1569221583"},"aspect_ratio":1.0,"height":2048,"media_type":"image","src":"https:\/\/cdn.shopify.com\/s\/files\/1\/0221\/6335\/7796\/products\/joy_black_stud_16_845b04fd-6c76-4d97-be7a-507a3399de61.JPG?v=1569221583","width":2048},{"alt":"Joy XL Black Stud Leather Backpack","id":1569634910302,"position":13,"preview_image":{"aspect_ratio":1.0,"height":2048,"width":2048,"src":"https:\/\/cdn.shopify.com\/s\/files\/1\/0221\/6335\/7796\/products\/joy_black_stud_11.JPG?v=1569221583"},"aspect_ratio":1.0,"height":2048,"media_type":"image","src":"https:\/\/cdn.shopify.com\/s\/files\/1\/0221\/6335\/7796\/products\/joy_black_stud_11.JPG?v=1569221583","width":2048},{"alt":"Joy XL Black Stud Leather Backpack","id":1575238205534,"position":14,"preview_image":{"aspect_ratio":1.0,"height":2048,"width":2048,"src":"https:\/\/cdn.shopify.com\/s\/files\/1\/0221\/6335\/7796\/products\/JOY_XL_BLACK_120_85e31ebd-0047-4e44-a712-26531732d4d3.png?v=1569222680"},"aspect_ratio":1.0,"height":2048,"media_type":"image","src":"https:\/\/cdn.shopify.com\/s\/files\/1\/0221\/6335\/7796\/products\/JOY_XL_BLACK_120_85e31ebd-0047-4e44-a712-26531732d4d3.png?v=1569222680","width":2048},{"alt":"Joy XL Black Stud Leather Backpack","id":1575192068190,"position":15,"preview_image":{"aspect_ratio":1.0,"height":2048,"width":2048,"src":"https:\/\/cdn.shopify.com\/s\/files\/1\/0221\/6335\/7796\/products\/JOY_XL_BLACK156.png?v=1569222673"},"aspect_ratio":1.0,"height":2048,"media_type":"image","src":"https:\/\/cdn.shopify.com\/s\/files\/1\/0221\/6335\/7796\/products\/JOY_XL_BLACK156.png?v=1569222673","width":2048},{"alt":"Joy XL Black Stud Leather Backpack","id":1575192035422,"position":16,"preview_image":{"aspect_ratio":1.0,"height":2048,"width":2048,"src":"https:\/\/cdn.shopify.com\/s\/files\/1\/0221\/6335\/7796\/products\/JOY_XL_BLACK155.png?v=1569222673"},"aspect_ratio":1.0,"height":2048,"media_type":"image","src":"https:\/\/cdn.shopify.com\/s\/files\/1\/0221\/6335\/7796\/products\/JOY_XL_BLACK155.png?v=1569222673","width":2048},{"alt":"Joy XL Black Studded Leather Backpack perfect as a leather changing bag, leather travel bag or a leather work bag.","id":5779110068318,"position":17,"preview_image":{"aspect_ratio":1.0,"height":2048,"width":2048,"src":"https:\/\/cdn.shopify.com\/s\/files\/1\/0221\/6335\/7796\/products\/joy_XL_3.png?v=1580474607"},"aspect_ratio":1.0,"height":2048,"media_type":"image","src":"https:\/\/cdn.shopify.com\/s\/files\/1\/0221\/6335\/7796\/products\/joy_XL_3.png?v=1580474607","width":2048},{"alt":"Joy XL Black Stud Leather Backpack","id":1575191904350,"position":18,"preview_image":{"aspect_ratio":1.0,"height":2048,"width":2048,"src":"https:\/\/cdn.shopify.com\/s\/files\/1\/0221\/6335\/7796\/products\/DSC_9889.jpg?v=1569222673"},"aspect_ratio":1.0,"height":2048,"media_type":"image","src":"https:\/\/cdn.shopify.com\/s\/files\/1\/0221\/6335\/7796\/products\/DSC_9889.jpg?v=1569222673","width":2048},{"alt":"Joy XL Black Stud Leather Backpack","id":1575191871582,"position":19,"preview_image":{"aspect_ratio":1.0,"height":2048,"width":2048,"src":"https:\/\/cdn.shopify.com\/s\/files\/1\/0221\/6335\/7796\/products\/DSC_9886.jpg?v=1569222673"},"aspect_ratio":1.0,"height":2048,"media_type":"image","src":"https:\/\/cdn.shopify.com\/s\/files\/1\/0221\/6335\/7796\/products\/DSC_9886.jpg?v=1569222673","width":2048},{"alt":"Joy XL Black Stud Leather Backpack","id":1585634410590,"position":20,"preview_image":{"aspect_ratio":1.0,"height":2048,"width":2048,"src":"https:\/\/cdn.shopify.com\/s\/files\/1\/0221\/6335\/7796\/products\/joy_stud_1.png?v=1569224769"},"aspect_ratio":1.0,"height":2048,"media_type":"image","src":"https:\/\/cdn.shopify.com\/s\/files\/1\/0221\/6335\/7796\/products\/joy_stud_1.png?v=1569224769","width":2048},{"alt":"Joy XL Black Stud Leather Backpack","id":1585634443358,"position":21,"preview_image":{"aspect_ratio":1.0,"height":2048,"width":2048,"src":"https:\/\/cdn.shopify.com\/s\/files\/1\/0221\/6335\/7796\/products\/joy_stud_2.png?v=1569224769"},"aspect_ratio":1.0,"height":2048,"media_type":"image","src":"https:\/\/cdn.shopify.com\/s\/files\/1\/0221\/6335\/7796\/products\/joy_stud_2.png?v=1569224769","width":2048},{"alt":"Joy XL Black Studded Leather Backpack perfect as a leather changing bag, leather travel bag or a leather work bag.","id":1585634476126,"position":22,"preview_image":{"aspect_ratio":1.0,"height":2048,"width":2048,"src":"https:\/\/cdn.shopify.com\/s\/files\/1\/0221\/6335\/7796\/products\/joy_stud_3.png?v=1569224769"},"aspect_ratio":1.0,"height":2048,"media_type":"image","src":"https:\/\/cdn.shopify.com\/s\/files\/1\/0221\/6335\/7796\/products\/joy_stud_3.png?v=1569224769","width":2048},{"alt":"Joy XL Black Stud Leather Backpack","id":1575191806046,"position":23,"preview_image":{"aspect_ratio":1.0,"height":2048,"width":2048,"src":"https:\/\/cdn.shopify.com\/s\/files\/1\/0221\/6335\/7796\/products\/DSC_0074.jpg?v=1569222673"},"aspect_ratio":1.0,"height":2048,"media_type":"image","src":"https:\/\/cdn.shopify.com\/s\/files\/1\/0221\/6335\/7796\/products\/DSC_0074.jpg?v=1569222673","width":2048},{"alt":"Joy XL Black Stud Leather Backpack","id":1575191773278,"position":24,"preview_image":{"aspect_ratio":1.0,"height":2048,"width":2048,"src":"https:\/\/cdn.shopify.com\/s\/files\/1\/0221\/6335\/7796\/products\/DSC_0070.jpg?v=1569222673"},"aspect_ratio":1.0,"height":2048,"media_type":"image","src":"https:\/\/cdn.shopify.com\/s\/files\/1\/0221\/6335\/7796\/products\/DSC_0070.jpg?v=1569222673","width":2048}],"content":"\u003ch3\u003e\u003cstrong\u003eAbout the bag:\u003c\/strong\u003e\u003c\/h3\u003e\n\u003cp\u003eThe Award-winning Joy leather backpack is loved by stylish women all over the world, including a number of famous faces too, and now it's gone XL.\u003c\/p\u003e\n\u003cp\u003eThis gorgeous bag is for women with busy lifestyles who need practicality but don't want to compromise on style. The classic silhouette fuses soft, feminine lines with a modern stylish edge, and contains our perfectly designed internal layout to keep you cool, calm and collected, no matter what life has in store for you.\u003c\/p\u003e\n\u003ch3\u003e\u003cstrong\u003eWhat it's used for:\u003c\/strong\u003e\u003c\/h3\u003e\n\u003cp\u003eWhether you're carrying Sudocrem with your sports gear, or nappies with your notebook, Joy has your back. Made from butter-soft hard-working KeriKit leather, with our signature KeriKit waterproof jacquard lining, indulge in the luxury of hands-free, effortless organisation with Joy. Your 'go everywhere, do everything' bag that fits in with who you are and where you are going.\u003c\/p\u003e"}