Poppy Leather Card & Coins Purse
Need to know
About the Purse:
Sleek and slim, the Poppy is the ideal leather card holder to match your KeriKit leather bag. Small and elegant, the Poppy card holder has slots for up to 8 cards, along with a  centre zip pocket, perfect for coins or notes. The removable wrist loop allows ultimate flexibility letting you attach it to your bag or remove it completely.
What it's used for:
Perfect for travelling light. Poppy has been perfectly designed to carry your essential essentials with ease. Made from butter-soft hard working KeriKit leather, with our signature KeriKit waterproof jacquard lining, Poppy is the perfect partner to any KeriKit bag for everyday use, a night out or a weekends away.
Features and Sizing
Features:
•Butter-soft leather
•Signature Waterproof Jacquard Lining
•Slots for 2 credit cards, notes or receipts
•Slip Pocket for Notes, Receipts or business cards
•Removable wrist loop with dogclip so attaches to inside of your bag easily
Size & Weight:
L 12 cm x W 0.25 cm x H 8.5
cm 0.30 Grams
Delivery and Returns
Shipping 
We offer Free UK delivery on all orders over £175
We also offer next day delivery for £5.75 via APC on orders booked before 10am Mon-Fri
Please allow 3 additional days for delivery if your item is being personalised
Worldwide
We offer FREE WORLDWIDE DELIVERY for all orders over £175
We also offer express shipping with NEXT DAY delivery throughout USA for £35 via Fedex on orders booked before 10am Mon-Fri
Returns
We are happy to accept returns within 30 days, and offer a 1 year warranty on all bags.
For full Delivery and Returns details, click here.
Please note buyer is responsible for the return fees and insurance of the item being returned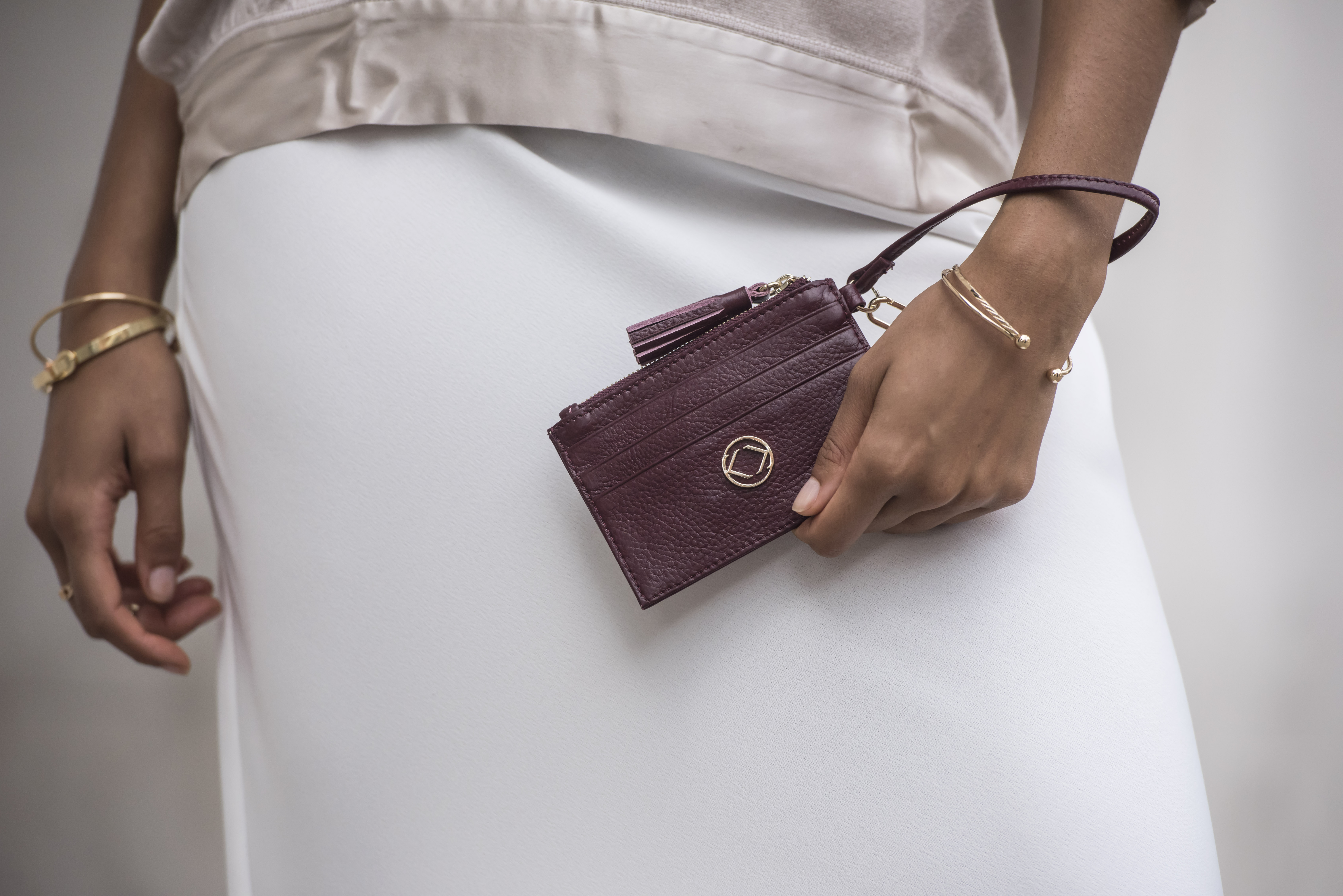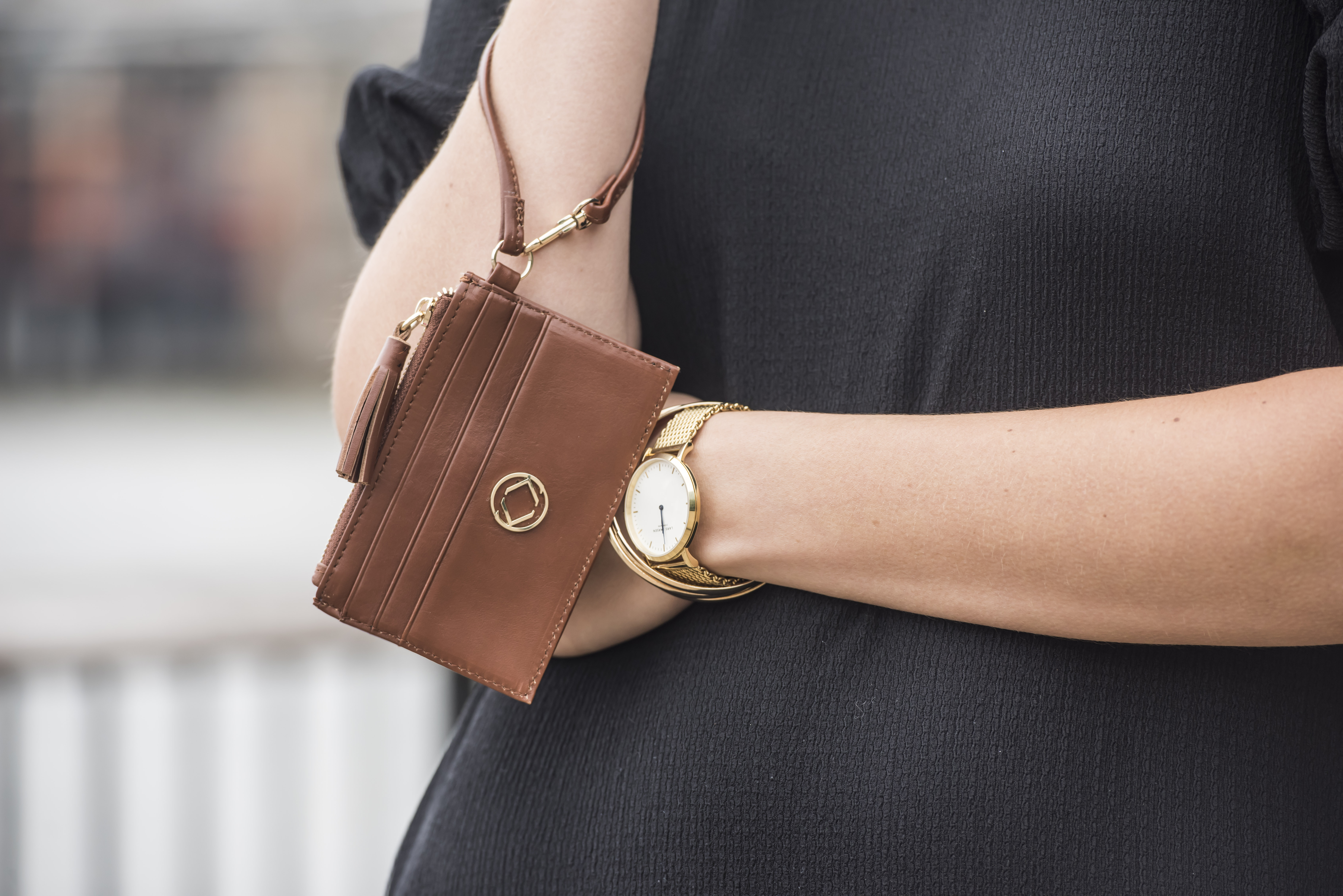 What Makes This Sleek And Elegant Coin And Card Holder So Amazing

Shop our Instagram
{"id":4375490723934,"title":"Poppy Leather Card \u0026 Coins Purse","handle":"poppy-leather-card-coins-purse-preorder-now-for-mid-september","description":"\u003cp\u003e\u003cstrong\u003eAbout the Purse:\u003c\/strong\u003e\u003c\/p\u003e\n\u003cp\u003eSleek and slim, the Poppy is the ideal leather card holder to match your KeriKit leather bag. Small and elegant, the Poppy card holder has slots for up to 8 cards, along with a  centre zip pocket, perfect for coins or notes. The removable wrist loop allows ultimate flexibility letting you attach it to your bag or remove it completely.\u003c\/p\u003e\n\u003cp\u003e\u003cstrong\u003eWhat it's used for:\u003c\/strong\u003e\u003c\/p\u003e\n\u003cp\u003ePerfect for travelling light. Poppy has been perfectly designed to carry your essential essentials with ease. Made from butter-soft hard working KeriKit leather, with our signature KeriKit waterproof jacquard lining, Poppy is the perfect partner to any KeriKit bag for everyday use, a night out or a weekends away.\u003c\/p\u003e","published_at":"2020-07-31T20:55:06Z","created_at":"2019-12-12T14:32:05Z","vendor":"KeriKit","type":"SMALL LEATHER GOOD","tags":["Accessory","Black","black croc","boss","coin purse","kitbuilder","mum","new-arrivals","Online Baby","PINK","poppy","pre-order","Purse","Tan"],"price":4000,"price_min":4000,"price_max":4500,"available":true,"price_varies":true,"compare_at_price":null,"compare_at_price_min":0,"compare_at_price_max":0,"compare_at_price_varies":false,"variants":[{"id":31202297512030,"title":"Black Leather Softy","option1":"Black Leather Softy","option2":null,"option3":null,"sku":"POP-BLK-SOF-JU-HN","requires_shipping":true,"taxable":true,"featured_image":null,"available":true,"name":"Poppy Leather Card \u0026 Coins Purse - Black Leather Softy","public_title":"Black Leather Softy","options":["Black Leather Softy"],"price":4000,"weight":250,"compare_at_price":null,"inventory_management":"shopify","barcode":"715706092524"},{"id":32058672611422,"title":"Black Leather Pebble","option1":"Black Leather Pebble","option2":null,"option3":null,"sku":"POP-BLK-JU-HN","requires_shipping":true,"taxable":true,"featured_image":null,"available":true,"name":"Poppy Leather Card \u0026 Coins Purse - Black Leather Pebble","public_title":"Black Leather Pebble","options":["Black Leather Pebble"],"price":4000,"weight":250,"compare_at_price":null,"inventory_management":"shopify","barcode":"715706091794"},{"id":31202297708638,"title":"Black Croc","option1":"Black Croc","option2":null,"option3":null,"sku":"POP-BLK-CROC-HN","requires_shipping":true,"taxable":true,"featured_image":null,"available":true,"name":"Poppy Leather Card \u0026 Coins Purse - Black Croc","public_title":"Black Croc","options":["Black Croc"],"price":4500,"weight":250,"compare_at_price":null,"inventory_management":"shopify","barcode":""},{"id":32057438994526,"title":"Tan","option1":"Tan","option2":null,"option3":null,"sku":"POP-TAN-JU-HN","requires_shipping":true,"taxable":true,"featured_image":null,"available":true,"name":"Poppy Leather Card \u0026 Coins Purse - Tan","public_title":"Tan","options":["Tan"],"price":4000,"weight":250,"compare_at_price":null,"inventory_management":"shopify","barcode":"715706091817"},{"id":32058667303006,"title":"Dark Grey","option1":"Dark Grey","option2":null,"option3":null,"sku":"POP-DKG-JU-HN","requires_shipping":true,"taxable":true,"featured_image":null,"available":true,"name":"Poppy Leather Card \u0026 Coins Purse - Dark Grey","public_title":"Dark Grey","options":["Dark Grey"],"price":4000,"weight":250,"compare_at_price":null,"inventory_management":"shopify","barcode":"715706092463"},{"id":32058678378590,"title":"Mink","option1":"Mink","option2":null,"option3":null,"sku":"POP-MINK-JU-HN","requires_shipping":true,"taxable":true,"featured_image":null,"available":false,"name":"Poppy Leather Card \u0026 Coins Purse - Mink","public_title":"Mink","options":["Mink"],"price":4000,"weight":250,"compare_at_price":null,"inventory_management":"shopify","barcode":"715706092272"},{"id":32058682409054,"title":"Oxblood","option1":"Oxblood","option2":null,"option3":null,"sku":"POP-OX-JU-HN","requires_shipping":true,"taxable":true,"featured_image":null,"available":true,"name":"Poppy Leather Card \u0026 Coins Purse - Oxblood","public_title":"Oxblood","options":["Oxblood"],"price":4000,"weight":250,"compare_at_price":null,"inventory_management":"shopify","barcode":"715706092289"}],"images":["\/\/cdn.shopify.com\/s\/files\/1\/0221\/6335\/7796\/products\/POPPYGROUP3233.png?v=1596223597","\/\/cdn.shopify.com\/s\/files\/1\/0221\/6335\/7796\/products\/PoppyBlackLeather.png?v=1596223597","\/\/cdn.shopify.com\/s\/files\/1\/0221\/6335\/7796\/products\/POPPYBLACK3125.png?v=1596223607","\/\/cdn.shopify.com\/s\/files\/1\/0221\/6335\/7796\/products\/POPPYBLACK3126.png?v=1596223607","\/\/cdn.shopify.com\/s\/files\/1\/0221\/6335\/7796\/products\/BLACK_POPPY0232.png?v=1596223630","\/\/cdn.shopify.com\/s\/files\/1\/0221\/6335\/7796\/products\/PoppyblackCroc-wristloop.png?v=1596223630","\/\/cdn.shopify.com\/s\/files\/1\/0221\/6335\/7796\/products\/POPPYBLACKCROC3135.png?v=1596223630","\/\/cdn.shopify.com\/s\/files\/1\/0221\/6335\/7796\/products\/POPPYBLACKCROC3136.png?v=1596223630","\/\/cdn.shopify.com\/s\/files\/1\/0221\/6335\/7796\/products\/PoppyDarkGrey-wristloop.png?v=1596223630","\/\/cdn.shopify.com\/s\/files\/1\/0221\/6335\/7796\/products\/POPPYDARKGREY3133.png?v=1596223630","\/\/cdn.shopify.com\/s\/files\/1\/0221\/6335\/7796\/products\/POPPYDARKGREY3134.png?v=1596223630","\/\/cdn.shopify.com\/s\/files\/1\/0221\/6335\/7796\/products\/POPPYMINC3129.png?v=1596223630","\/\/cdn.shopify.com\/s\/files\/1\/0221\/6335\/7796\/products\/PoppyMINK.png?v=1596223630","\/\/cdn.shopify.com\/s\/files\/1\/0221\/6335\/7796\/products\/POPPYMINC3130.png?v=1596223630","\/\/cdn.shopify.com\/s\/files\/1\/0221\/6335\/7796\/products\/PoppyOxblood-onwrist.png?v=1596223630","\/\/cdn.shopify.com\/s\/files\/1\/0221\/6335\/7796\/products\/POPPYOXBLOOD3131.png?v=1596223630","\/\/cdn.shopify.com\/s\/files\/1\/0221\/6335\/7796\/products\/POPPYOXBLOOD3132.png?v=1596223630","\/\/cdn.shopify.com\/s\/files\/1\/0221\/6335\/7796\/products\/TILLYTANQUILT-pOPPYTAN_9a4702c6-6fd4-4717-a603-dc4a617e97c0.png?v=1596223630","\/\/cdn.shopify.com\/s\/files\/1\/0221\/6335\/7796\/products\/POPPYTAN3127.png?v=1596223597","\/\/cdn.shopify.com\/s\/files\/1\/0221\/6335\/7796\/products\/POPPYTAN3128.png?v=1596223597"],"featured_image":"\/\/cdn.shopify.com\/s\/files\/1\/0221\/6335\/7796\/products\/POPPYGROUP3233.png?v=1596223597","options":["Colour"],"media":[{"alt":null,"id":6425484492894,"position":1,"preview_image":{"aspect_ratio":1.0,"height":2048,"width":2048,"src":"https:\/\/cdn.shopify.com\/s\/files\/1\/0221\/6335\/7796\/products\/POPPYGROUP3233.png?v=1596223185"},"aspect_ratio":1.0,"height":2048,"media_type":"image","src":"https:\/\/cdn.shopify.com\/s\/files\/1\/0221\/6335\/7796\/products\/POPPYGROUP3233.png?v=1596223185","width":2048},{"alt":null,"id":6425478627422,"position":2,"preview_image":{"aspect_ratio":1.0,"height":2048,"width":2048,"src":"https:\/\/cdn.shopify.com\/s\/files\/1\/0221\/6335\/7796\/products\/PoppyBlackLeather.png?v=1596223037"},"aspect_ratio":1.0,"height":2048,"media_type":"image","src":"https:\/\/cdn.shopify.com\/s\/files\/1\/0221\/6335\/7796\/products\/PoppyBlackLeather.png?v=1596223037","width":2048},{"alt":null,"id":6425478660190,"position":3,"preview_image":{"aspect_ratio":1.0,"height":2048,"width":2048,"src":"https:\/\/cdn.shopify.com\/s\/files\/1\/0221\/6335\/7796\/products\/POPPYBLACK3125.png?v=1596223036"},"aspect_ratio":1.0,"height":2048,"media_type":"image","src":"https:\/\/cdn.shopify.com\/s\/files\/1\/0221\/6335\/7796\/products\/POPPYBLACK3125.png?v=1596223036","width":2048},{"alt":null,"id":6425478692958,"position":4,"preview_image":{"aspect_ratio":1.0,"height":2048,"width":2048,"src":"https:\/\/cdn.shopify.com\/s\/files\/1\/0221\/6335\/7796\/products\/POPPYBLACK3126.png?v=1596223036"},"aspect_ratio":1.0,"height":2048,"media_type":"image","src":"https:\/\/cdn.shopify.com\/s\/files\/1\/0221\/6335\/7796\/products\/POPPYBLACK3126.png?v=1596223036","width":2048},{"alt":"black small leather purse, zip top purse, leather coin zip purse","id":5681851269214,"position":5,"preview_image":{"aspect_ratio":1.0,"height":2048,"width":2048,"src":"https:\/\/cdn.shopify.com\/s\/files\/1\/0221\/6335\/7796\/products\/BLACK_POPPY0232.png?v=1576258451"},"aspect_ratio":1.0,"height":2048,"media_type":"image","src":"https:\/\/cdn.shopify.com\/s\/files\/1\/0221\/6335\/7796\/products\/BLACK_POPPY0232.png?v=1576258451","width":2048},{"alt":null,"id":6425480724574,"position":6,"preview_image":{"aspect_ratio":1.0,"height":2048,"width":2048,"src":"https:\/\/cdn.shopify.com\/s\/files\/1\/0221\/6335\/7796\/products\/PoppyblackCroc-wristloop.png?v=1596223096"},"aspect_ratio":1.0,"height":2048,"media_type":"image","src":"https:\/\/cdn.shopify.com\/s\/files\/1\/0221\/6335\/7796\/products\/PoppyblackCroc-wristloop.png?v=1596223096","width":2048},{"alt":null,"id":6425480757342,"position":7,"preview_image":{"aspect_ratio":1.0,"height":2048,"width":2048,"src":"https:\/\/cdn.shopify.com\/s\/files\/1\/0221\/6335\/7796\/products\/POPPYBLACKCROC3135.png?v=1596223095"},"aspect_ratio":1.0,"height":2048,"media_type":"image","src":"https:\/\/cdn.shopify.com\/s\/files\/1\/0221\/6335\/7796\/products\/POPPYBLACKCROC3135.png?v=1596223095","width":2048},{"alt":null,"id":6425480790110,"position":8,"preview_image":{"aspect_ratio":1.0,"height":2048,"width":2048,"src":"https:\/\/cdn.shopify.com\/s\/files\/1\/0221\/6335\/7796\/products\/POPPYBLACKCROC3136.png?v=1596223095"},"aspect_ratio":1.0,"height":2048,"media_type":"image","src":"https:\/\/cdn.shopify.com\/s\/files\/1\/0221\/6335\/7796\/products\/POPPYBLACKCROC3136.png?v=1596223095","width":2048},{"alt":null,"id":6425483837534,"position":9,"preview_image":{"aspect_ratio":1.0,"height":2048,"width":2048,"src":"https:\/\/cdn.shopify.com\/s\/files\/1\/0221\/6335\/7796\/products\/PoppyDarkGrey-wristloop.png?v=1596223154"},"aspect_ratio":1.0,"height":2048,"media_type":"image","src":"https:\/\/cdn.shopify.com\/s\/files\/1\/0221\/6335\/7796\/products\/PoppyDarkGrey-wristloop.png?v=1596223154","width":2048},{"alt":null,"id":6425483870302,"position":10,"preview_image":{"aspect_ratio":1.0,"height":2048,"width":2048,"src":"https:\/\/cdn.shopify.com\/s\/files\/1\/0221\/6335\/7796\/products\/POPPYDARKGREY3133.png?v=1596223153"},"aspect_ratio":1.0,"height":2048,"media_type":"image","src":"https:\/\/cdn.shopify.com\/s\/files\/1\/0221\/6335\/7796\/products\/POPPYDARKGREY3133.png?v=1596223153","width":2048},{"alt":null,"id":6425483903070,"position":11,"preview_image":{"aspect_ratio":1.0,"height":2048,"width":2048,"src":"https:\/\/cdn.shopify.com\/s\/files\/1\/0221\/6335\/7796\/products\/POPPYDARKGREY3134.png?v=1596223153"},"aspect_ratio":1.0,"height":2048,"media_type":"image","src":"https:\/\/cdn.shopify.com\/s\/files\/1\/0221\/6335\/7796\/products\/POPPYDARKGREY3134.png?v=1596223153","width":2048},{"alt":null,"id":6425487736926,"position":12,"preview_image":{"aspect_ratio":1.0,"height":2048,"width":2048,"src":"https:\/\/cdn.shopify.com\/s\/files\/1\/0221\/6335\/7796\/products\/POPPYMINC3129.png?v=1596223238"},"aspect_ratio":1.0,"height":2048,"media_type":"image","src":"https:\/\/cdn.shopify.com\/s\/files\/1\/0221\/6335\/7796\/products\/POPPYMINC3129.png?v=1596223238","width":2048},{"alt":null,"id":6425487802462,"position":13,"preview_image":{"aspect_ratio":1.0,"height":2048,"width":2048,"src":"https:\/\/cdn.shopify.com\/s\/files\/1\/0221\/6335\/7796\/products\/PoppyMINK.png?v=1596223239"},"aspect_ratio":1.0,"height":2048,"media_type":"image","src":"https:\/\/cdn.shopify.com\/s\/files\/1\/0221\/6335\/7796\/products\/PoppyMINK.png?v=1596223239","width":2048},{"alt":null,"id":6425487769694,"position":14,"preview_image":{"aspect_ratio":1.0,"height":2048,"width":2048,"src":"https:\/\/cdn.shopify.com\/s\/files\/1\/0221\/6335\/7796\/products\/POPPYMINC3130.png?v=1596223238"},"aspect_ratio":1.0,"height":2048,"media_type":"image","src":"https:\/\/cdn.shopify.com\/s\/files\/1\/0221\/6335\/7796\/products\/POPPYMINC3130.png?v=1596223238","width":2048},{"alt":null,"id":6425490194526,"position":15,"preview_image":{"aspect_ratio":1.0,"height":2048,"width":2048,"src":"https:\/\/cdn.shopify.com\/s\/files\/1\/0221\/6335\/7796\/products\/PoppyOxblood-onwrist.png?v=1596223281"},"aspect_ratio":1.0,"height":2048,"media_type":"image","src":"https:\/\/cdn.shopify.com\/s\/files\/1\/0221\/6335\/7796\/products\/PoppyOxblood-onwrist.png?v=1596223281","width":2048},{"alt":null,"id":6425490128990,"position":16,"preview_image":{"aspect_ratio":1.0,"height":2048,"width":2048,"src":"https:\/\/cdn.shopify.com\/s\/files\/1\/0221\/6335\/7796\/products\/POPPYOXBLOOD3131.png?v=1596223281"},"aspect_ratio":1.0,"height":2048,"media_type":"image","src":"https:\/\/cdn.shopify.com\/s\/files\/1\/0221\/6335\/7796\/products\/POPPYOXBLOOD3131.png?v=1596223281","width":2048},{"alt":null,"id":6425490161758,"position":17,"preview_image":{"aspect_ratio":1.0,"height":2048,"width":2048,"src":"https:\/\/cdn.shopify.com\/s\/files\/1\/0221\/6335\/7796\/products\/POPPYOXBLOOD3132.png?v=1596223281"},"aspect_ratio":1.0,"height":2048,"media_type":"image","src":"https:\/\/cdn.shopify.com\/s\/files\/1\/0221\/6335\/7796\/products\/POPPYOXBLOOD3132.png?v=1596223281","width":2048},{"alt":null,"id":6425494716510,"position":18,"preview_image":{"aspect_ratio":1.0,"height":2048,"width":2048,"src":"https:\/\/cdn.shopify.com\/s\/files\/1\/0221\/6335\/7796\/products\/TILLYTANQUILT-pOPPYTAN_9a4702c6-6fd4-4717-a603-dc4a617e97c0.png?v=1596223322"},"aspect_ratio":1.0,"height":2048,"media_type":"image","src":"https:\/\/cdn.shopify.com\/s\/files\/1\/0221\/6335\/7796\/products\/TILLYTANQUILT-pOPPYTAN_9a4702c6-6fd4-4717-a603-dc4a617e97c0.png?v=1596223322","width":2048},{"alt":null,"id":6425494650974,"position":19,"preview_image":{"aspect_ratio":1.0,"height":2048,"width":2048,"src":"https:\/\/cdn.shopify.com\/s\/files\/1\/0221\/6335\/7796\/products\/POPPYTAN3127.png?v=1596223322"},"aspect_ratio":1.0,"height":2048,"media_type":"image","src":"https:\/\/cdn.shopify.com\/s\/files\/1\/0221\/6335\/7796\/products\/POPPYTAN3127.png?v=1596223322","width":2048},{"alt":null,"id":6425494683742,"position":20,"preview_image":{"aspect_ratio":1.0,"height":2048,"width":2048,"src":"https:\/\/cdn.shopify.com\/s\/files\/1\/0221\/6335\/7796\/products\/POPPYTAN3128.png?v=1596223322"},"aspect_ratio":1.0,"height":2048,"media_type":"image","src":"https:\/\/cdn.shopify.com\/s\/files\/1\/0221\/6335\/7796\/products\/POPPYTAN3128.png?v=1596223322","width":2048}],"content":"\u003cp\u003e\u003cstrong\u003eAbout the Purse:\u003c\/strong\u003e\u003c\/p\u003e\n\u003cp\u003eSleek and slim, the Poppy is the ideal leather card holder to match your KeriKit leather bag. Small and elegant, the Poppy card holder has slots for up to 8 cards, along with a  centre zip pocket, perfect for coins or notes. The removable wrist loop allows ultimate flexibility letting you attach it to your bag or remove it completely.\u003c\/p\u003e\n\u003cp\u003e\u003cstrong\u003eWhat it's used for:\u003c\/strong\u003e\u003c\/p\u003e\n\u003cp\u003ePerfect for travelling light. Poppy has been perfectly designed to carry your essential essentials with ease. Made from butter-soft hard working KeriKit leather, with our signature KeriKit waterproof jacquard lining, Poppy is the perfect partner to any KeriKit bag for everyday use, a night out or a weekends away.\u003c\/p\u003e"}